Brisbane pick up and drop off at BNE airport
Ground transportation to Brisbane Airport
Brisbane Airport serves as the primary international terminal for Queensland as well as its capital Brisbane. The airport offers two art-filled terminals; the International Terminal and the Domestic Terminal. The International Terminal was re-developed in 2014 and offers four levels of facilities, while the Domestic Terminal is a simpler 2-story building known for its curved design as well as various concourses and satellite arms extending beyond the departures level. You can get from one end of Brisbane Airport to the other by using the inter-terminal bus, which drops off at various shopping centers and the on-site hotel. Ground transportation options include two railway stations located at each terminal, each connected by Airtrain Citylink, which travels throughout the Queensland area.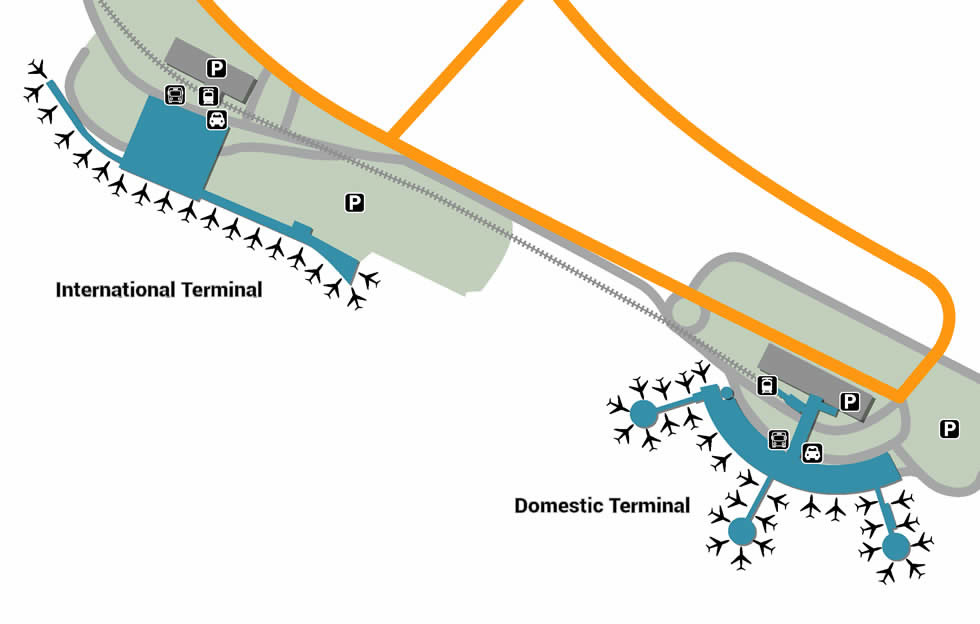 Parking
Brisbane Airport is home to four expansive car-parks, which are connected to both the International and Domestic Terminals. Those picking up or dropping off should head over to ParkShort for the easiest access to both terminals, or choose between one of ParkLong's three car parks, located along Levels 5-9 as well as Levels 1-6 of the Domestic Terminal, plus Levels 2-5 for the International Terminal. Additional parking services include ParkValet located along Level 3 of the Domestic Terminal and Level 1 of the International Terminal, as well as AIRPARK, which provides ultimate budget parking alongside undercover spaces. The Domestic Terminal is also home to exclusive perks that include ParkPremium's instant access to a terminal skywalk as well as Guaranteed Space's hassle-free spots made via online reservations.
Services
Enjoy various services throughout the airport that include modest conveniences like free Wi-Fi and water stations, as well as more thoughtful accommodations ranging from showers to large prayer rooms. Families looking for relaxation should head to one of many Parenting Rooms, which are fully equipped with changing tables and feeding chairs. Business perks are varied, ranging from relaxing VIP lounges to upscale suites from three hotels; The Ibis Budget Hotel, Pullman Brisbane Airport and Novotel Brisbane Airport. Other unique services include a rotating artist residency that takes over the airport for a year as well as the wise-cracking mascot that goes by the name of 'Bluey'. Other upcoming happenings can be found at the SkyGate precinct many shops and restaurants, or in the pages of the airport-published BNE Magazine.
Retail
Most of the shops at Brisbane Airport are located at the Skygate shopping precinct, an expansive property offering a myriad of shops & restaurants as well as access to a dentist and hotel. Choose from upscale fashion trends at stores like Merina Collection and Peter Alexander, as well as Australian-based gear from either R.M. Williams or the Queensland-based Billabong. If you're looking for the perfect gift, choose between the colorful mugs and stationary at Typo as well as classic outback memorabilia from Australian Way. In-flight necessities can also be found at the expansive JR Duty-Free Shop as well as Carry On, which provides miscellaneous luggage items. There is also a DFO (Direct Factory Outlets) at Skygate, which is known for its warehouse floor space and bargain-priced overstock.
Restaurants
Eateries are located across the departures level of each terminal as well as in the Skygate shopping precinct. Grab something quick in the morning from Krispy Kreme or The Coffee Club, also considering the quaint ambiance of Watermark Books and Café for added intimacy. Lunch varies, from quick-serve options at KFC and McDonald's to casual sit-down spots that include the Vietnamese flavor of The Banh Mi House to fresh catches at Nautilus Seafood Emporium & Grill. And for those looking for a full experience, choose from the fresh ingredients at The Botanist Kitchen and Bar or the sweeping views of the runway at Aviation Pier Café & Bar.