| | | |
| --- | --- | --- |
| | Search for BLL airport rides | |


Flight Delayed? We wait.

Free Cancellation on 99% of rides

24/7 Customer Service

Billund Airport Transportation
Placed within central Denmark's popular small town of Billund, Billund Airport is a great way to keep close to the charms of downtown while still keeping close to the airport. Make sure there's no problem juggling both sides by getting a ride that can take care of the in-between, whether that means arriving to your hotel or conference with a simple drop-off service ranging from the opulence of a stretched limousine to the simplicity of a taxi, or going intimate with a private ride perfect for seeing the small town in matching style, choosing between sedans, SUVs, and buses.

BLL Transportation
Get around with ease by utilizing the city's Legoland/Lalandia Bus Station, located on the west side of the airport and offering train rides across town as well as immediate access to the region's most popular attraction. For rides as effective as they are efficient, reserve a shuttle pick-up from either local taxi cab or shuttle companies, making sure you get to see every part of the region with a vehicle that fits like a block.

Shared Ride Van
Get there together while staying on a budget with one of local providers shared ride vans. The perfect transport for solo travelers who don't mind taking their trip slow as well as those staying so close to the airport that it doesn't make a difference, you'll be in paradise before you know it.

Private Van
Carry up to a dozen passengers to kid-friendly theme parks and quiet hiking trails great for everyone to remember their time, all with the help of the right ride. Get to know the beauty of the region as a family by booking a private van for your adventures, booking with private van providers to ensure each corner you take is as safe as it is comfortable.

Private Sedan
Go big or go home when it comes to intimacy by going small with your ride, reserving a private sedan for quaint travels across a town that knows no bounds in making each guest feel like family. Make arrangements with local sedan companies to have your ride ready when your feet touch the ground at Billund Airport, taking all the time you need to let the day flow easy.

Local Personal Drivers
If you're most interested in parts of town unseen, go with a local personal driver to witness each hidden gem for all its worth, whether you're interested in finding some authentic Danish cuisine at the heart of the city or want to find the best sunset views across the North Sea.

Private SUV
Go with local providers to make the most boring part of your trip a scenic one, getting wherever you need to go and beyond with a private SUV perfect for families looking to enjoy the view. Fitting up to six passengers, the popular ride showcases the beauty of the region in a space that offers time on a silver platter.

Taxi Cab
Though the small Danish town doesn't get a lot of tourism for work trips, taxis can be really helpful for those in need of an efficient drop-off. From rides to all-in-one hotels to important meetings at Le Petit Conference Center, the ride is great for lifts without commitment as well as avoiding the occasional traffic that can build up near theme parks.

Stretched Limousine
From finding your way to dinner to exploring the many historic towns and villages that surround the city, you'll have plenty to uncover. Find something extra in the ordinary by getting a ride that can do the filtering, reserving with area companies for the luxury of a chauffeur as soon as you land.

Chartered Bus
A small sprawl filled with larger-than-life attractions, Billund makes it easy to feel lost without going too far. Get lost together by reserving a chartered bus for your travels, toting over a dozen passengers across the small town as well as sweeping landscapes waiting at the end of a half hour's drive to the eastern fjords of Vejle.

BLL Airport Terminals
Home to a 21st century terminal that handles both domestic and international flights, Billund Airport is a modest facility that gets everything done on three floors.
Ground Level: arrivals & departures, information desk, security, check-in, and shops & restaurants.
Level 2: shops & restaurants, airport offices, gates, and lounges.
Level3: restaurants, airport offices, and ATMs.

BLL airport terminals
Billund Airport is located in Billund, Denmark. If your travels bring you to BLL, you may find yourself lost and in need of guidance. Let us point you in the right direction. From finding your gate to finding a restroom, we're here to help.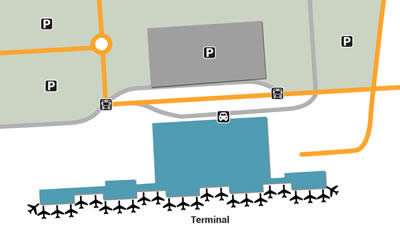 view map: BLL shuttles from terminals
Billund Airport Shuttles
A great place to find yourself after a long day of traveling, the low-key ambiance of Billund Airport is one that makes it easy to take your time. Look forward to every minute of it by making sure you have a shuttle ready & waiting near Ground Transportation, booking with either local taxi cabs or shuttle ride providers to get a tandem experience worthy of writing home about.

Take advantage of what's in the immediate area of whichever direction you're headed, from the central works at the Billund Sculpture Park to old churches in the far western villages of Grindsted and Hejnsvig, both of which also offer unique cuisine at the heart of their main streets. If you're staying east of Billund, go on a unique self-guided drive through the safari-themed Givskud Zoo, while those hanging out south of town have the war artifacts of Vandel Bunker Museum to look forward to.

Due to the nearby LEGOLAND Theme Park and other surrounding attractions, Billund Airport can get crowded in peak vacation seasons. Make sure you know where your shuttle is in the event that things get hectic, keeping track of location, pick-up time, and vehicle type, all with the help of your confirmation email. Print the info out to keep it handy in case your phone dies, or contact your shuttle provider with the help of a phone at a nearby information desk.

About Billund Airport
Practically touching downtown as well as surrounded by the city's biggest attractions, Billund Airport offers the city's best at an instant. Keep close to downtown while staying just as close to your flight with a room that offers equal distance, choosing between the on-site adventures of LEGOLAND Billund Resort, home to the city's staple theme park as well as Hotel LEGOLAND, which offers all-inclusive options just west of the airport. Other airport hotels are located on Nordmarksvej Road, home to the airline-themed Hotel Propellen as well as the upscale Hotel Svanen, not to mention even more family-friendly fun at LEGOLAND Holiday Village.

No matter how you're looking to spend your time between flights, the facility knows how to offer on-site entertainment & eats. Enjoy a range of stores that include fashionable boutiques like Bestseller, Danish Design, or enjoy a classic Billund souvenir from the LEGO store, which boasts locally-themed products perfect for remembering the acclaimed city of toys. Grab a cup of coffee at a variety of hotspots that include Sunset Boulevard, Square Café & Kiosk, and GastroBar, the latter of which is also popular for its happy hour drinks and varied dinner menu.

When it comes to how to enjoy your time near the airport without delving into the heart of downtown, it can be hard to differentiate. Look forward to the uniqueness of the LEGOLAND theme park, which has absorbed the region's hotel economy, or enjoy something casual by looking forward to the simplicity of a nearby restaurant, one of the most popular eateries in the entire city being Restaurant Billund, located along downtown's Butikstorvet Road and less than a ten minute's drive from the airport.

Billund Destinations
Famous for founding the iconic toy seen as the building blocks of millions of childhood's, Billund pride in the LEGO product reaches far and wide, from the iconic roller coasters, restaurants, gift shops, and uniquely themed hotel rooms within the LEGOLAND Billund Resort to the colorful exhibits and block-constructed statues at LEGO House. Experience the joys of the impactful toy known to open imaginations by finding the theme park and other nearby attractions as soon as you hop off your flight, also looking forward to more family-friendly adventures at Lalandia, a water park resort with 4-star rooms, restaurants, massive waterslides, and countless indoor pools.

Those looking to see Billund less obvious side have plenty to look forward to, starting at the locally popular Billund Sculpture Park, home to bizarre shapes, strange structures, and quiet grassy paths in between. See a slice of regional history by exploring the outskirts as well, moving from the historic general store scenery at Old Grocer's Shop, now transformed into a museum with its own café & garden, onward to the idyllic windmills at Frederikshavn Mill Park. Countless old churches also wait on the northwest side, each one offering a slice of the region's past perfect for taking the day slow.

Lounges at Billund Airport
Make layovers a fly at King Amlet Lounge, offering executive perks through complimentary drinks, conference rooms, fax machines, Wi-Fi, showers, telephones, and casual entertainment in the form of televisions & magazines. Passengers can access the lounge through payment at the door as well as exclusive lounge membership programs.