Bengaluru Kempegowda BLR Airport Shuttle
Bengaluru Airport Transportation
As the chief airport for Bengaluru, the capital of India's state of Karnataka, Kempegowda International Airport offers easy access to the north side of the city. Get around at the ease of a rolling Asiatic wind, booking one of many private vehicles that include sedans, SUVs, vans, and buses, though business travelers may want to consider the efficiency of a meet-and-greet service, choosing between the luxury of stretched limousines and the simplicity of a shared ride van.

BLR Transportation
With connected access to the Namma Metro as well as a few bus lines running through the adjacent National Highway 44, getting to the city via public transportation can be a flash if you don't mind waiting on a strict schedule. If you do mind, go with a private shuttle instead, booking through our local providers to have a ride not only ready & waiting, but getting custom drop-offs to your hotel.

Shared Ride Van
If you're simply heading to an all-in-one stay, consider the convenience of a shared ride van, the perfect lift for one-time rides to 5-star hotspots like The Oberoi Hotel and Ritz-Carlton Bangalore, both of which are renowned for their many restaurants, bars, and lush garden terraces.

Private Van
Those in need of a ride that can carry up to a dozen passengers with grace should reserve a private van from us, looking forward to all the right moves with all the time in the world, enjoying the super-sized exhibits at Government Aquarium as much as the contemporary pieces inside the National Gallery of Modern Art.

Private Sedan
Enjoy the intimate side of life by reserving a private sedan, looking forward to the quiet scenery of the outskirts, from Avalahalli State Forest on the north side to Turahalli Forest in the south, all at the ease of following your own schedule.

Local Personal Drivers
With countless diverse neighborhoods to explore, you'll have plenty of questions to ask for each turn you make. Find something that's both popular and low-key by going with a local personal driver instead, taking part in hidden street markets, unique cafes and restaurants with waterside views.

Private SUV
A private SUV is the perfect ride for families in need of a safe and comfy lift for up to six passengers. Book through us to see a variety of easy going attractions that range from the lush greenery of Cubbon Park to the ferocious animals inside Bannerghatta National Park.

Taxi Cab
If you're heading to one of the many massive convention centers across town, from MLR to Nimhans, consider a taxi to keep traffic and parking at a minimum. Also great for 24-hour lifts that can either save you from the night or get you to your flight, the classic yellow cab goes far in last-minute moments.

Stretched Limousine
A city that sees a lot of business from huge corporations, stretched limousines are a common sight in Bengaluru. Book with our area providers to make grand arrivals to gorgeous locales, whether it be the chandelier-decorated interior of Jamavar, located in the lobby of The Leela Palace, or a special night of entertainment at Jagriti Theatre.

Chartered Bus
Keep over a dozen passengers with you at all times by reserving a chartered bus, the perfect ride for making sure everyone sees everything. See the most widespread locales first, exploring the many decadent temples and palaces as well as the famous greenhouse at Lalbagh Botanical Garden.

BLR Airport Terminals
Kempegowda International Airport is home to a single 3-level terminal that offers easy-to-read signage and unique services & amenities, all underneath a modern 21st-century roof.

Level 1: arrivals, check-in, VIP lounges, shops & restaurants, and visitor tickets.

Level 2: domestic departures, shops & restaurants, and an on-site hotel.

Level 3 (mezzanine): international departures, VIP lounges, restaurants & shops, and a prayer room.


BLR airport terminals
Move freely about the airport's terminal routes using our easy to use maps. Travelers heading towards their ride after landing at the airport can get there quicker using our easy to use terminal maps.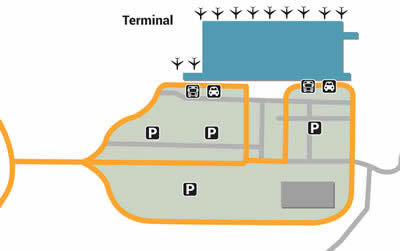 Bengaluru Airport Shuttles
A few miles north of the city of Bengaluru, Kempegowda International Airport makes getting a pick-up especially convenient. Schedule ahead of time for faster trips, plus the added bonus of custom drop-offs and bag-handling services, all at the ease of contacting us.
Personal shuttles can go a long way if you're looking for the convenience of single drop-offs, even more if you're planning to stay close to a cool neighborhood or region. Stay close to the busy tech industry of Electronic City for a good time on the southeast side, or resort to the placid waters and quiet country side of the eastern neighborhood of Whitefield, especially popular for its elegant hotels. For something close to subway stops and at the heart of it all, head to Indiranagar, a festive hub of restaurants & shops as well as a popular nightlife bar scene. Make sure you're taken care of every step of the way by booking your airport transfer early.
About Kempegowda International Airport
About 25 miles from downtown, Kempegowda International Airport is a long journey from the heart of the city, making the simple option of staying at an airport hotel one of the easiest. Choose between on-site choices like the Taj Bangalore, home to free breakfast, 3 restaurants, and a spa, or The Day Hotel, located on level 2 and offering a sleek modern design perfect for overnight layovers. Other business-friendly stays around the corner include Airport Residency, Hotel Cosmopolitan, and Fantasy Golf Resort.
Have fun with on-site goodies the airport has to offer, from sit-down restaurants like Maiyas and La Tapenade to western chains that include Subway and KFC. Enjoy drinks afterward, either with coffee from Puro Gusto or stylish cocktails at Above Ground Level Lounge. Spend some time shopping as well, either searching for some souvenirs at several duty-free shops or grabbing a colorful pop-art souvenirs. There is also an on-site botanical garden designed to bring peace & tranquility to all classes of passengers.
If you fear there's nothing to gain by staying close to the airport, fear not when you find the beauty of nearby landmarks, historic and modern. Start by taking the train to the small town of Devanahalli, home to old relics like Devanahalli Fort, Tippu Square, and Ancient Pond, each offering centuries of mystique at the quiet town's heart. For more incredible artifacts out in the open, visit Nallur Heritage Tamarind Grove, a popular cycling spot especially adorned for its ruinous architecture. For an all-in-one getaway, the place to go is Signature Club Resort, located just north of the airport and home to an oasis of amenities perfect for forgetting it all.
Bangalore Destinations
Get to know every inch of Bangalore by looking forward to the city's most iconic attractions, doing the most with Karnataka's state capital by visiting the stately Bangalore Palace, home to 19th-century structures inspired by Windsor Castle as well as the Tudor era, while official government buildings Vidhana Soudha offer the rare opportunity to peek inside ornate legislative halls. Dabble into the cultural side of town afterward, going temple-hopping with a tour of massive park-like grounds at Nandi Temple as well as the unique placement of the Hulimavu Cave Temple. And no trip would be complete without a look inside Halasuru Someshwara Temple and Gavi Gangadhareshwara Temple, both of which are among the oldest in the city.
When the old and ancient's got you down, spring back to life with something more modern, checking out the many family-friendly theme parks ranging from the ferris wheels and water slides at Wonderla to the lakeside paddle boats and children's coasters at Lumbini Gardens. A more unique approach for family time can be found at Innovative Film City, which allows everyone to put their creativity to the test, while the centuries-old Dodda Alada Mara offers access to an ancient banyan tree covering 3 acres of land, making it one the oldest in the country. Don't forget to try out the highest rated eatery in town, Time Traveller, which offers a delectable Asian-Indian dinner buffet.
Lounges at Kempegowda Airport
Plaza Premium Lounge: 2 locations on Level 1. Perks include drinks, fax machines, Wi-Fi, spa & massages, reading material, food & snacks, printers & copiers, showers, telephones, and TVs, plus disability access and flight information monitors.
Above Ground Lounge: 2 locations on Level 1 and 3. Perks include Wi-Fi, reading material, telephones, TVs, fax machines, printers, photocopiers, conference rooms, and drinks, plus disability access and flight information monitors. Day Hotel by Plaza Premium Lounge: Located inside the on-site stay, The Day Hotel.
BLR Contact Information
Bengaluru International Airport
KIAL Rd, Devanahalli
Bengaluru, Karnataka 560300, India
Airport Code: BLR