Barcelona pick up and drop off at BCN airport
Ground transportation to El Prat Airport
When flying to Spain travelers will most likely land at Barcelona–El Prat Airport which is the second largest airport in Spain, making it a main hub not only for the country but all of Europe. The facility is broken into two terminals; Terminal 1 and Terminal 2. Terminal 1 handles most of the flights and provides Schengen flights for Concourses A-C and non-Schengen flights across Concourses D-E – the terminal is home to four floors, with ground level home to the Intermodal Lobby and arrivals, Level 1 home to an aerial bridge and Levels 2 and 3 handling check-in and departures. The smaller Terminal 2 is home to only two floors, with ground level handling arrivals & departures, and the upper level handling just departures. An inter-terminal bus (green) transfers passengers from one terminal to the other – additional ground transportation includes Terminal 2's train station that connects to the Rodalies de Catalunya commuter system as well as Terminal 1's underground access to Barcelona's Metro (Line 9).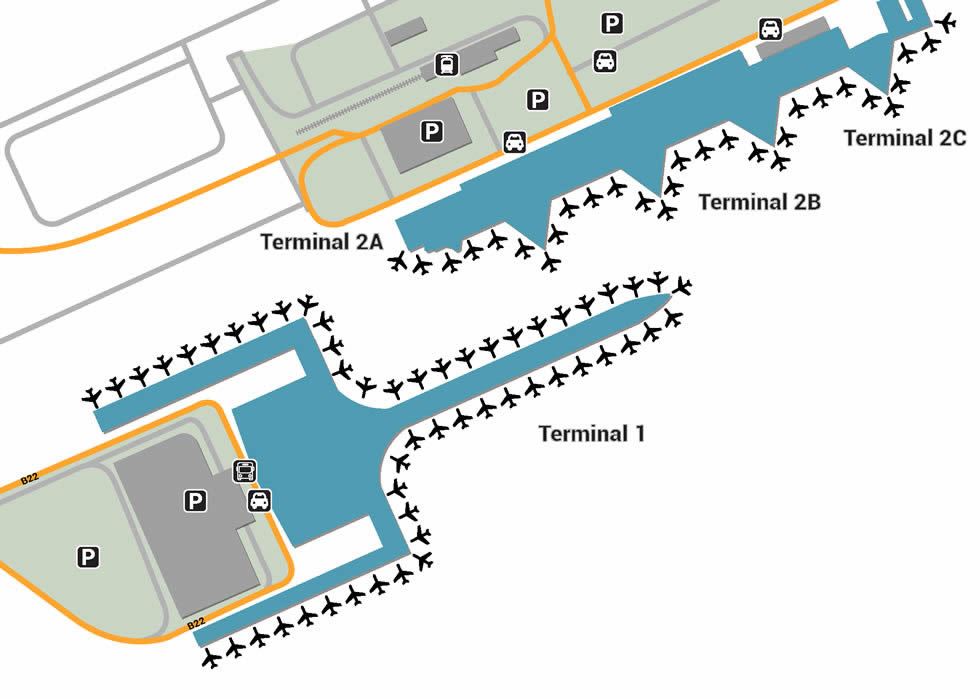 Parking
Parking at Barcelona Airport includes thousands of spaces that cover short-term and long-term needs for each terminal. There are three main areas to park for Terminal 1; General Parking, Surface Parking and Long-Term Parking. General Parking is directly connected to the terminal and the most popular choice for short-term, while Surface Parking is a bit further and connected via walkway. Long-term parking is just a couple kilometers away from Terminal 1 and provides shuttles that depart every 5 minutes. Parking for Terminal 2 is located within two garages titled PA and PC, each providing both covered and uncovered spaces –Surface Parking is also available a bit further from the terminal. Other perks include valet parking and 24/7 operation, though it should be noted there are no options for motorcyclists.
Services
Services for Barcelona Airport include a diverse collection of necessities as well as a handful of unique accommodations. Whether it's something simple like ATMs, currency exchanges or information desks, you'll be set in both terminals, whereas families looking for helpful services that can help them relax should take advantage of the five separate children's play areas as well as specialty lanes designated for families during security checks. Business travelers can also rest in comfort through five on-site VIP lounges as well as the napping rooms courtesy of Air Rooms Barcelona, not to mention spa services from Heaven on Earth Express as well as Wellness & Peluqueria. Other services just about everyone can enjoy include free Wi-Fi, a few 24-hour cafés and two on-site prayer rooms in Terminal 1.
Retail
Look forward to a wide selection of duty-free shopping while you wait, looking forward to name-brand fashion from boutiques like Burberry, Carolina Herrera and Adolfo Dominguez, plus affordable fashion from shops like Victoria's Secret and Zara. And for those interested in a specialty souvenir, choose between local handicrafts sold at La Mallorquina and Thinking Barcelona as well as traditional gifts from Natura. Other specialty shops include soccer gear from La Botiga del Barca and Adidas. Last-minute necessities can also be found at various duty-free shops include Barcelona Duty Free and Express Duty Free. And don't forget to get something for the kids at Story Store, afterward grabbing something sweet from confectionaries like Chocolate Factory and Tutti Frutti.
Restaurants
Kick back with the countless eats at El Prat Airport, waking up with a variety of cafés that include a few Bite & Coffee locations as well as the 24-hour convenience of Caffé di Fiore – takeaway alternatives can be found at the healthy Camden Food Co. as well as B by Fresh & Ready. There are also a handful of fast food options that include western-style eats at Burger King as well as the bocadillos of Pans & Company. For something a bite more immersive, look forward to sit-down restaurants that include select Spanish ingredients at La Botiga and hearty servings from Ribs, not to mention fresh pasta & pizzas at Pizza 'N Co. Other unique options include the tapas at Dehesa Santa Maria as well as the natural flavors of Deli & Cia, not to mention baked goods from Dots Bakery.