Barcelona BCN Airport Shuttle
Located a couple miles south of Barcelona El Prat Airport is a unique airport not only because of its connections to downtown train lines, but instant access to a slew of riverside parks surrounding the city. Make things easy for yourself by getting a ride designed to help you relax, whether it's courtesy of the nearby Salles Hotel or something that offers a less restrictions on how to get around. From casual meet-and-greet services to unique private rides perfect for doing multiple things in one day, we've got you covered.
Search for BCN airport rides

Trusted service since 2003

Flight Delayed? We wait.

24/7 Customer Service

Barcelona Airport Transportation

Keep in mind the beauty of what's to come before you decide on what you need, whether it's a simple drop-off to a neighborhood you want to see up-close or a roomy SUV big enough to take the let the whole family enjoy historic rides at Tibidabo Amusement Park. For an even roomier ride, explore the vast Serra de Collserola Natural Park with a chartered bus, or book a sedan to take romance to another level at the 18th-century park and maze at Laberint d'Horta Park. If you're a history buff looking to hit particular spots with ease, utilize the ease of a taxi to get dropped off, or reserve some time with a local personal driver for the unheard stories in surrounding neighborhoods. For lovers of the opulent, arrive everywhere you go with a stretched limousine, enjoying renowned beachside eateries alongside gothic-style entertainment at Gran Teatre del Liceu.

BCN Airport Transfers

Find other destinations that offer GO Airport Shuttle or search for other transportation providers at Barcelona (BCN) airport.

Shuttle Locations

Looking for airport shuttle rides? Learn how you can get connected to the best shared ride van providers, sedans and private vans and view our airport transfer locations.
Barcelona Airport Shuttle Service
The Barcelona Bus Turistic has 3 routes and will take you by all of the tourist sites. You can jump on and off when you see something that interests you, the bus will announce the location.
Shared Ride Van
Experience your first ride to the Sagrada Familia using our shared ride van. Book for reservation and save from your transport allocation.
Private Van
Our private van will provide you high-class door-to-door services. Hire and call for a pickup within a short time. A quick arrival to the Park Guell and Casa Mila is an assurance with our private van.
Private Sedan
It is now a chance for you to change from your tiring spin using the public transport. Hire our private sedan for ground transportation and one of our professional drivers will drop you off at the Montjuïc.
Local Personal Drivers
Do you wish to have a quick arrival at the Gothic Quarter? Call for assistance by one of our expert drivers who are always ready and reliable when it comes to your transportation aid.
Private SUV
Enjoy a comfortable spin to the Camp Nou and Palau de la Música Catalana by our private SUV. Hire our private SUV for door-to-door services.
Taxi Cab
Our private taxi provides door-to-door services as well as airport transfer services. Hire our private taxi for a spin to the Museu Picasso.
Stretched Limousine
Touch of luxury and comfort provided to you by our first class private limousine. Hire for a spin to Parc de la Ciutadella and feel this experience.
Bus
Choosing to travel in our shuttle can quicken your arrival to the Poble Espanyol. Arrival and departure of our shuttle at the terminal is after every one-hour.
BCN airport terminals
Getting around at the BCN airport to find your terminal isn't always easy, but with our terminal map it becomes simple.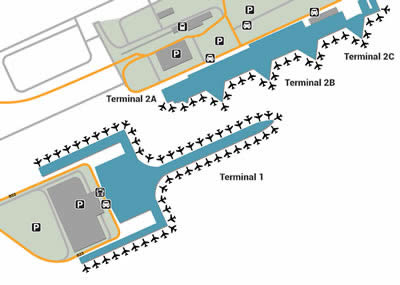 Barcelona Airport Shuttles

Barcelona is Spain's second largest city with a long history that goes long past the Roman era. With an abundance of history and things to see Barcelona is a vacation that you and your family will not forget.

There is also a regular bus system that travels around the city. Getting a Barcelona Card will allow you unlimited travel on any public mode of transportation and free admission or discounts to approximately 100 attractions. There are Tuk Tuks, 3-wheeled motorized open-air cars that offer tours around the city. If you decide you want to drive parking is expensive at tourist destinations, expect to pay 36 Euros to park at most places. You can also rent a bike, segway or scooter to get around the city.

Hotels near BCN
The Best Western Premier hotel is 100 Euros per night and is located in the Ciutat Vella district. BBB –Jardinets Guest house is 50 Euros per night for a double and it's located in the Gracia district.

You can visit places such as Gaudi's Parc Guell and La Rambla, which is a walkway where you can see people doing stunts, music, artwork and more. Spain has many festivals and events such as the Monegros Desert Festival and Festes de la Mercè. When traveling to and from the Barcelona International or BCN you can find traveling to your hotel convenient with private sedan services and shuttle vans that can take you safely to your destination.

About Barcelona Airport
Barcelona-El Prat Airport abbreviated BCN is located 7.5 miles southwest of Barcelona. The airport is the 31st busiest airport in the world and after Madrid Barajas it's the 2nd largest airport in Spain. Barcelona itself is full of rich history, culture, and mythology. It's the 2nd largest city in Spain and its population is 1.6 million. The city is divided into 6 districts Ciutat Vella, Eixample, Gracia, Sants-Montjuic, Santi Marti and Inland Suburbs.

Things to know in Barcelona
Barcelona is busiest in August but the best time to visit is between April and June or September to November; the weather is the most comfortable then.

The visitor's information office is located at Passage de la Concepció, 7-9 08008 Barcelona. The Hospital Clinic I Provincial De Barcelona is located at C/ Villarroel 170 take line 5 to get there. Free Wi-Fi is provided by the city; the password is "Barcelona Wi-Fi. The official language is Catalan and most signs are Catalan but most locals are bilingual and also speak Spanish.

Things to do in Barcelona
Get your air ticket because it will only cost you 30 Euros and you'll get admission to six museums: CCCB, Fundació Antoni Tàpies, Fundacio Joan Miro, Macba, Museu Nacional d'Art de Catalunya, Museu Picasso. If those aren't enough visit the Museu Blau, or the CosmoCaixa Museu. If you're with the kiddos make sure to take them to the Tibidabo Amusement Park. Barcelona was also named the number 1 beach city by National Geographic. There are a total of 9 beaches.

Barcelona Restaurants
Most restaurants serve the menu' del dia (the menu of the day). Expect small portions usually 2 mouthfuls but your get a salad, a main dish, and a drink sometimes a dessert. The menu will have 3 or 4 options for a main dish. Expect to pay between 8 and 20 Euros.