Baltimore Washington International BWI Airport Shuttle
BWI airport is located in Baltimore, Maryland, and is popular among those visiting both Baltimore and nearby Washington D.C. When you have a flight at this airport it becomes important to make sure you know how you're going to get to the airport and how you'll be picked up from the airport. Finding a low rate on a taxi or shared ride van is easy. You can also compare options such as a private black car service or even an airport limousine or private SUV or private van. Once you figure out your airport ride you can get back to concentrating on the more fun parts of your trip.
Search for BWI airport rides

Trusted service since 2003

Flight Delayed? We wait.

24/7 Customer Service

Baltimore Airport Transportation

If you are on a shared ride van you may need to check-in with a representative so they can direct you towards the correct shuttle bus. Once you begin your airport ride it can take you towards your destination with professional drivers who are licensed and trained.

BWI Shuttle Transfers

When you fly in to Baltimore Washington International Airport AirportShuttles.com makes it easy to catch a ride from the airport into Washington D.C.

Airport Pick Up

Go The Airport Shuttle and Go Delaware Express are the local providers for the BWI Airport. They can take you to where you need to go with top quality service.
Baltimore Airport Shuttle Service
BWI airport provides easy access for private transfers in and out of the airport. From taxicabs to private cars you can always find a cost-effective way to get around the city.
BWI Pickup and Drop Off
Along with the vans that will take you to local hotels and suburbs there is a variety of rental car, private vehicle and cab services available right there at the airport. 


Shuttle rides at BWI airport are located near the baggage pickup after you get off the plane. If you have any questions you can either call your provider with the number on your confirmation number or use a courtesy phone in the terminal to locate your shuttle.

Shared Ride Van
When traveling by shared ride vans you can find cheaper rates than most vehicle because you are sharing the ride with others who are headed in the same direction as you.

Private Van
AirportShuttles.com, GroundLink and GO The Airport Shuttle have excellent service when it comes to private shuttle vans anywhere in Baltimore including Annapolis and Gaithersburg.

Private Sedan
Salisbury and Bethesda are some of the locations you can take for private sedan service by Blacklane and Zumu that have friendly and licensed drivers.

Local Personal Drivers
You can find affordable drivers from the local area who can take you anywhere in the city such as Oriole Park at Camden Yards and National Aquarium.

Private SUV
With unique and luxury private SUV rides let Zumu which is serviced by AirportShuttles.com take you to Baltimore Convention Center in Baltimore and popular hotels in the area.

Taxi Cab
Airport transportation to local attractions like Baltimore Museum of Industry may be faster with a local taxi.

Chartered Bus
While traveling with larger groups of passengers to nearby attractions such as The Maryland Zoo you can reduce the overall cost of the trip with chartered buses.
BWI airport terminals
Travelers can navigate themselves through the different Concourse while visiting BWI airport and get quick insight to the various areas of the airport.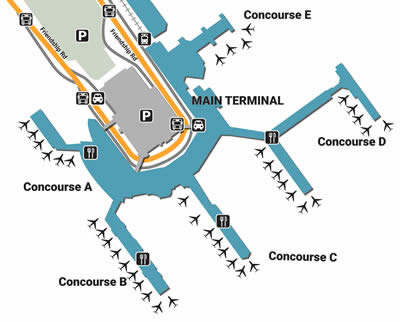 Baltimore Airport Shuttles
At BWI airport transfers for AirportShuttles.com Baltimore shared ride shuttles can give new arrivals at Baltimore-Washington International Airport quality ground transportation which can travel as near as downtown Baltimore or even to the University of Maryland for students needing cheaper rates.

If your group needs airport rides to Baltimore Convention Center then there are many shuttle providers that offer ground transportation. One of the most common companies include GroundLink who specializes in a wide variety of private transportation options such as private vans or black car sedans, SUVs and various style limousines to choose from. As passengers head through the terminals and collect their baggage they can follow the signs to get to the ground transportation building to board their ride to downtown Atlanta hotels.

Private van services can go all the way from the Eastern Shore to Western Maryland available through the Bayrunner Shuttle Service including nearby Baltimore surrounding neighborhoods.

Bus transportation is available to visitors or residents as well as a railway station to get you around the city. The airport added Zagster Bike Share which helps tourists to rent bikes per hour.


Baltimore Hotel Shuttles
Baltimore-Washington International Airport is located in Maryland and is very close to the Washington D.C. area. Near BWI airport are many hotels to stay at especially if you have a canceled flight, which has, shuttle transfers available for pickup. You can find shared ride vans and taxi services to many of these hotels include the Towson University Marriott Conference Hotel and Renaissance Baltimore Harborplace Hotel. Of course you can search for shuttle bus rides to these hotels in Baltimore depending on your personal tastes and budget and vehicle preference.

Baltimore Destinations
Any attraction whether it is a museum or event in Baltimore you can learn more about it and the dates by getting the information you need while you travel.
Visit Baltimore

About Baltimore Airport
Baltimore-Washington International Thurgood Marshall Airport is located next to Inner Harbor, Fells Point and downtown Baltimore area. BWI is located just a few miles off the city and the Port of Baltimore.

Baltimore is a must-see city for visitors to see and is complete with many attractions and fun. At the Inner Harbor it's possible you might catch a live jazz show or eat at its many fine restaurants. Baltimore also features The Walters Art Museum and Oriole Park at Camden Yards.

BWI Contact Information:
Baltimore-Washington International Airport
Baltimore, MD 21240
Airport Code: BWI