Abu Dhabi pick up and drop off at AUH airport
Ground transportation to Abu Dhabi Airport
Servicing the capital city of the United Arab Emirates, Abu Dhabi International Airport is a busy airport just east of Abu Dhabi's city center. The airport is broken into three terminals, dubbed Terminals 1-3. Terminal 1 is the oldest of the three and provides two levels for international & domestic flights, while Terminal 2 is a smaller separate building designated for low-cost domestic flights. Terminal 3 is directly connected to the west side of Terminal 1, also providing two levels of facilities as well as an expansive food court. Ground transportation at Abu Dhabi International includes five bus routes that run 24-hours a day as well as connections to the Abu Dhabi Metro.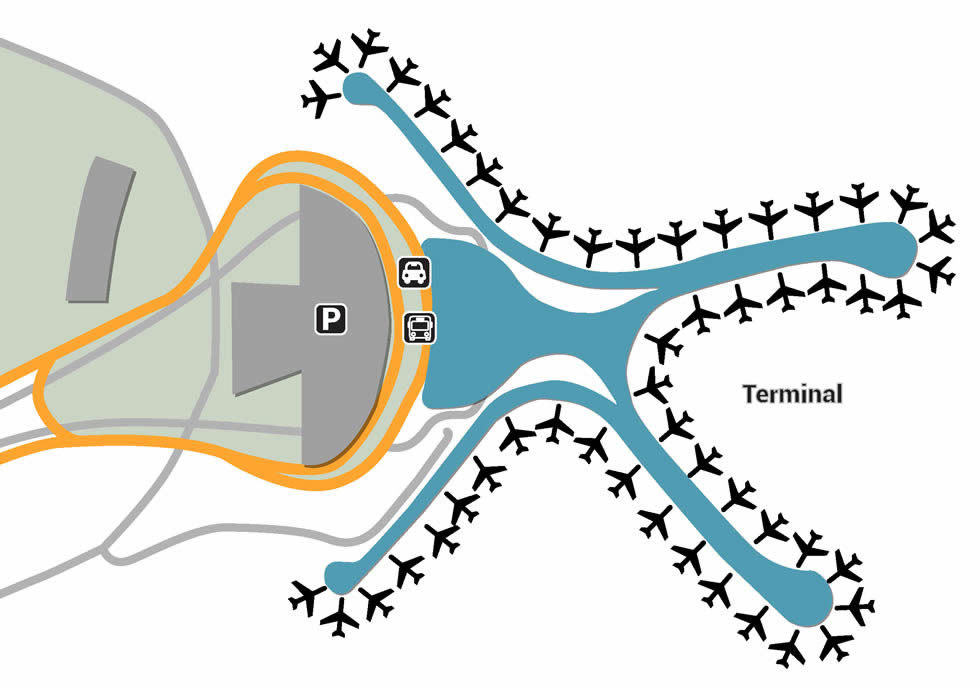 Parking
There are four main areas to park at Abu Dhabi International, each providing a range of short-term and long-term as well as covered and uncovered spots. The Terminal 1 and 2 Garages are each attached to their respective terminal and offer the same hourly & daily rates, which are ideal for short-term parking. Long-term parking can be found at the Garden Parking Garage, which is located along Airport Road between Terminal 1/3 and Terminal 2. The Terminal 2 Garage is directly attached to the terminal and provides the same low rates as the Garden Parking Garage. Additional services include executive valet in a separate garage beside Terminal 1 as well as disability services in the form of mobility ramps and reserved spots.
Service
Services at Abu Dhabi Airport are varied, including basic help as well as diverse perks that tailor to business travelers and families. Financial services range from ATMs to currency exchanges as well as business-friendly perks that include five VIP lounges, two on-site airports and 50+internet kiosks perfect for getting work done. Families in need of extra help can also unwind with various children's play areas in select lounges as well as parenting rooms that come fully equipped with nursing chairs, baby-changing tables and free strollers. Other unique services include available showers, spas and and close access to the world-renowned Al Ghazal Golf Course.
Retail
Shopping at Abu Dhabi Airport is an extensive way to pass the time, especially if you're hanging out in either Terminals 1 or 3. Look forward to fashionable looks from upscale vendors like Burberry, Polo Ralph Lauren and Hugo Boss as well as luxury accessories from either Fendi or Hermes. You can finish off your look with a range of makeup lines at Cosmetics as well, also considering an array of designer shades from Sunglasses. Find something more down-to-earth at a handful of souvenir shops that include The Souk's local art & handicrafts as well as Souvenirs' one-of-a-kind gifts. More kid-centric gifts can be found at either Food & Candy or the aptly-named Toys. Other unique shops include world-class cigars at World of Cigars and convenience goods at WHSmith.
Restaurants
Whether you're arriving at the crack of dawn or in the dead of night, the restaurants at Abu Dhabi Airport can be an especially comforting sight. Look forward to breakfast at either COSTA Coffee or Flat White Coffee Club, also considering unique options like artisanal sweets from Crepe De Licious or an immersive breaking-news ambiance at CNTraveler Café. Those more interested in lunch can choose between the healthy takeaway at Tribs as well as casual Italian from Bricco Café, not to mention a few fast food joints that include Burger King and McDonald's. Dinner options range from Asian delights at Yum Cha to fine dining & live music at Montreux Jazz Café, not to mention relaxing evening views at Sky Bar.