Trusted service since 2003

Flight Delayed? We wait.

24/7 Customer Service

Abu Dhabi International AUH Airport Shuttle

Book reservations for airport shuttle, taxis, sedans and limousine service to and from the airport.

AUH Airport Transfers

Find other destinations that offer GO Airport Shuttle or search for other transportation providers at Abu Dhabi (AUH) airport.

Shuttle Locations

Looking for airport shuttle rides? Learn how you can get connected to the best shared ride van providers, sedans and private vans and view our airport transfer locations.
Abu Dhabi Airport Shuttle Service
Airport transportation can be taken by many ways from sedans to shared ride and private vans including local taxi services.
Shared Ride Van
Join others to share the great moment of cheap transportation to the Yas Island. You will just need to Book our shared ride van for reservation.

Private Van
How exciting will it be with you when you hire our private van for door-to-door services and ground transportation? Call for a pickup while traveling to the Emirate Palace and the Yas Island Marina Circuit.

Private Sedan
Come share our luxury by spinning in our Private Sedan. Hire our private sedan for a quick arrival at the Marina Mall Abu Dhabi.

Local Personal Drivers
We are here to make your dreams of enjoying a high class ride by a professional driver comes true. Our professional drivers will come to your aid within a short moment while touring the Ferrari World Abu Dhabi.

Private SUV
Our private SUV offers you a moment of comfort on the road. Hire for a spin to the Qasr al-Hosn and the Sheikh Zayed Mosque.

Taxi Cab
Door-to-door services with our private taxi is something you cannot miss. Hire our private taxi and touch the high class luxury when spinning to the Abu Dhabi Cultural Foundation and the Dalma Mall.

Stretched Limousine
Our stretched Limousine will offer you a luxurious and comfortable ride to the Abu Dhabi International Airport. Hire our private limousine for airport transfer and enjoy the benefit of huge discounts.

Bus
Arrive at our shuttle terminal for a pickup and drop off at your most convenient point. Arrival and departure are in hourly intervals.
AUH airport terminals
Abu Dhabi International Airport in Abu Dhabi City is a sight to see. Whether you want to stop for a quick bite before you flight, find out where to collect your luggage, or see where to meet your ride, this airport terminal map will help you find your way.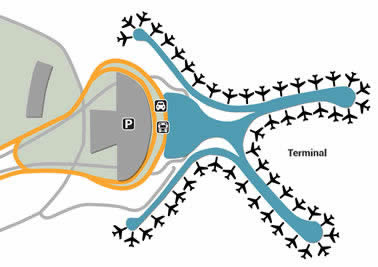 Abu Dhabi Airport Shuttles

Airport rides to and from nearby hotels can be easier and cost effective if you make reservations prior to your travels.


Hotels near AUH
Hotels in and around Abu Dhabi vary in price. Hotels include Centro Capital Centre Hotel and Hilton Abu Dhabi. Many hotels are 3-star or up and may or may not include the usual amenities and such as Wi-Fi.

Khalifa Park has fun for the whole family with an aquarium and museum. One of the most popular is the Desert Safari which lets you ride over dunes in the desert. You can get to and from your hotel while visiting Abu Dhabi with rides for Abu Dhabi International or AUH airport transportation at cheap rates whether it is a private sedan ride or a private shuttle bus.

While you are in Abu Dhabi you can visit many place such as Saadiyat Island, Yas Island and Lulu Islands which among the best places to see.

Abu Dhabi, UAE's Political Center and Tourist Site
The international airport in Abu Dhabi, UAE is located in Abu Dhabi, United Arab Emirates. It is a center for tourism and commerce in the country of UAE, but is also a hub for tourism. Abu Dhabi's improved tourist attractions include the world's fastest roller coaster and the world's tallest sand dunes.

Abu Dhabi is the capital of one of United Arab Emirates' biggest city (the second most populous city, to be exact). Abu Dhabi is under the United Arab Emirates Government, a constitutional monarchy and houses several federal buildings for this government–including the building used by Khalifa bin Zayed Al Nahyan, president of the United Arab Emirates (or, "UAE"), and his family. Abu Dhabi has transformed into a bustling, urban city over the past few decades of commercial, industrial development.

Abu Dhabi is the entire country's center of industry and cultural activity; as well, habitants of Abu Dhabi have high income rates compared to the rest of the country. Government of the city has been actively trying to boost economic income from Abu Dhabi partly by diversifying tourist attractions, making it more of a center for tourist traffic.