Auckland AKL Airport Shuttle

Book reservations for airport shuttle, taxis, sedans and limousine service to and from the airport. Visiting the City of Sails? Choose from our list of reliable transfer options to follow the wind! Go with the flow by booking a shuttle, looking forward to occasional stops that turn transfers into an amusement ride experience, or take matters into your own hands with a private lift ideal for seeing natural wonders with freedom. Wherever you go, however you go, we've got you covered.

AKL Airport Transfers

Find other destinations that offer GO Airport Shuttle or search for other transportation providers at Auckland (AKL) airport.

Shuttle Locations

Looking for airport shuttle rides? Learn how you can get connected to the best shared ride van providers, sedans and private vans and view our airport transfer locations.
Auckland Airport Shuttle Service
Auckland is a car-dependent city you won't be able to do much by walking however there are a variety of modes of transportation including: ferry, taxis, shuttles, trains buses, renting a car or hiring a car. Arrive to or from AKL with ease by going with a timeless shuttle – perfect for a timeless city, you'll trek through town at a steady and reliable pace.
Shared Ride Van
Share our ride van and enjoy a ride to the Sky tower. Book for reservation and enjoy the great opportunity that will help you reduce the transportation cost. If you don't mind making a few stops along the way, shared ride vans can be a cool way to see otherwise unseen parts of town, and maybe some new faces.

Private Van
Experience a fabulous moment in our private van. We offer door-to-door services to travelers moving to the Waitemata Harbour. Hire our private van at an affordable price for ground transportation. Tour the North Island at your own pace with enough room to stretch your legs. Groups of up to a dozen can each have their own experience without ever feeling apart in a private van.

Private Sedan
Our private sedan is suitable for airport transfers and quick arrivals. Hire and enjoy the high class experience while touring the Auckland Art Gallery. Solo business travelers and romantics can gain the most intimate perspectives by booking a private sedan, easily indulging in Kiwi culture as it comes their way.

Local Personal Drivers
Call to enjoy the services of our professional drivers who are always waiting you to ask for a help from them.

Private SUV
Our private SUV will provide a moment of change by giving a luxurious spin to the New Zealand Maritime Museum. If it's your first time visiting New Zealand's largest city, have a local personal driver help you organize the day. Hire and call for a pickup wherever you will be. Stay safe and be adventurous, a private SUV offering picturesque opportunities for families or medium-sized groups looking to explore at their own pace.

Taxi Cab
Have you toured the Rangitoto Island? Our taxi will provide an amazing spin to that beautiful place. Hire and one of our expert drivers will assist you reach there in good time. For business travelers or simple-hearted folk in search of quick transfers, a taxi is the best choice for enjoying commitment-free travels.

Stretched Limousine.
It is your turn now to spin in a high class limousine. Hire our private Limousine at a reduced cost and feel the comfort when moving to the Auckland civil theater to watch the movie of your choice. Have your chauffeur wait by baggage claim when you arrive, reflecting back at Auckland's elegance in a ride that balances business and pleasure.

Bus
Our shuttle services have been modified to provide what you have always missed in all your travels. Arrive at our shuttle terminal for a pickup and you will be dropped off at your chosen point within a short time. Whether it's a sizable rugby team or a group-work conference, booking a bus is the best way to move dozens at a time.
AKL airport terminals
Find your way around the AKL airport. We'll help you find the best dining options as well as where to meet your driver and where to catch a nap if you have a long layover.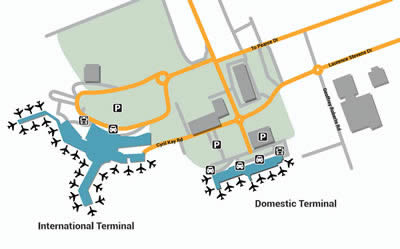 Auckland Airport Shuttles

When traveling to the countryside many travelers will find a vast amount of Auckland hotel rides to choose from.

In fact Auckland has New Zealand's largest metropolitan area which is a well diversed travel destination for visitors who come here worldwide. If you plan to renting a car you'll need to have an international driver's license IDL and know the New Zealand Laws for operating a vehicle.

At a Glance
Auckland International is a two-terminal, two-floor building. The International Terminal is a newer building, while the Domestic Terminal is the older part of the airport – green line pedestrian footpath can be followed to connect the two. It is the country's busiest airport, and though compact in size it does a lot with it's space. An innovative design avoids cramped feelings with wide windows and open spaces, while a blend of Kiwi-commissioned artworks offer a modern-indigenous vibe. Located 20 minutes from downtown Auckland, passengers will have to cross the Mangere Inlet via the South Western Motorway, making ride transfers especially important.

Meet-Up Locations & Ground Transportation
There are several great places to meet your driver on the Ground Floor of each terminal. In the International Terminal, we recommend waiting by the Media Room, located across from the showers/bathrooms. In the Domestic Terminal, a great spot is the Travelex located by the bathrooms across from Air NZ Baggage Claim. For international travelers, ground transportation consists of an inter-terminal bus (Green Line), the 380 Airporter Bus (Orange Line) and the Skybus (Red Line). For the Domestic Terminal, ground transportation includes on-demand taxis and the 380 Airporter Bus just outside the pick-up/drop-off zone. A rail-link is in the works, but it's not yet completed. To avoid public transfers, book a meet-and-greet with us, choosing between the luxury of a chauffeured limousine who can wait on you and your bags, or a local personal driver ideal for getting a tour along with your trip.

AKL Hotels
Novotel Auckland Airport is the only hotel officially attached to AKL. An eco-modern design includes dramatic floor-to-ceiling windows and an indoor ivy wall. No shuttles are needed to access the hotel. The ibis budget Auckland Airport is the next best option, located just 3 minutes from the pick-up zone and offering stylish rooms. 2-star amenities include complimentary coffee, though breakfast and shuttle rides to the airport will have to be purchased. Continue north on George Bolt Memorial Drive to reach two other hotels just 4-minutes from the pick-up zone. One option is the 4-star Sudima Auckland Airport, home to a fun night-owl room service menu and indoor pool. Shuttles to AKL are low-cost, but tend to take a while. Just next-door to Sudima is Heartland Hotel, another 4-star delight that provides free shuttle trips to the airport 24-hours a day. Suites with rustic balconies and a unique lobby-style restaurant set this choice apart.

What's Near the Airport?
For thrill-seekers, Rocket Ropes is located less than a minute from the airport along the adjacent Tom Pearce Drive. A great place to conquer your fear of heights, the kid-friendly space offers fun obstacle courses and a zip-line. Located next-door to Rocket Ropes are a couple other attractions that include unique modern art installations at Outdoor Gallery, as well as miniature train rides and a butterfly house at Butterfly Creek. Another great option that's only five minutes away is the Otuataua Stonefields. An archeological field home to a rich history of the Maori people, this waterside locale showcases the aboriginal's strife with English settlers. And finally, Watercare Coastal Walkway guides hikers along the intracoastal Island Road, which ends with beautiful vistas at Puketutu Island's famous lookout. The start of the walkway is just a five-minute drive from the airport, and the overall hike to the island is less than three miles.

Hotels near AKL
Auckland has many choices from backpacker's buildings, budget hotels to luxury hotels. The Brown Kiwi offers a dorm and a double for an economic stay even cheaper is the Nomads Fat Camel Backpackers Hostel & The Camel Bar; a dorm there is reasonable and a standard double room is affordable too. An option for women and students would be a homestay. Rosa Mustica Homestay offers breakfast and dinner Wi-Fi, and is 3 minutes from the nearest bus station. If you want to splurge you can experience luxury at the Crowne Plaza, the Hyatt Regency, or the Rendezvous Grand Hotel.

About Auckland Airport
Auckland Airport abbreviated AKL is located 13 miles (21km) from downtown Auckland city center. More than 14,829,000 passengers travel through the airport each year. The airport has the ability to have 45 flights depart or arrive per hour. Auckland itself is the largest area in New Zealand and the most population. It accounts for approximately 32% of the country's total population. Its nickname is the City of Sails and sailing is one of the popular pastimes, one out of three homes has their own boat. Other than sailing you'll find that there is plenty to see and do in Auckland.

Auckland Restaurants
If you are traveling with a crowd the food courts will offer something for everyone in your party. Enjoy a mix of Asian and European style restaurants. The Ponsonby village International Foodcourt is open 7 days a week and there you can enjoy a mix from sushi thai, or pizza. For the vegetarian in the group or if you want to experiment a bit try Hare Krishna Food for Life where you can pickup vegetarian food for $5 per person. You'll also find a wide variety of bars, cafes, and pubs to enjoy beer, drinks, and live music.

Things to do in Auckland
There is so much to see and do in Auckland. There is a zoo, museums, go see a volcanic island, sky jump, and more. While you are there you can visit some popular destinations such as the Auckland War Memorial Museum, the Auckland Zoo and the Sky Tower which has a revolving restaurant to give you a scenic looking while you are dining. For great hotel stays you can visit the Quay West Suites Auckland, The Sebel Suites Auckland or 5-star hotel Skycity Grand Hotel. Getting to and from Auckland International Airport or AKL is easy with convenient ground transportation such as sedan rides and shuttle vans.