Auckland pick up and drop off at AKL airport
Ground transportation to Auckland Airport
As the biggest and busiest airport in New Zealand, Auckland Airportoffers expansive shopping & dining options as well as various VIP services. The facility is broken into two separate terminals; the International Terminal and the Domestic Terminal, which are connected via shuttles as well as an outdoor walkway. The International Terminal offers three levels; arrivals on Ground Level, Departures on Level 1 and airline lounges on Level 2. The smaller Domestic Terminal provides only two floors, with some departures & arrivals on the ground floor as well as departures on the upper level. Ground transportation at AKL includes express buses to Auckland and North Harbour via Skybus lines, plus car rental & taxi stands near the forecourt.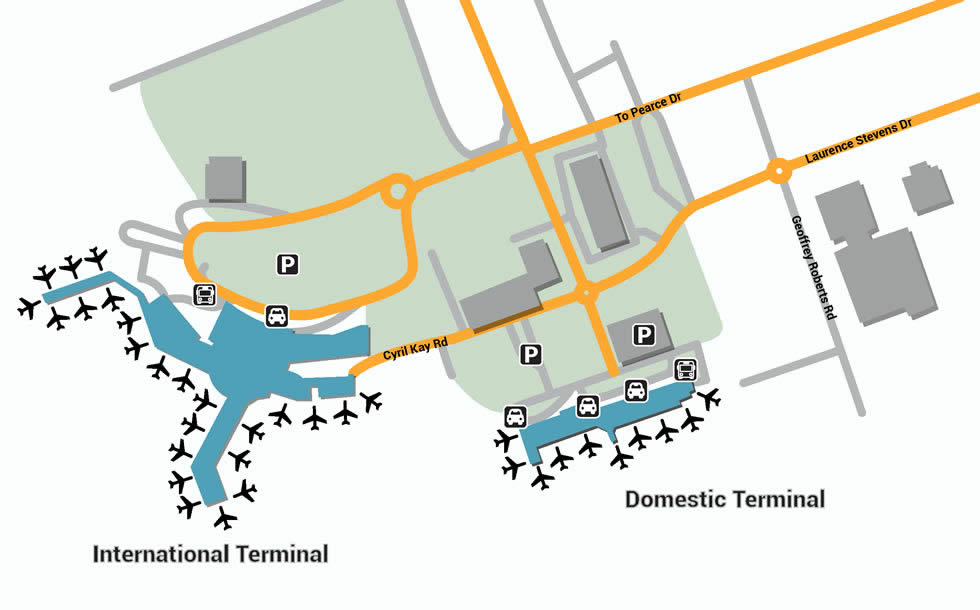 Parking
Parking at Auckland Airport includes various garages and lots that cater to short-term, long-term and executive needs. Short-term lots closest to the International Terminal are Car Parks A and C, while long-term lots include the covered spots of Car Parks D as well as the cheapest options at Car Park E. There are 3 short-term lots for the Domestic Terminal, which include covered spaces at Car Park R as well as the slightly cheaper mix of covered and uncovered at Car Parks S and M. Long-term options for the domestic terminal are located across the George Bolt Memorial Driveway and include Car Parks K and L – Car Park O is also in this area and is specifically used for online reservations. Additional parking services include valet for Car Parks V & R as well as exclusive VIP spaces in Car Park D.
Services
There are various services sprawled throughout both terminals, from simple conveniences to exemplary accommodations. Family facilities include nursery rooms that come fully equipped with changing tables and nursing chairs, plus various toy shops to keep kids entertained. Business perks include free Wi-Fi and complimentary work desks throughout the airport as well as various VIP privileges that range from airline lounges on the top floors to exclusive spots in Car Park D. Other unique services include an observation deck on the top floor of the International Terminal as well as a few interfaith chapels that provides Muslim mats. On-site lodging is also available at Novotel Auckland Airport and Ibis Budget Auckland Airport.
Retail
Spend some time shopping while you're at Auckland, choosing between the expansive shopping mall along Level 1 of the International Terminal or the central shopping plaza located at the core of the Domestic Terminal. Look forward to upscale fashion from Merina Collection, Coach and Hugo Boss as well as relaxed wardrobes courtesy of Victoria's Secret and Lacoste. Compliment your new threads with some relaxing exfoliation products at Kiehl's as well, also considering elegant accessories at Partridge Jewelers. Those in search of that special gift have a variety of options, from the custom engravings at Walker & Hall to the gourmet chocolates at Whittaker's. And for those in need of in-flight necessities, head to various duty-free shops that include TravelPharm, Relay and Tech2Go.
Restaurants
Look forward to good eats at both airports, whether you're arriving at dusk or departing at the crack of dawn. Wake up with early roasts at Wayfarer Café or Take Off Espresso, also considering a sit-down meal from unique breakfast spots like Best Ugly Bagels and Urban Market Café. Choose from endless international cuisine as well, whether it's jumbo Japanese at Sumo Salad or festive Indian from 1 Above. Familiar fast food options include McDonald's, KFC and Subway – there are also a few Dunkin' Donuts and a Pita Pit. More unique eateries include the small but vintage ambiance of 1958 Bar as well as Pier Café's scenic views of the runway. Top it all off with something sweet, choosing between a colorful drink at Tank Juice Bar or a special confectionary at Urban Food Market.