Stockholm pick up and drop off at ARN airport
Ground transportation to Stockholm Arlanda Airport
A diverse international facility just north of Sweden's capital, Stockholm Arlanda Airport provides just about everything one could need to jump-start their day. The airport is home to four modern terminals, each aptly named Terminals 2 - 5. Terminals 2 & 5 are designated for international flights, while Terminals 3 & 4 handle domestic flights. Ground transportation includes light rail rides to Stockholm Central Station via the Arlanda Express as well as a commuter rail that connects to suburban districts of the city. There is also a taxiway just outside arrivals as well as several bus & coach lines that include Flygbussarna, Flixbus and bus4you.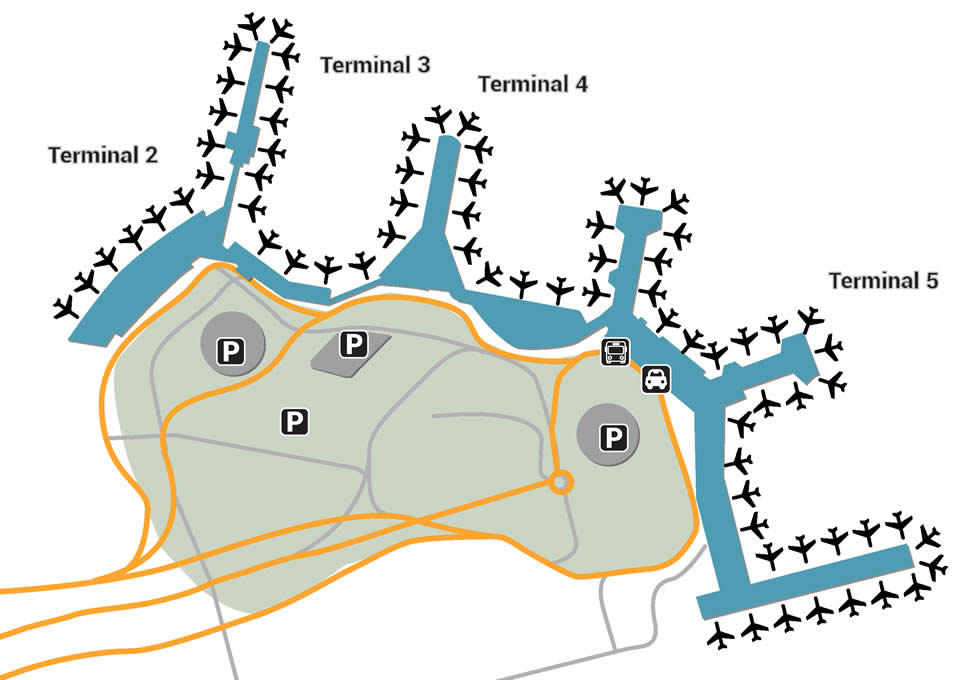 Parking
There are over a dozen lots and garages at Stockholm Airport that include short-term and long-term parking. The closest spots to Terminals 2 & 3 are located at P21 and P22, which provide short-term indoor spaces - for something slightly cheaper, Lot P45 offers outdoor spots a bit further south. The closest spots to Terminal 4 are Lots P41 and P46, which provide indoor/outdoor express parking. Six short-term lots are also available for Terminal 5, which include indoor spots at P51 & P53 as well as outdoor spots at P56 & P57. Long-term lots are designated on the far south end of the airport and are labeled P1 - P3. And for luxury accommodations, enjoy premium parking at the Premium SkyCity Lot. Additional parking services include handicap mobility, easy access to car rental services and the option to pre-book.
Services
Services at Stockholm Airport range from the simple to the astonishing, providing exemplary comfort for every type of passenger. Financial conveniences are available in the form of ATMs and currency exchanges, while special ways to relax include salon pampering at Flygfrisören as well as showers at Rest and Fly. Family services include a children's play area in Terminals 4 and 5 as well as Parent Rooms in every terminal - Parent Rooms provide free strollers and diaper-changing tables. For business travelers, an array of perks await through four exemplary VIP lounges and three on-site hotels, many of which connect to the Sky City shopping mall. Other unique services include behind-the-scenes airport tours, sauna & jacuzzi relaxation at the SATS Fitness Centre and romantic wedding ceremonies held either in the control tower or on-site chapel.
Retail
Make delays a thing of the past by looking forward to the airport's various shops and retailers, a lot of which are located at the on-site Sky City shopping mall between Terminals 4 and 5. Sift through endless fashion items at a wide variety of boutiques that include modern women's clothing at Æra as well as Danish-friendly threads from Becksöndergaard, not to mention colorful accessories in the form of handbags at Longchamp and beach gear at OAS. The airport is also home to cool souvenir shops like universal gifts from Airstop and Swedish-inspired designs at Designtorget, plus basic conveniences from WHSMith and Deli. Other unique shops include the flight-friendly games from World of Toys as well as the famous Denmark licorice from Lakrids by Johan Bülow.
Restaurants
Another great way to kick back is through the many cafés, restaurants and bars available throughout each terminal. Explore the airport's signature world cuisine, whether it's Scandinavian at Andersson Food & Akvavit or gourmet Italian from Barino. Takeaway options include food truck-style dumplings at Beijing 8 as well as healthy smoothies & sandwiches at Café/Bar, not to mention pre-made delights at both Café Ritazza and Deli. Those interested in trendy dinner options should head to Sky City's expansive food court, which includes modern Asian at Indochine and stylish views from Clarion Hotel's Kitchen & Table. Especially unique options include cuisine from every country at East & West as well as an immersive social atmosphere at Gastropub.