Albuquerque International Sunport ABQ Airport Shuttle
Located a couple miles south of downtown Albuquerque International is a beautiful place to greet one of the sunniest cities on earth, not only for its friendly staff but brightly-patterned terminals. Make the most out of your stay by having the right ride ready, whether it's a simple shuttle to get to work or deluxe limousine for making an arrival. Drive north on Yale Boulevard for easy access to a slew of hotel stays offering shuttles, whether it's the upscale Sheraton Albuquerque Airport Hotel, which offers 24-hour lifts, or the more laid-back Best Western Inn & Suites a couple blocks north.
Search for ABQ airport rides

Trusted service since 2003

Flight Delayed? We wait.

24/7 Customer Service

Albuquerque Airport Transportation

Keep other choices in mind before making a big commitment, whether you're heading to the city for business or planning a vacation with the family. Book a taxi for quick drop-offs to Albuquerque Convention Center, or take advantage of the city's unique nightlife with a regular limousine perfect for cruising down Central Avenue. If you're a nature-lover, look forward to the countless attractions surrounding the lush Rio Grande River, whether it's the ABQ BioPark perfect for getting the family ready for a trip in a roomy bus or van, or take a private tour of Old Towne's historic museums via your own private sedan.

ABQ Shuttle Transfers

With non-stop rides at ABQ airport, AirportShuttles.com can get you there with their quality sedans and SUV vehicles from Zumu.

Airport Transfers

Find other destinations that offer GO Airport Shuttle or search for other transportation providers at Love Field airport.
Albuquerque Airport Shuttle Service
Albuquerque airport rides are located at the south side of the baggage claim terminal.
Shared Ride Van
Travel the Duke City in our shared ride vans for hire; we are ready at all times to service your every need; book before arrival for airport transfers and ground transportation.

Private Van
When you arrive at ABQ airport you can make reservations for private for private vans open all day long for travelers seeking to cover any and all that Albuquerque has to offer – from the Indian Pueblo Cultural Center to the Rio Grande Zoo.

Private Sedan
Want to travel in Albuquerque without the heat? Need a luxurious, comfortable ride from the airport? Book a luxury sedan to transfer you and even transport you to places like Explora and the Sandia Peak Tramway.

Local Personal Drivers
Visit Albuquerque Biological Park and the Museum of Art and History with our personal drivers for hire stationed at every important location in Albuquerque, ready to pick up whenever you want.

Private SUV
Admire the Petroglyph National Monument in New Mexico with our charter SUVs with professional chauffeurs and see more of what Albuquerque is all about.

Taxi Cab
We will pick you up, drop you and wait for you while you visit some of the best tourist places in Albuquerque; our dependable taxi service will take care of all your traveling needs.

Stretched Limousine
Classy airport transfers by hiring our high-class limousine along with our high-class chauffeurs, with the option to continue your trip with combo bookings with many discounts.

Chartered Bus
Buses for hire anywhere in Albuquerque; spots like Albuquerque Aquarium or Cliff's Amusement Park for family fun and frolic covered.
ABQ airport terminals
Going to Albuquerque? We've got you covered. Check out our terminal map to find out where you need to go, whether you are looking for your terminal or how to get to your curbside pick up.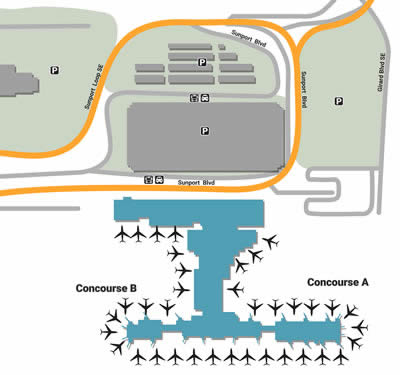 Albuquerque Airport Shuttles
ABQ airport transfers passengers in limo buses and sedans while daily bus and shuttle services are provided by a variety of carriers taking you to locations via Routes 50, 222, and 250 to the city of Albuquerque as well as Santa Fe, New Mexico. 

Commuter train services are offered by Amtrak and Albuquerque ride and provide connecting service to the New Mexico Rail Runner Express/Sunport International Station. Non-stop services are available to the Alvarado Transportation Center in downtown Albuquerque and Santa Fe as well to locations north and south of the airport.

Rental car services available at Sunport include Alamo, Budget and Enterprise are located a half mile west of the terminal building in the consolidated rental car center which is easily accessed by a shuttle bus. A variety of taxi companies and limousine services offer ground transportation and courtesy vehicles are available through Albuquerque hotels and motels.

Sunport Meets All Your Needs
There are several lodging options located within less than a mile from the Albuquerque International Sunport. The Comfort Inn, Holiday Inn Express Hotel & Suites, and Staybridge Suites Albuquerque-offers shuttle service to and from the airport and are quick overnight well-located stops. All are conveniently located within a three-mile radius to all the major attractions the city has to offer. Whether on business or vacation these lodgings will make your trip effortless from beginning to end. You will be able to locate four stars to two star accommodations from the Hotel Parq Central to the Quality Inn and Suites for your stay.

Events in Albuquerque
Albuquerque has spent the last forty years hosting the Albuquerque International Balloon Fiesta, which has over a hundred thousand viewers of this world-renowned attraction. In addition while you are visiting you can visit the Albuquerque Museum of Art and History, which shows the city's origins, which was a Spanish colonial village. The Indian Pueblo Cultural Center offers visitors information on Native American culture and history.

ABQ Contact Information
Albuquerque International Sunport Airport
2200 Sunport Boulevard Southeast
Albuquerque, NM 87106
Airport Code: ABQ
Sightseeing and rides in Albuquerque

There are many things to do in Albuquerque such as walking the many trails throughout the desert areas such as the popular Old Town, which has historic buildings for you to visit.