Adelaide ADL Airport Shuttle

Book reservations for airport shuttle, taxis, sedans and limousine service to and from the airport.

ADL Airport Transfers

Find other destinations that offer GO Airport Shuttle or search for other transportation providers at Adelaide (ADL) airport.

Shuttle Locations

Looking for airport shuttle rides? Learn how you can get connected to the best shared ride van providers, sedans and private vans and view our airport transfer locations.
Adelaide Airport Shuttle Service
Adelaide offers arriving and departing passengers different choices of transport options. These range from self-drive, car rentals, limousines and shuttle services. These will take you to any destination around the city as well to areas the Kangaroo Island and other nearby attractions. The following shuttle services have been rated. Carmel Shuttle, GO Airport Shuttle and AirportShuttles.com are highly recommended. Cabs are available from just outside the arrival hall and a bus service travels from the airport to different suburbs across Adelaide.
Shared Ride Van
Reserve a shared ride van for pickup or drop off at the gorgeous structure, the Adelaide Oval, a true gem of Adelaide and a great place to get away.
Private Van
If you're looking for some privacy on the side of your transportation experience, book a Private Van that can take you anywhere in Adelaide, including the amazing Adelaide Botanic Garden.
Private Sedan
Drive down the iconic Adelaide Central Market for great entertainment and a fun community atmosphere by booking one of our private sedans.
Local Personal Drivers
Find out what the most talked about areas in Australia are by booking a Local Personal Driver of your very own. Have fun.
Private SUV
Book a Private SUV and drive over to the Art Gallery of South Australia for a surprisingly interesting experience on a fascinating exhibit that makes your rethink art.
Taxi Cab
Do you need a ride to the Adelaide Airport? How about just a quick hitch to the store? Wherever you need to go, our taxis are happy to get you there.
Stretched Limousine
Arrive to the eclectic South Australian Museum in style by booking a beautiful stretch limousine, showing off your elegance and suaveness.
Bus
Have a group trip to the beautiful North Terrace, where you'll get access to tons of attractions by booking a bus for the trip. Historic and beautiful, you'll have an amazing time in this neighborhood.
ADL airport terminals
If you are going to the Land Down Under, you may be getting there by way of Adelaide Airport in the southern part of the country. If so, we can help you get to where you need to go quickly. Check out our ADL terminal map so that you can be familiar with the airport before you even get there.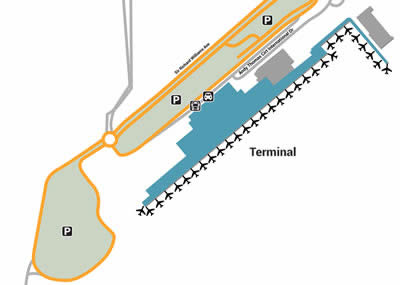 Adelaide Airport Shuttles
Adelaide Airport is the major airport serving Adelaide, South Australia and it is the 5th busiest terminal facility after the likes of Brisbane, Melbourne, Perth and Sydney's airports. The airport is located 3.8 miles from the Adelaide's city center adjacent to West Beach. The airport code is (ADL).

About Adelaide Airport

Adelaide Airport is primarily operated by Adelaide Airport Limited. The new dual international and domestic terminal which was opened in 2005 has received several accolades including being named the best capital city airport in Australia for 2006, 2009 and 2011 as well as the second best airport in the world for 2006.

As the main gateway to South Australia, ADL has numerous recently installed state-of-the art facilities which focus on providing efficiency, comfort and world-class services to the more than 7 million passengers passing through each year.

The airport serves international and domestic flights which include Cathay Pacific, Singapore Airlines, Malaysia Airlines, Qantas, Emirates and Air New Zealand to destinations like Singapore, Malaysia, Auckland, Hong Kong and Dubai. There are also several domestic carriers that fly to Hobart, Alice Springs, Perth and Darwin.

As a modern, state of the art facility, ADL features numerous amenities and features to keep travelers intrigued, relaxed and entertainment. Free Wi-Fi is available throughout the terminal as well as restaurants, café, ATMs and banking facilities. There's also more passengers can get up to while waiting to board their flights.

Hotels near ADL
There are no on-site hotels at Adelaide Airport, but several are located nearby and they offer convenient access to both the airport and Adelaide's city center. Travelers can select their preferred choice of hotel accommodation based on star ratings, reviews, distance from the airport or preference.

Lockleys Hotel is an upscale hotel located in the Western Suburbs 2 miles from the airport. The hotel has 12 comfortable ensuite rooms with LCD screens, coffee and tea making facilities and ample furniture. Overnight parking is available as well as a gaming room which doesn't permit minors.

Rex Hotel is conveniently located between the CBD and beach approximately 2.1 miles from the airport. The hotel comprises 12 non-smoking rooms and each room is ensuite with individual cooling and heating. Accommodation has a traditional style as well as ample parking. There are a number of business facilities a bar and restaurant.

ADL Contact Information
Adelaide Airport
1 James Schofield Drive
Adelaide Airport SA 5950, Australia
Airport Code: ADL