Zurich pick up and drop off at ZRH airport
Ground transportation to Zurich Airport
Zurich Airport is a modern structure famous for being Switzerland's largest international airport. Home to three terminals; Terminal A, Terminal B and Terminal E, Zurich Airport offers an easy lay-out and relaxing design perfect for not only getting there but being there. Terminal A serves domestic flights as well as Schengen destinations, while Terminal B offers both domestic and non-Schengen flights. Terminal E is a satellite terminal located opposite Terminals A and B. Connecting all terminals is a central area called Airside Center, which comprises of several buildings containing information desks, a shopping mall and ground transportation. Ground transportation options include the Zurich Airport Railway Station, which provides connections to the S-Bahn and other rail services, plus a combined station for buses and the Stadtbahn Glattal Light Rail outside.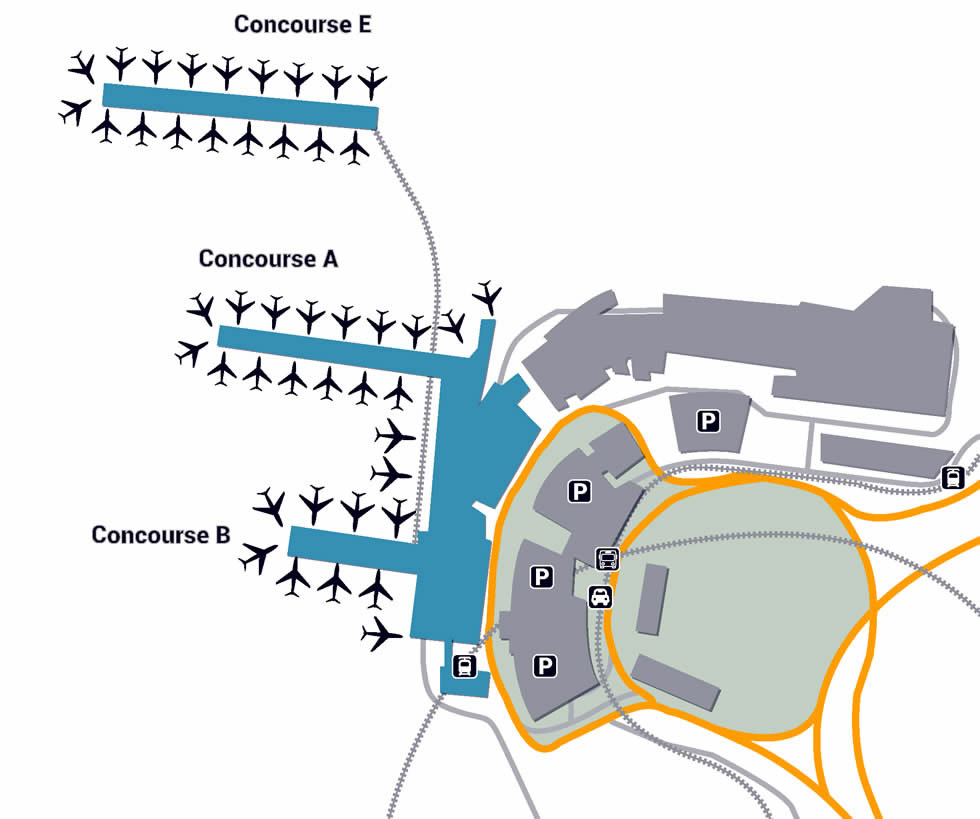 Parking
The airport offers six expansive car parks that cater to both short-term and long-term stays. Save the most at the P60 Lot, a long-term lot that's a 15-minute walk from the Airport Center - complimentary shuttles are provided. Another long-term option is the P6 Lot, referred to as the 'Holiday Saver Lot' and offering covered walkways 5 minutes from the terminal. P6 is also home to an electric car-exclusive budget lot called Park & Charge, while the most convenient options are found in P2 and P1, with P1 offering short-term parking connected to Terminal 1 and P2 offering business short-term parking connected to Terminal 2. Take advantage of the airport's online reservation system as well, making things easier by having a guaranteed spot saved before you arrive.
Services
Services at Zurich Airport range from the typical to the innovative, offering basics like currency exchanges, ATMs and information desks, as well as specialty perks for the disabled, families and business travelers. Special assistance accommodations include free wheelchairs, guide dogs and helpful staff via the airport's Careport AG Program, while family-friendly perks include buggy (stroller) rentals as well as the free-of-charge Play Paradise, a massive playroom home to craft workshops and games. Perks more accommodating to business travelers include over a dozen VIP lounges, showers throughout the terminal and two on-site hotels, that include Transit Hotel and Radisson Blu Hotel Zurich Airport, not to mention The Circle, a massive complex that contains a medical center, convention center and shopping mall.
Retail
Shopping at Zurich Airport includes a variety of opportunities grand and small. Start by exploring the two on-site shopping malls at both The Circle and Airport Center, which are located across from one another. Enjoy basic needs from at least a dozen duty-free shops, whether it be pharmaceuticals from Amavita or in-flight entertainment from multimedia stores like Swisscom and Interdiscount. Upscale fashion as well as unique boutiques are also a fixture, from the Airport Center's many name-brand clothing sold at Marc Jacobs, DKNY and Michael Kors to expansive storefronts owned by Victoria's Secret and H&M. You can also unwind with a solid book from several newsstands throughout each terminal, as well as a few eclectic souvenirs from either The Edelweiss Shop or The Spirit of Switzerland.
Restaurants
From early-morning red eyes to late-night flights, finding something to satisfy your hunger is especially easy at Zurich Airport. Wake up to hot coffee and steaming breakfast from various cafés that include Marché Restaurant's market square ambiance, the sophisticated blends of Caffè Ritazza and perfectionist sweets sitting inside NZZ Café. Those more interested in take-away food have a diverse choice of pre-made bites from The Deli, Starbucks and Panopolis, while spectacular dine-in experiences wait inside the attached Radisson Blu Hotel, home to Angel's Wine Tower's famous 'Flying Wine Angels' show as well as Fellini's super-sized Italian buffet. More romantic experiences can be discovered at international eateries, whether it be Far East recipes of Asia Restaurant or swanky live music at Montreux Jazz Café.