Montreal pick up and drop off at YUL airport
Ground transportation to Montréal–Pierre Elliott Trudeau International Airport
As the busiest airport in the province, Montréal-Pierre Elliott Trudeau International Airport provides everything guests everything they could need to enjoy their time, from modern art showcasing the city's talent to helpful services for families and business travelers alike. The airport is home to one bi-level terminal with two separate piers, one used by international airlines and another by domestic. Ground transportation includes four limited bus routes that include day routes 204 & 209 as well as night routes 356 & 378, plus a 24-hour bus line run by the 747 Express. There is also a rapid transit network that connects to downtown's Central Station as well as car rental kiosks & taxis.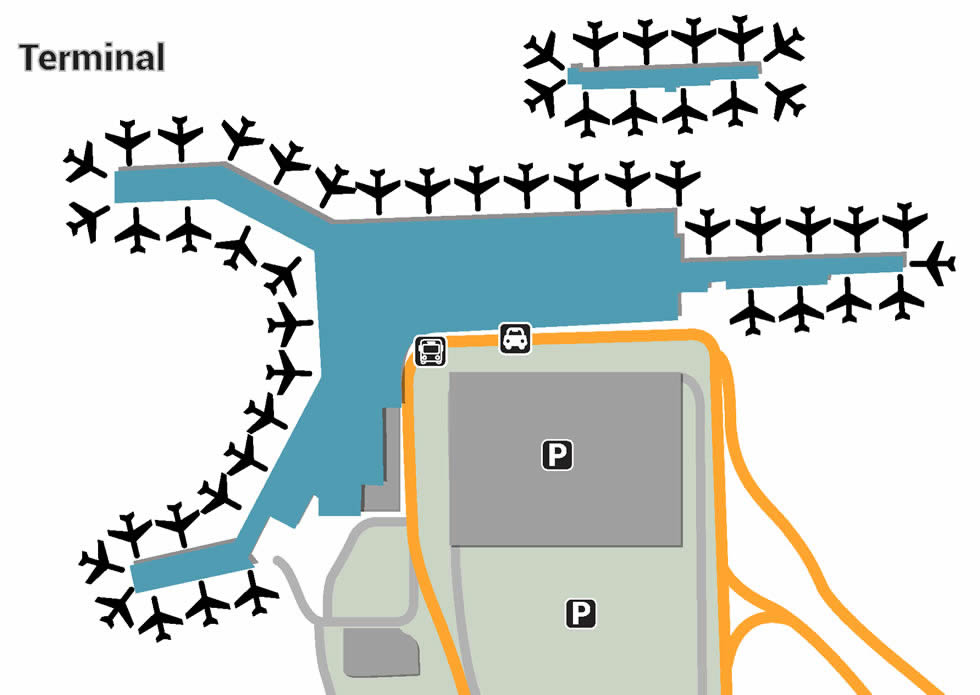 Parking
Parking at Montréal Airport includes a wide variety of options that include short-term, long-term and executive spaces. There is a three-story parking garage that provides two covered levels and one uncovered level for short-term as well as long-term parking. There is also an additional Short-Term Lot attached to the terminal that provides easy access for those dropping off or picking up. For budget rates, choose between three economy options that include EconoParc P5 - P9 as well as AeroParc. Specialty parking services include VIP services courtesy of Valet Park as well as easy access to the on-site Montréal Airport Marriott through Hotel Parc, not to mention free waiting areas at the CellParc along Cardinal Avenue.
Services
Services at Montréal Airport include a wide variety of care ranging from basic facilities like ATMs and currency exchanges as well as unique art that relaxes as much as it inspires. Special perks for business travelers include four VIP lounges as well as the attached suites of Montréal Airport Marriott Hotel - free Wi-Fi is also available as well as relaxing massages & fresh cuts courtesy of BALNEA Spa Voyage. Family services come in the form of free strollers for children as well as large nursing rooms that provide quiet seating areas & changing tables. Other unique services include a pet relief area near the multi-level car park as well as views of the runway from Jacques-de-Lesseps Park.
Retail
If you're stuck in terminal, pass the time by doing some shopping at over a dozen retailers that surround the area. Look forward to fashionable boutiques ranging from the nature-inspired wardrobes of Hatley to bargain fashion trends at Bizou, also considering casual luxury from either Tristan or Boutique Artisan. If fashion isn't your thing, look forward to a variety of local goodies from convenience shops like The Loop or Relay, or settle down with interesting reads from Virgin Book Store and Maison de la Press. And don't forget to pick up a souvenir at Découvrir Montréal, a massive all-in-one space perfect for taking care of everything. Other unique shops include tech accessories from iStore and The Source as well as ready-made snacks courtesy of 1 Minute.
Restaurants
Home to dozens of cafés, restaurants and bars, finding the right grub to settle your stomach is especially easy at Montréal Airport. Look forward to bright eats in the morning, choosing between unique sandwiches at Bagel Bar or colorful energy from Hugo Juice, also considering the traditional café ambiance of both Java U Café or Starbucks Reserve. For lunch, a few fast food chains are available as well as relaxed sit-down eats from both Weinstein & Gavino's and YUL Pizza. Those looking for an immersive dinner experience have a diverse pallet of worldly dishes, from Texas-style steak at Houston Avenue Bar & Grill to authentic French-Canadian cuisine at Bistrot Trudeau. Other unique options include authentic comfort food from Pork & Pickle and wine tastings at Vino Volo.