Quito pick up and drop off at UIO airport
Ground transportation to Mariscal Sucre International
Known for being one of the busiest airports in South America, Mariscal Sucre International Airport services Ecuador's capital city of Quito through various modern facilities. The airport is home to a single terminal and two levels, with arrivals located along the lower level and departures along the upper. Ground transportation includes 24-hour shuttle buses into the city run by Aeroservicios as well as two separate bus routes that drop off at Rio Cocoa Avenue north of the city and Quitumbe Land Terminal at the heart of downtown Quito. There are also car rental services and a taxiway outside the arrivals hall.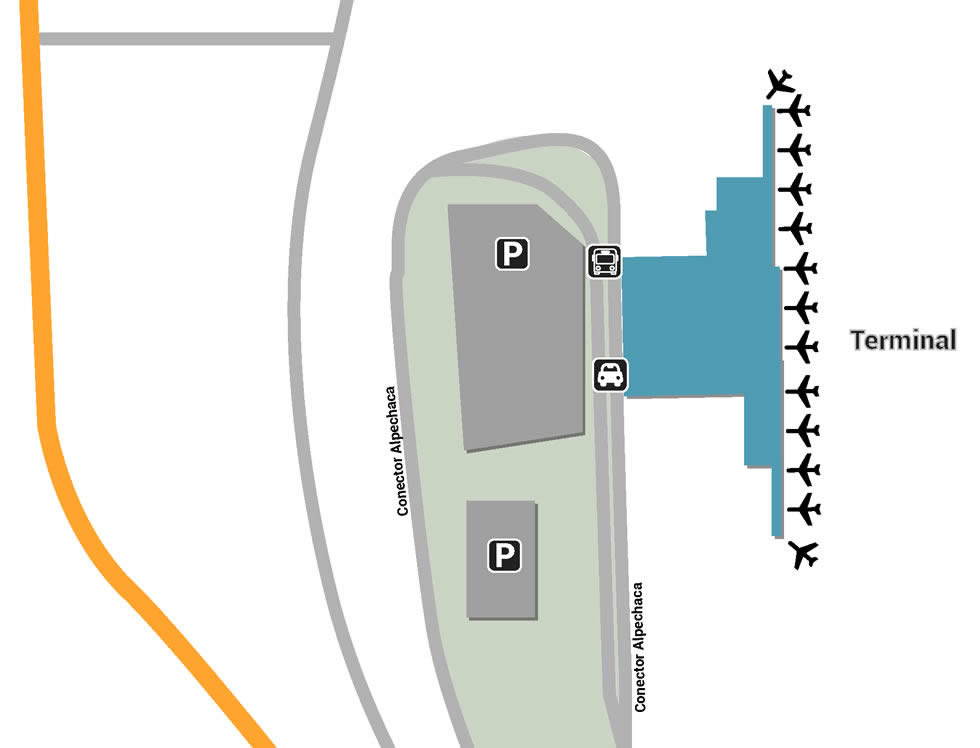 Parking
Parking at Quito Airport is simple and broken into two main sections; the Main Parking area and the Wyndham Quito Airport Hotel. The Main Parking area is mainly used for short-term parking and offers the first 15 minutes free of charge as well as both short-term and long-term rates - specialty services include 24-hour video surveillance and on-site mechanics ready to jump-start your car. The Wyndham Quito Airport Hotel Parking is mainly used for long-term parking and by business travelers looking to stay as close to their flight as their lodging - the parking area offers the lowest daily rates as well as shuttles to the terminal.
Services
Get around with ease by taking advantage of Quito Airport services ranging from the simple-hearted to the extra special. General help can be found at 24-hour information desks on both levels, while other expected services like ATMs, currency exchanges and luggage wrapping are located throughout. Families in need of some extra comfort can find a break at the children's play area in the domestic departures area as well as through various 24-hour cafés perfect for keeping calm. Business travelers can also find relaxation with three VIP lounges, free Wi-Fi and on-site access to the executive suites of Wyndham Quito Airport Hotel. Other unique perks include showers at a couple of the lounges and post-flight massages at Fly Massage.
Retail
Home to an eclectic mix of shops that include local and international wonders, Quito Airport retail options are sure to delight. Find local fashion at various unique boutiques that include sun-shaded style from The Legendary Hat Co. as well as modern suits for the modern man at Uomo Venetto. Those interested in souvenirs also have a diverse pallet to look forward to, from original designs and works from local artist, Guayasamín at Talleres Guayasamín to colorful textiles & handicrafts at Tikunoa. Other unique vendors include intricate glass art designs available for purchase at TOC Gallery as well as last-minute necessities from Ecuador Travel Stores, not to mention frozen seafood products specially designed to make it home fresh at Camarón A Bordo.
Restaurants
After you've gotten your exercise from shopping and walking, discover unique flavors at the airport's various cafés, restaurants and bars. Grab breakfast from a handful of unique eats that include ready-made grub at Darwin's Bar and tasty combos from Fly Chicken Fly. Lunch options are also diverse, ranging from the spicy flavors at Guacamole Grill to prepared gourmet eats at De Volada. There are also a few western chains that include Outback Steakhouse, TGI Fridays and Johnny Rocket's. Other unique options include the java vibes from Amazonía Café and Tres Trío, plus classic New York pizza from Famous Famiglia.