Sydney SYD Airport Shuttle
Connected to the nearby railway and placed at the heart of the suburb of Mascot, the quiet surroundings of Sydney Airport makes it easy to get around the famed Australian metropolis. With only five miles between the heart of downtown and Ground Transportation, making your way out can be extra easy with a complimentary shuttle. Take advantage of the surrounding perks by keeping along Airport Drive, choosing between relaxing stays like Rydges Sydney Airport and Stamford Plaza, both of which offer complimentary shuttles. Keep in mind private options as well, whether it's an elegant ride that makes heads turn or a family-sized vehicle perfect for enjoying the day.
Search for SYD airport rides

Trusted service since 2003

Flight Delayed? We wait.

24/7 Customer Service

Sydney Airport Transportation

With so much to do in practically every direction, Sydney can be a beautiful place to discover new things, especially if you have a ride that lets you roam free. Open your mind to the countless getaways downtown, booking a private sedan to take in the sights and sounds of the Darling Harbor while looking forward to a vibrant sunset on the bay. For families trying to enjoy a day at The Rocks Market, book an SUV to take all the time you need, afterwards exploring the lush landscaping and teahouses of the Chinese Garden of Friendship. If you're a business traveler looking to enjoy your evening as much as your event at the Sydney Convention & Exhibition Centre, book a simple taxi to drop you off at the heart of the area, or enjoy a smooth ride by spoiling yourself with a limousine & chauffeur.

SYD Airport Transfers

Find other destinations that offer GO Airport Shuttle or search for other transportation providers at Sydney (SYD) airport.

Airport Pick Up

Looking for airport shuttle rides? Learn how you can get connected to the best shared ride van providers, sedans and private vans and view our airport transfer locations.
Sydney Airport Shuttle Service
There are many options one can choose to get to and from Sydney Australia. Each option has its own benefits, and gives the consumer the chance to choose. Among the options are: Sydney Buses, Royale Limousines, and shuttles offered by area hotels.
Shared Ride Van
Sightseeing at Sydney Harbour, Sydney Opera House, Sydney Harbour Bridge can be easily done taking our shared ride van. This ground transportation is available with discounts and combo tours for your group or for you alone. Be delighted to experience all that Sydney has to offer saving up on your traveling costs.

Private Van
You can certainly choose to book our private van service to take you and your family for sightseeing at The Rocks, a neighborhood known for its charming buildings and cool neighborhood. This transport can be booked for airport transfers upon arrival and departure.

Private Sedan
Haven't you arranged your itinerary yet? You can do it placidly at a spot like Sydney Tower Eye where you can easily spy some sites to visit. You can book our private sedan to get there and take advantage of our-door-to door service with as many pick-ups and drop off you might need.

Local Personal Drivers
A wise manner to really know a country is by knowing its culture. You can hire our local personal drivers to take you to enjoy indigenous dancing and music of the aboriginal culture.

Private SUV
The Royal Botanic Gardens is one of the must things to do in Sydney. You might not want to visit nothing else when getting lost with the colorful flora and fauna. But do not worry, our private SUV drivers will be there for you at any time.

Taxi Cab
Book this taxicab reliable transport to take you for some shopping to the many markets in Sydney; you can enjoy miles and miles of style from Hyde Park to Centennial Park.

Stretched Limousine
Try a very gourmet dining at Nomad in Surry Hills. This restaurant offers dishes with ingredients grown and raised in their own farm. You can also have some fine wine. Start this fancy night booking our limousine service, ready to take you for a royal ride anywhere in the city.

Chartered Bus
You must leave a whole weekend for visiting Sydney Harbour National Park, spread across shorelines and a few islands like Rodd and Clark. Book our bus service and get ready to breathe some fresh air and enjoy nature.
SYD airport terminals
When you arrive at the airport find your way to your ride so you can be dropped off on time.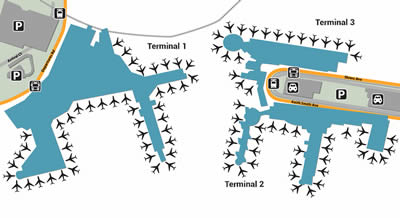 Sydney Airport Shuttles

You can reserve a hotel shuttle at Sydney airport or reserve various types of sedans and limos reservations. The Sydney, Australia Airport (also known as Kingsford Smith Airport) is one of the world's oldest, continuously operated airports. 

Travelers can find several airport shuttle services available at Sydney Airport once you arrive at the airport. With plenty of shuttle rides to and from local hotels to the airport, providers such as Con-x-ion Airport Transfers and REDY2GO are convenient ways to get to and from the airport to local hotspots and hotels.

Is there a shuttle bus from Sydney Airport to the city?

Travelers can find shuttle transfers for about $16 from SYD Airport to downtown Sydney. Rides for ICC Sydney to SYD Airport can be booked for about $25 for this frequently visited destination.

How far is SYD airport to Darling Harbour?

Are there shuttle transfers from Sydney Airport to Circular Quay?

SYD airport is an international airport located near many landmarks such as the Sydney city centre which is a popular commercial centre where locals and travelers can socialize and shop. It is also conveniently located near Mascot which is located in New South Wales for locals needing to get to the airport in a hurry. While visiting Sydney tourists can drop by popular destinations such as the Sydney Opera House for spectacular performances or spend the day outdoors at the Taronga Zoo in Sydney which is well-known for its chimpanzee community. For those adventurous groups there is the unique experience of climbing the Sydney Harbour Bridge when you visit, just like millions of other tourists, BridgeClimb Sydney.

After a day of fun you can cool off and wind down at the Circular Quay where you can find food and plenty of shopping. It is also known for its annual Sydney New Year's Eve starting the year off right for those attending the celebrations. Another popular destination is the Darling Harbour where children can enjoy some time off to play, amazing scenery throughout your stroll or dropping by the Chinese Garden of Friendship which is nearby at the southside of Chinatown.

Sydney, your airport down under and beyond
Sydney's International Airport code is SYD. It serves as the primary hub for Qantas Airways, and is a secondary hub for both Virgin Australia and Jetstar Airways. Since Sydney International Airport is only 5 miles south of Sydney's city center, travelers can easily connect to 46 domestic and 43 international destinations.

Due to the large number of destinations served, the Sydney Australia Airport is the busiest airport in all of Australia. In 2011 alone, the Sydney Australia Airport handled more than 35 million passengers. As a result of so many flights and passengers, the Sydney Australia Airport has evolved into an ever-changing melting pot of cultures, tourists, businesspeople, and travelers. In addition, the proximity to downtown Sydney makes the Sydney Australia Airport a popular airport for flights with connecting layovers.

Hotels near SYD
Within a close distance to Sydney International Airport there are many hotel options. Because Sydney is such a large city, the type and quality of hotels vary greatly. For example, there are four-star hotels like Stamford Plaza that are less than 5 blocks away from the airport, or on the other end of the spectrum are two-star hotels like Ibis Budget at Sydney airport. In fact, one of the great things about Sydney International Airport is that there are so many options to choose from regarding hotels, for example: Rydges Sydney Airport Hotel; Captain Cook Hotel Botany; Holiday Inn Sydney Airport; and many more. Sydney International Airport is a great choice for travelers, tourists, and business people because of its great location, and a wide variety of services.

SYD Contact Information
Sydney Airport
Sydney NSW 2020, Australia
Airport Code: SYD