Sydney pick up and drop off at SYD airport
Ground transportation to Sydney Airport
As the chief airport of Australia's capital, Sydney Airport is the continent's busiest facility, providing three modern terminals that depart to dozens of international countries as well as upscale services that include VIP lounges and an attached hotel. With an epic master plan that includes various expansions and additional terminals, the facility is also a beacon fo futuristic progress. As of 2018, Terminal 1 is an international terminal, while Terminals 2 & 3 are inter-connected domestic terminals adjacent to Terminal 1. Ground transportation includes the underground Airport Link at the International Airport Station (T1), as well as another underground line at the Domestic Airport Railway Station (Below Car Park). There are also various taxi stands and car rental kiosks, plus bus terminals that connect to the popular Route 400.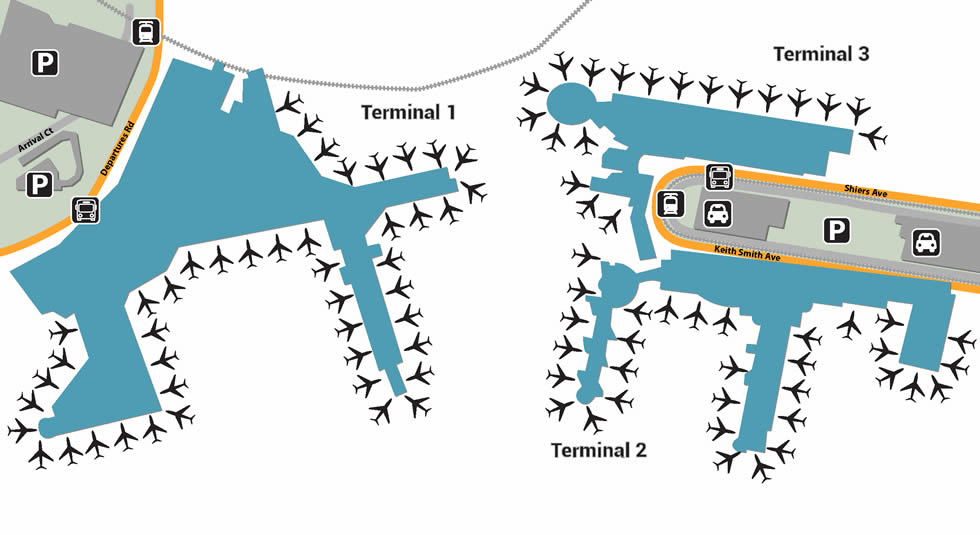 Parking
At least 8 parking garages are sprawled across the airport. The closest spots to the domestic terminals (T1 & T2) are P1 and P2, with guaranteed spots available in P1. For long-term rates close to the domestic terminals, stay in P3 instead, or go for the Blue Emu lot for the lowest possible rate. The closest lot to the international terminal (T1) is P7, which offers 5 minutes walking distance to the terminal as well of guaranteed spots. Located behind P7 are two budget lots; P9 and P8, as well as a temporary Express Pick-Up Zone with 8 available spaces. Valet rates are the same for both terminals and are offered by Pronto and Virgin, as well as the airport staff.
Services
Countless services big & small are available at Sydney Airport, including simplicities that go a long way like showers, water stations and information desks, as well as five VIP lounges that take the cake in business perks. Additional executive privileges include free Wi-Fi and trendy work desks as well as a few hotels, such as Rydges Hotel in the international terminal and both Mantra Hotel and IBIS Hotel in the domestic terminals. Due to long distance between international and domestic terminals, transfers have also been modernized by several automated people movers as well as complimentary rides aboard the T-Bus shuttles and speedy one-way tickets via the Airport Link.
Retail
A good way to see the sights & sounds of Sydney Airport is through its many shops - look forward to upscale fashion from Max Mara or Michael Kors, also considering a unique accessory at Tiffany & Co. Pick up a gift while you walk about, whether it's a local treasure from Australian Way or one of many beloved Australian brands at Think Australian. Even more options await in Terminal 2, from the classic Americana clothes at Country Road to trendy garments & accessories from Blue Illusion, while unique international brands include French Connection and Origani. Exclusive perks in Terminal 3 include awesome treats at The Chocolate Box as well as colorful fashion choices from Nine West and Oroton, not to mention travel essentials courtesy of stores like Trader, Carry On and NewsLink.
Restaurants
Start your tour of Sydney Airport's grub at Terminal 1's expansive food court, enjoying breakfast from cool hotspots like Mrs Fields Bakery and Veloce Espresso, afterward choosing between a wide variety of light lunch spots like Kitchen by Mike and Mach2. If it's later in the day, enjoy an upscale dinner at The Bistro by Wolfgang Puck, finally topping it all off with macarons at A Little Something. Terminal 2 offers just as much variety with hearty appetizers at Beer DeLuxe and filling portions courtesy of Bistro 2020, not to mention classic comfort food from Krispy Kreme and Chur Burger. And for those in Terminal 3, enjoy a handful of select choices that include early-morning eats at Black Café and Gloria Jeans, as well as filling lunch options from Australian fast food like Hungry Jack's and Red Rooster.