Moscow pick up and drop off at SVO airport
Ground transportation to Moscow Sheremetyevo Airport
A massive international airport that services Russia's capital, Moscow Sheremetyevo International Airport offers an array of modern services & amenities across six terminals. The terminals are designated into two separate areas; the North Terminals and the South Terminals. The North Terminals consist of three inter-connected Terminals A - C, while the North Terminals consist of Terminals D - F. The terminals are connected by an underground cable liner as well as driverless automated people mover, while above-ground connections are provided by shuttles. Ground transportation includes access to the Aeroexpress Train via Terminal F as well as taxiways, car rental services and at least seven bus routes that drop off downtown.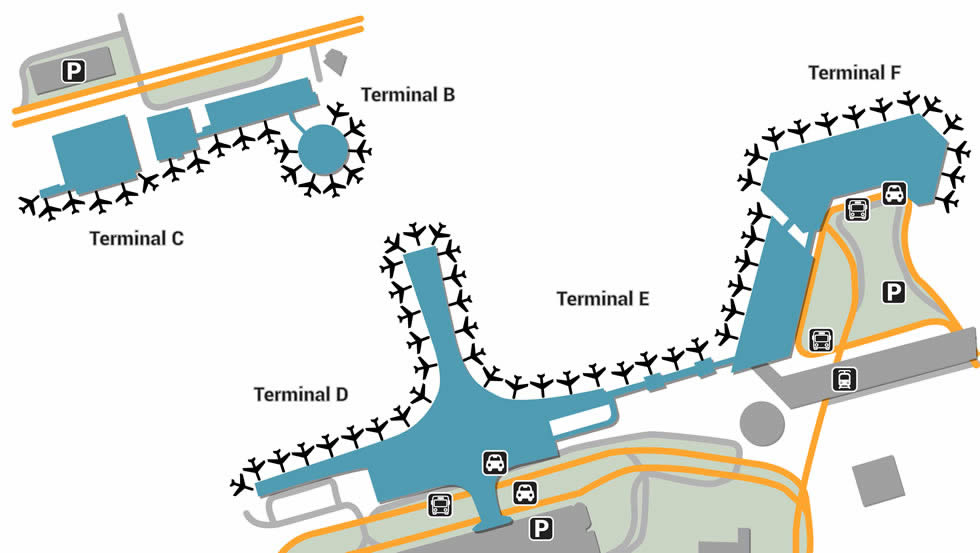 Parking
Parking at Moscow Sheremetyevo Airport can be found in 10 different areas that provide short-term, long-term and business options. Popular short-term options include the multi-level parking garages in front of both Terminals D and C, while express parking can be utilized for swift drop-offs through the hourly rates of either Park Line or Park Zone. The cheapest daily parking can be found at Aero Business Partner Lot, with close runner-ups being Terminal B's Avtosher Lot and Terminal C's Indigo Lot - additional low-cost rates can be found at the Galaxy Parking Lot as well as the Park & Fly. shuttle transfers are provided to all parking areas, with the exception of connected garages and express parking areas.
Services
Services at the airport range from simple perks travelers come to expect to pleasant surprises perfect for making delays pass by. Find basic financial services like ATMs and currency exchanges with ease, also looking forward to information desks and complimentary luggage trolleys that make getting around simple. Family services are available at five different childcare rooms, equipped with private bedrooms, changing tables and showers - also available are children's play areas in Terminal D as well as free strollers upon request. For business travelers, over a dozen VIP lounges provide top-notch executive perks, while three on-site lodging options allow total relaxation through napping pods and modern suites. Other unique services include video calls from Skype Booths as well as walkthroughs at the History Museum of Sheremetyevo, which showcases old documents and photos alongside the future of Sheremetyevo Airport's infrastructure.
Retail
Enjoy a colorful collection of retail shops throughout each terminal departures area, looking forward to fun fashion from Russian brands like Bosco and Ekspedisi as well as specialty cosmetics at Sozvezdie Krasoty. Those in need of memorable souvenirs can easily find a variety of Russian gems that include official hockey gear at Red Machine as well as quaint trinkets from Darshanik, not to mention artistic handicrafts at Hand Made. Anyone in need of last-minute travel gear can also find convenience goods from Press, tech accessories at Travel and luggage from Mister Sumkin. Other unique shops include local reads at a few news stands like Vesti and Book-Café, plus three pharmacies.
Restaurants
Grab a bite when the day comes to an end, looking forward to breakfast from a variety of cafés that include quick takeaway at AeroCafé and European-style sweets from Paul Bakery. More lunch-friendly hotspots include sit-down eats from Romana Pizza and Upper Crust as well as familiar bites at a handful of fast food joints like KFC, McDonald's and Subway. And for those looking to relax with a sit-down dinner, choose between a worldly pallet of flavors that includes local cuisine at Mama Russia and classic European dishes at Sky Bar, not to mention filling German steaks & beer at Spaten. Especially unique options include fresh ingredients & full service at IL Patio as well as open-air views & elegant dishes at Party Okean.