St. Louis Lambert International STL Airport Shuttle
There are lots of reasons to travel to St. Louis, Missouri. You may be coming in for business, in which case you can hire a black car service to the America's Center Convention Complex for your trade show or event. If you're planning a vacation with the family, there are plenty of sites to see. To make your trip even better you can book your airport shuttle to the Gateway Arch or a private van to the Jefferson National Expansion Memorial. When your plane lands at STL it is always a bit tricky to find your way around. Make your life easier by booking an airport transfer and you can have a driver meet you curbside to bring you to your hotel or destination.
Search for STL airport rides

Trusted service since 2003

Flight Delayed? We wait.

24/7 Customer Service

St. Louis Airport Transportation

When getting a ride from the airport you can bring your confirmation number to a representative of the provider you booked with who will then assist you to the correct shuttle bus to your destination. When selecting a vehicle to fit your budget you get a variety cab and all-inclusive vans to choose from that's best for you. Head wherever you're heading by utilizing the simplicity of a shuttle, a service that's easy to get for free if you stay at a nearby hotel, whether it's at the Hilton St. Louis Airport or Crowne Plaza St. Louis Airport, both of which offer complimentary shuttles and elegant digs.

STL Shuttle Transfers

AirportShuttles.com in St. Louis allows you to book either a private car or a chauffeured SUV through their Zumu service. Zumu is operated by Supershuttle and provides black car service nationwide.

Airport Pick Up

Go Airport Shuttle provider at the St. Louis Lambert International Airport is GO Best Express and they provide service to Downtown St. Louis, Clayton, and Central West End.
St. Louis Airport Shuttle Service
STL airport has a large number of shuttle providers including American Transportation Company, which provides ground transportation for travelers looking for a more luxurious car service.
Shared Ride Van
Book before arrival for shared ride vans for places near Gateway Arch or Tower Grove Park with several providers at the airport for convenience.

Private Van
Book reservations for private vans open all day long for travelers seeking to cover any and all that St. Louis has to offer – from the St. Louis Zoo to the City Museum.

Private Sedan
Easy transport for passengers to the Busch Stadium – home of the St. Louis Cardinals – with the level of comfort and luxury provided to make you feel at home.

Local Personal Drivers
Call to get pickup and drop, ground transport, airport transfers and door-to-door service without any hassle. Travelers can ride with professional drivers at hand with extensive local knowledge.

Private SUV
Our private chauffeurs will take you there in no time at all, whether it is the Fox Theater or the Anheuser-Busch Brewery. The best and the fastest this city has to offer, but also the cheapest.

Taxi Cab
The best cabs for hire service in St. Louis, committed to providing high quality ground transportation in the River City of Missouri.

Stretched Limousine
Live the dream in our private limousine at STL airport; experienced chauffeurs and marvelous rides at highly ambitious prices – just for you. Book before arrival and you will depart with the experience of a lifetime.

Chartered Bus
You can make reservations for our buses excellent sightseeing opportunities and fast commute in St. Louis at competitive rates; visit the Butterfly House or the World Aquarium.
STL airport terminals
St. Louis Lambert International airport, at your fingertips. We'll show you how to get from your flight terminal to your shuttle so you can go enjoy this awesome city.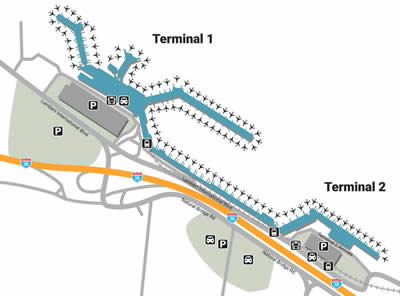 St. Louis Airport Shuttles
STL airport rides arriving or departing from hotels include shared ride and private car services. In addition to these pickup and drop offs can be easily handled by sedan and stretched limo services.

Located just three miles from the heart of downtown, St. Louis Lambert International Airport is a simple facility known for its annual 'Art of Travel' galas as well as a slew of unique local eateries. A beautiful introduction to a gorgeous city, getting the right ride to get out of dodge is the best way to kick off your trip. Explore the boundless beauty of the region by knowing where you're going, something simple to keep track of with a local personal driver as curious as a newcomer.

Delve into family-friendly landmarks at the heart of Central West's Forest Park with a private sedan or SUV instead, enjoying an afternoon at Saint Louis Zoo while looking forward to a stroll toward the nearby Missouri History Museum. If you're traveling to America's Center for an important business expo, get there in absolute style by booking a stretched or regular limousine, making heads turn for an evening sure to be vivid.

If you'd prefer a taxicab then The Metropolitan Taxicab Commission works in conjunction at St. Louis International to deliver great service to it travelers. In addition you can ride with quality companies such as Go Best Express Shuttle, BART Shuttle and MO-X which all have affordable rates.

St. Louis Hotel Shuttles
There is a wide variety of hotels next to the airport so that travelers will not have to go very far in a shuttle bus to find accommodations. A Hilton Garden Inn is located a mere four miles from the airport for those in search of a three star hotel. Hotel shuttles in St. Louis can be picked up in shared ride vans for travelers needing rides by themselves or if you are in large groups there are transfers available most of the day through private vans.

If you'd like to search for something closer to the airport the Embassy Suites and Quality Inn are available and conveniently located within a few miles which shared ride shuttles are usually preferred. St. Louis International is committed to giving travelers the most comfortable and stress free experience possible. With free cell phone lots to facilitate easier pickups St. Louis International offers everything you need for a safe and calm trip.

About St. Louis Lambert Airport
The international airport of St. Louis also known as STL is near the city limits in St. Louis County. It is the second biggest city in Missouri and has many must-see scenic views, things to do downtown and attractions.

You may also want to check out Citygarden in the downtown area of St. Louis where they display beautiful and vibrant lively colors of pure nature. The city is packed with art museums, a zoo and a science center. You can take a learning journey at Missouri's History Museum or walk through among the best gardens worldwide at the Missouri Botanical Garden, visit the Cahokia Mounds, enjoy exciting thrill rides at Six Flags or take a leisurely boat ride down the historic Mississippi River.

Whatever you may do whether you're exploring St. Louis great attractions and festivals or lay comfortably at one of St Louis Hotels while gazing at a beautiful river you'll bound to want to come back again for another refreshing and exciting experience.

St. Louis Lambert International Airport is among the most historic airports in America. Theodore Roosevelt was the country's first President takes a flight out of the airport. STL takes pride in giving its travelers who pass through its gates each day a great flight experience that is why it remains so highly rated.

STL Contact Information
St. Louis Lambert International Airport
10701 Lambert International Blvd.
St Louis, Missouri 63145
Airport Code: STL