San Jose International SJC Airport Shuttle
San Jose International Airport is located in sunny Southern California. It is situated in Silicon Valley, and so you can imagine how many people fly in and out each day. Passengers who book reservations with us for airport shuttle rides can find low rates on their vacation. There are many providers to select from for taxi, black car vehicles such as sedans and limos where you can find excellent service to and from the airport. Whether you are here on business or pleasure, we're sure you'd rather breathe easier than have to deal with the stress of finding a last minute airport ride.
Search for SJC airport rides

Trusted service since 2003

Flight Delayed? We wait.

24/7 Customer Service

San Jose Airport Transportation

In San Jose you have tons of options when it comes to your airport transfer. There are many great companies that service this airport. If you are looking to save money you can book shared ride service with AirportShuttles.com.

SJC Shuttle Transfers

Getting a ride to or from Norman Y. Mineta San José International Airport is simple with AirportShuttles.com. They offer many different options for airport ground transfers such as private sedans and non-stop vans.

Airport Pick Up

GO Airport Shuttle is synonymous with quality transportation from professional drivers and staff that is familiar with the local area you are travelling to. They offer private car and SUV service in addition to shared or private airport shuttles for travelers heading towards SJC airport.
San Jose Airport Shuttle Service
At SJC airport there are private cars and taxi rides for passengers seeking transfers to local hotels or motels.
Shared Ride Van
Save up on your traveling costs with door-to-door sharing van service, with group discounts being offered to travel to sightseeing spots like the Los Gatos Creek and Santa Cruz Mountains.

Private Van
Quality professional drivers handling private van service with local guide to keep you hooked while you enjoy the rides around the streets of San Jose.

Private Sedan
Easy transport for passengers to the Avaya Stadium – home of the San Jose Earthquakes – with the level of comfort and luxury provided to make you feel at home.

Local Personal Drivers
Charter rides anywhere in the Capital of Silicon Valley as you visit everywhere from downtown San Jose to the Rosicrucian Egyptian Museum.

Private SUV
Quick and reliable airport transfers with drivers available at any point of time to ride you to your hotel or residence in San Jose without hassle.

Taxi Cab
Fast pickup and drop when you search and book our cabs; our cabs are there to serve you and take you to places like the Cathedral Basilica of St. Joseph or Alum Rock Park.

Stretched Limousine
Classy airport transfers by hiring our high-class limousine along with our high-class chauffeurs, with the option to continue your trip with combo bookings with many discounts.

Chartered Bus
Airport transfers and sightseeing, we cover all. Book our fast and reliable shuttle service to reach tourist places in San Jose like The Tech Museum of Innovation and San Jose Flea Market to name a few. Extra discounts for group bookings.
SJC airport terminals
When you arrive at San Jose Airport, find your way around with ease using our terminal map to guide you.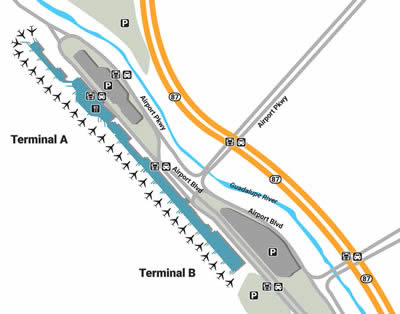 San Jose Airport Shuttles
SJC airport has shuttle bus transfer reservations available through Business Express Service by AirportShuttles.com San Jose or Zumu. Whether you are traveling by yourself or in a group you'll find that once you arrive at the airport getting to your destination is one of the simplest parts of your trip.

Shared ride vans are a great option for students traveling to or from San Jose State University. If you are traveling for business and have a tight schedule you might want to book a private sedan to get you to your destination quicker. You can choose from Zumu, Groundlink or Prime Limousines. Got a larger group? No worries, you have plenty of options here too. You can book your private sedan or SUV with companies like Blacklane or ALL Cities Advanced Limousines.

Shuttle services at San Jose International are popular among travelers. San Jose AirportShuttles.com, GO Airport Shuttle and Blacklane are some of the top providers servicing passengers throughout the area. These give a positive and lasting impression for first time and regular visitors who take rides to surrounding San Jose neighborhoods.

San Jose International also has its own prominent and dependable taxi and sedan service. Taxi Services located at the airport's premises is available at both terminals A-C. Taxicab, another transport service is situated on lower end of Terminal A's parking garage, stretching to the east end on Terminal C baggage claim area. Taxi and sedan services at San Jose International don't require advanced booking, making it efficient for all travelers.

San Jose Hotel Shuttles
San Jose International has numerous accommodation selections for passengers around the airport. There are many hotel options located in proximity to the airport as well as others located in San Jose and Silicon Valley all catering for different accommodation needs. There are many shuttle services that regularly transport passengers to these hotels.

Depending on reviews, pricing and location passengers can choose from several hotel options near San Jose International. Cupertino Inn, Moorpark Hotel and Dolce Hayes Mansion are some of the hotels situated within minutes from the airport, which are near the San Jose Convention Center. There are several amenities within the airport premises to make your travel calm and these include massage chairs, bicycle racks, pet areas and plenty of two miles from downtown restaurants serving different cuisines.

Long-term parking lots at San Jose International are located on the north end of the airport. The airport also has free cell phone lots for those awaiting passenger arrivals.

About San Jose Airport
SJC or Norman Y. Mineta San José International Airport is the smallest of the three Bay area airports. Although it sees far fewer passengers than either of the other two local airports San Jose residents find it a convenient alternative. San Jose International Airport has two major terminals, and an international terminal serving several international and domestic carriers. San Jose International Airport serves numerous international and domestic destinations.

San Jose Airport has three terminals A-C. A new feature of the airport is a public art display in the SJC parking facility, CONRAC. The art will incorporate hands of Silicon Valley residents. An airport shuttle is a reliable and convenient way for San Jose Hotel Shuttles in the area.

San Jose International Airport is a completely self-sufficient project, operated by the City of San Jose. The San Jose Airport features two Terminals that offer the most modern services and facilities.

Things to do in San Jose
San Jose is known as "The Capital of Silicon Valley" and is one of the biggest cities in California. The Airport of San Jose, San Jose Airport SJC is located about two miles from downtown in San Jose. The downtown area is a combination of offices, restaurants, hotels, shopping malls and clubs. The San Jose State University is also located nearby and the New City Hall. Getting from SJC to any of these destinations is much more simple when you book your airport shuttle ahead of time.

The downtown can be a family place or maybe just a way to exercise through the Guadalupe River Trail or any other parks around the city filled with activities. The Tech Museum is there near Park Ave where you'll experience the technology that surrounds us on a daily basis and learn how it affects us. Another Museum to check out is the San Jose Museum of Art featuring the contemporary collection of modern art.

Outside the Downtown area you'll find the Winchester Mystery House where you most likely experience a paranormal event. You can also visit Raging Waters, Golfland & California's Great America with roller coasters, thrill rides, children's attractions and fun for the family. There is plenty to do in San Jose so be sure to check-in to one of the best hotels available.

SJC Contact Information
San Jose Norman Y. Mineta International Airport
1701 Airport Boulevard
San Jose, CA 95110
Airport Code: SJC