Salt Lake City International SLC Airport Shuttle
Salt Lake City International Airport is nestled in between the Wasatch Mountain Range and the Great Salt Lake. When you are flying into SLC for a ski vacation or to visit the Utah State Capitol building be sure to make reservations for your airport shuttles or sedans and limousine service to and from the airport. You can catch a ride to downtown Salt Lake City or the Calvin L. Rampton Salt Palace Convention Center straight from the airport. Then you can put more emphasis on your business or vacation, depending on what you are in town for.
Search for SLC airport rides

Trusted service since 2003

Flight Delayed? We wait.

24/7 Customer Service

Salt Lake City Airport Transportation

From Salt Lake City airport private sedans can be booked with Affinity Transportation along with GroundLink, which you can meet in the ground transportation building near the terminals. All inclusive sedans and vans are available for immediate pickup through Blacklane, which has courteous and polite drivers who can make your trip a memorable one. For travelers seeking rides to Calvin L. Rampton Salt Palace Convention Center they can find shuttles at discount rates.

Airport Pick Up

The Driver Provider is the GO Airport Shuttles transportation company in Salt Lake City. Their fleet includes just about every vehicle you can think of from limousines to airport shuttles to motorcoaches and everything in between.

Shuttle Locations

Looking for airport shuttle rides? Learn how you can get connected to the best shared ride van providers, sedans and private vans and view our airport transfer locations.
Salt Lake City Airport Shuttle Service
SLC airport has rides for shuttle transfers available to passengers throughout the Salt Lake City metro area.
Shared Ride Van
Ride through the streets of the Crossroads of the West in Utah; book your shared ride van today for instant transportation needs get offers and discounts.

Private Van
Accomplished drivers for hire, ready to pick up from anywhere and aware of all the best attractions in Salt Lake City like the Temple Square or the Hogle Zoo or Liberty Park.

Private Sedan
We offer cars that flaunt class and provide comfort, with private sedans for hire in the Salt Lake area. Take them out for a spin or hire one of our professional chauffeurs.

Local Personal Drivers
Book before arrival and get punctual and efficient pickup from the airport to the drop to your next destination like the Salt Lake Tabernacle or the Red Butte Garden.

Private SUV
Be it the Energy Solutions Arena or The Leonardo, our private SUVs transport you anywhere you want to go. Book and hire before arrival.

Taxi Cab
Book taxicab with great local experience and best drivers for the most reliable pickup and drop and ground transportation to tourist spots in Salt Lake City.

Stretched Limousine
Majestic limousine rides on offer in Salt Lake City. Book one now and experience the grandeur and best service like never before.

Chartered Bus
If you are visiting Salt Lake City with your family, you have to go to Zion National Park. Offering buses for hire for large groups with discounts.
SLC airport terminals
Your flight out of Salt Lake City will go even more smoothly when you know where you're going. Make sure to get familiar with the airport before you get there.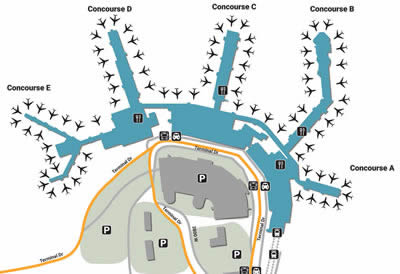 Salt Lake City Airport Shuttles
Departing SLC airport via AirportShuttles.com shared ride vans is a great option as you can save on costs by sharing your ride with other passengers. They also offer Zumu private van service for up to 10 passengers.

Located on the northwest side of downtown, Salt Lake City International Airport offers a unique placement at the heart of the city's quiet bustling vibe alongside renowned natural escapes. From what there is to do as a family to how you can enjoy nature's countless offerings, finding something that makes tomorrow better is easy with the right transportation. Make a splash by having a ride ready as soon as you arrive, all by looking for what best fits your situation.

Book a private sedan to explore nearby wonders at ease, from the thousands of acres that cover Farmington Bay Waterfowl Management Area to the even more scenic peninsula at Antelope Island State Park. If you're a business traveler heading to Capitol Hill for an afternoon downtown, get lost in the majesty of the region with a regular or stretched limousine perfect for soaring through the city. Another option is to simply book somewhere near north downtown so you can not only get the benefit of silence, but the added perk of shuttles to your flight, whether it's courtesy of Hyatt Place Salt Lake City or Hilton Garden Inn SLC Airport. Other shuttle providers include Alta Shuttle along with Park City Transportation and Canyon Transportation who all have discount rates for Salt Lake City hotel transportation

Travelers in search of a luxury car service can use services such as Diamond Limousine and American Limo. These services are capable of providing the service you need either within Salt Lake City or to a neighboring area. Yellow Cab and City Cab are also accessible for those who would like a taxi ride.

Salt Lake City Hotel Shuttles
Those who are looking for hotels that have shuttle rides in close proximity to the airport we have a variety of different lodging options to select from. Candlewood Suites and Radisson Salt Lake City are all convenient located within one mile of the airport with shuttle buses and private cars to bring passengers between both locations throughout the day. If you don't mind being a little further from the airport, the Motel 6, Ramada Suites and Microtel Inn are all a mere two miles away with shared ride shuttles to keep the rates down.

The airport also contains a free pickup and drop off zone where people can avoid repeatedly circling the terminal or having to pay an hourly rate. Salt Lake City International makes your comfort their priority.

About Salt Lake City Airport
Salt Lake City International Airport is also known as SLC and is located in the city of Salt Lake City, which is in the state of Utah. SLC is located within a few miles of the business district of Salt Lake City and is near Brigham Young University such as home to BYU and NBA team Utah Jazz. Even though Utah is not known for jazz music in general, the team originally came from New Orleans. What is unique about SLC is that it has no debt, it's rare for an airport not to have any debt; this allows the airport to keep and maintain low fees on just about everything.

Utah is also known for ski resort during the winter times and nature trails during the summer and spring seasons, once you have experienced Utah, you will understand how you can just relax in the great outdoors. SLC is so popular it serves over twenty million passengers per year. One of the best things about this airport is the free Wi-Fi that it provides for waiting customers this especially comes handy in time of snow ins and flight delays.

In Salt Lake City you won't find too many bars around, but you will find many Mormon Churches. Utah also happens to be one of the top states in America to open a business and the quality of life. Salt Lake City also happens to be the capital of Utah so you will find government jobs all around this city but mostly in the business district.

SLC Contact Information
Salt Lake City International Airport
776 North Terminal Drive
Salt Lake City, UT 84122
Airport Code: SLC
Sightseeing rides near Salt Lake City

With many scenic destinations throughout the Salt Lake City area and places near downtown visitors can discover many new places to tour during their stay in the area.