Reno-Tahoe International RNO Airport Shuttle
Located on the eastern edge of California's massive chain of forests, the Reno-Tahoe International Airport is an entrance into one of Nevada's most memorable cities. Home to a slew of art galleries and occasional live acts, the facility is a great place to enter the desert plains, even more if you've got a ride ready to cool you off. Take advantage of the many hotels offering rides around the airport, whether it's Hyatt Place Reno-Tahoe Airport or the super close Airport Plaza Hotel right across the street from the main terminal. Also be on the look-out for private rides ranging from intimate sedans to roomy SUVs, a life-saving gift always a click away.
Search for RNO airport rides

Trusted service since 2003

Flight Delayed? We wait.

24/7 Customer Service

Reno Airport Transportation

Make the evening sparkle by getting a ride as luxurious as downtown Reno, whether it's a regular limousine perfect for leaving work behind or a stretched limousine even better for showing up to events at The Reno-Sparks Convention Center. Go modest route with a taxi or local personal driver instead, keeping your questions reserved for someone who knows the right answer, from the best riverside cafes to the coolest history in downtown Sparks. For larger parties, book a private van to fit up to a dozen people, whether you're a gaggle of seniors heading to Harrah's Casino or a bachelorette party going all out at Peppermill Resort Casino & Spa.

RNO Airport Transfers

Find other destinations that offer GO Airport Shuttle or search for other transportation providers at Reno (RNO) airport.

Airport Pick Up

Looking for airport shuttle rides? Learn how you can get connected to the best shared ride van providers, sedans and private vans and view our airport transfer locations.
Reno Airport Shuttle Service
When looking for transportation from RNO airport you will find stretched limousine and sedan rides available for people needing casino hotel transfers.
Shared Ride Van
Enquire and reserve shared ride vans to transport you around the Biggest Little City in the World of Nevada; we have vehicles everywhere and available at a moment's notice.

Private Van
Charter vans from airport available for you for airport transfers and pick-up drop facilities. Travelers can search and book before arrival for convenient rides.

Private Sedan
Sedans for comfortable rides and easy luggage handling available with professional drivers; visit the Sierra Safari Zoo or the Pioneer Center for the Performing Arts in style.

Local Personal Drivers
Local drivers in Reno posted at crucial junctions in the city to pick you up wherever you are and for easy and reliable ground transportation.

Private SUV
SUVs on rent and on hire for travelers to Reno; visit the National Automobile Museum in Reno by booking and reserving our cars for hire.

Taxi Cab
Instead of waiting on the street and calling a cab, hire one for your whole trip! Private taxis available at discounts for traveling in Reno every day you are here.

Stretched Limousine
Arrive in style at some of the most famous casinos in Reno like the El Dorado Reno or the Atlantis Casino Resort in our specialty limousine service with world-class chauffeur service.

Chartered Bus
Make reservations for buses available in Reno; book in advance for offers and discounts and airport transfers as well as ground transportation. You can get great value for your money if you are a huge group looking to travel together in Reno, Nevada.
RNO airport terminals
Reno may be the Biggest Little City in the World, but don't be intimidated by its airport. We'll help you make sure that you find your way through without blinking an eye.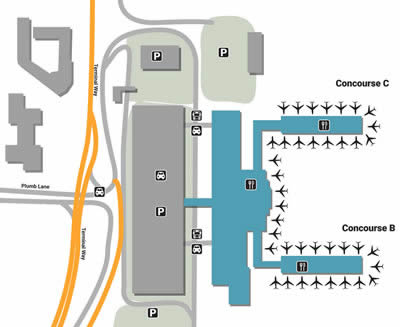 RNO airport private cars and shuttles are common with GroundLink and Blacklane who both provide rides for the Reno-Tahoe International Airport. The city of Reno has some of the most famous hotels and casinos in the world for tourists who come to visit while finding transportation even easier.

Once you get off the plane and gather your luggage you will find a variety of private sedans, SUVs and vans to choose from. The ground transportation section of RNO airport makes boarding your airport transfer very easy. You can either follow the signs that heads towards your driver or simply follow the instructions on our confirmation email.

Some travelers prefer to use shared ride to private van to save money with other passengers heading the same direction as them. Reno Tahoe offers a safe and well-lit parking garage for passengers with three levels. There are more than thousands of spaces and parking available throughout the day. There is a main rental agency inside the baggage claim that houses several provides that all have cars on site including Alamo, Thrifty and Budget. There are also a wide variety of taxicab and livery services for travelers who arrived at the airport to get rides to their destination.

There is a city bus route to and from the airport runs Monday-Friday and can be found at the north side of the parking lot. The airport also works with RTC, which is a public transit provider, that pickups passengers at their home or place of business and then drops them off to the airport. If you head to baggage claim a representative can give you a chart with timing for all hotel shuttles that frequent the airport. There is no on site courtesy shuttle bus for the parking garage since it is directly across from the terminal.

About Reno Tahoe Airport
There are dozens of hotels within a close radius of the airport ranging from the Budget Inn to the Marriott both of which provide Reno hotel transportation. Baggage claim areas can offer more information on reservations, accommodation locations and whether or not the hotel offers shuttle pickup at the airport. Local guests needing rides to the Reno-Sparks Convention Center can find shuttles and sedans available most of the day. Unlike many airports, Reno Tahoe offers a beautiful and spacious dog park with pet center located outside the main terminal. 

You can stay and be entertained at hotels such as Nugget Casino Resort, the Grand Sierra Resort and the Eldorado Hotel Casino. You can visit Reno's Best Casino such as the Atlantis Casino Resort Spa and experience the best in playing your odds.

While you are in Reno you can find the best specialty stores to shop at such as Scheels and Cabela's. If you enjoy a day outdoors you can drop by The Summit, which has your favorite places to shop and eat at this outdoor mall.

Reno Hotel Shuttle Rides


Below are some popular and well-known hotels and casinos in Reno. You can book stretch limousines and travel in luxury with your family or friends while you travel the unique nightlife that Reno has to offer.

 

Miles

Reno Casino Hotels
2
Atlantis
6
Circus Circus
3
Grand Sierra
5
JA Nugget
3
Peppermill
6
Sands Regency
6
Eldorado
6
Silver Legacy
 
 

RNO Contact Information:
Reno-Tahoe International Airport
2001 East Plumb Lane
Reno, NV 89502
Airport Code: RNO
Planning your trip and ride to Reno

They don't call Reno "The Biggest Little City in the World" for nothing. This place has it all; glitz, glamour, world-class entertainment and casinos and much, much more. Don't miss out on all that Reno has to offer.