Mariscal Sucre International UIO Airport Shuttle

Book reservations for airport shuttle, taxis, sedans and limousine service to and from the airport.

UIO Airport Transfers

Find other destinations that offer GO Airport Shuttle or search for other transportation providers at Quito (UIO) airport.

AirportShuttles.com Airport Locations

Looking for airport shuttle rides? Learn how you can get connected to the best shared ride van providers, sedans and private vans and view our airport transfer locations.
Quito Airport Shuttle Service
Taxis, coaches and shuttles are also ready to take you to your destination in as timely of a manner as possible.
Shared Ride Van
Get spiritually enchanted and start your tour by visiting this astonishing cathedral church Iglesia de La Compania de Jesus. Book seats on a shared ride van now for your trip.
Private Van
Recover from your altitude sickness by experiencing a tour to this old, small and easy to walk around place called the Quito Old Town. Don't miss this opportunity and book one of our private vans for your travels.
Private Sedan
Exhausted from the hustle and bustle of the cities? Refresh your mood by visiting Parque Metropolitano, a park where you can go on hiking and enjoy natural scenery. Hire our private sedan to have this wonderful and soothing experience.
Local Personal Drivers
After a big tiring day, have some peaceful time with your family at this small but fascinating place called the Plaza de la Independencia. Enjoy the evening with freshly cooked food, so hire one of our local personal drivers to help you get there.
Private SUV
Stun your mind by experiencing the exceptional views while hiking on the beautiful Teleferico Quito. Don't miss this amazing opportunity and book our private SUV for one thrilling tour.
Taxi Cab
Get the chance to see extraordinary masterpieces of Eduardo Vega by paying a visit to this gem of a store. Book one of our Taxi cabs today for a trip there.
Stretched Limousine
You haven't seen anything in Quito if you haven't visited the amazing carving works done by Menucho in this amazing place called Gupalo. Don't miss out on this, so book one of our stretched limos now and speed off.
Bus
No trip to a city is ever complete without discovering the cultural aspects of that city. So visit The National Museum and get to see the ravishing display of ancient artefacts. Book a bus for the trip and let the history sink in.
UIO airport terminals
Mariscal Sucre International Airport located in Ecuador is one of South America's most popular airports. Find your way to your ride, restaurant or the restroom easily and quickly with the terminal map below.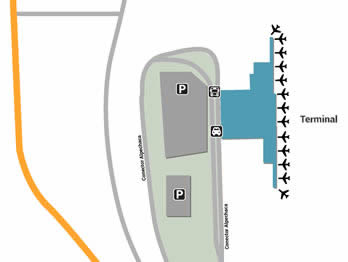 Taxi fares are prepaid at the front desk near the terminal entrance, with price varying on the number of passengers included.

There is no better place to receive spiritual healing that compares to Iglesia de La Compania de Jesus. Let our private sedan drive you safely. When you alight at the airport, you need someone to pick you up. This is why we are here to help you. Book in time and enjoy our top quality services.

Some of the most attractive historical destinations in Quito include the Quito Old Town. Enjoy this historical walking area by driving in our stretched limousine. At the top of Basilica, you will enjoy magnificent views of the city. Let are drop you off inn our taxicab and appreciate the magic architectural works of our fore masters.

We do our best to ensure that our local personal drivers are equipped with the best knowledge and skills for your safety. Enjoy an authentic ride around the city to the Guayas Amin Museum. Do not miss to visit the Casa del Alabado. Here you will learn about the history of this beautiful city.

The Intinan Museum is a must see. Let our private van drop you off and pick you up in the end. When you need comfort, our bus is there for you. Let us drive you to Calle La Ronda for an intriguing experience.

The shuttles are minibuses that service all the major hotels, ensuring that you will have direct transportation to them. Regular buses are available, but these generally take some time to deliver you to where you need to arrive at.

UIO Airport Terminals
The terminal offers an array of amenities to travelers to make their passage more enjoyable. Public telephones available throughout the terminal in addition to Wi-Fi allow guests to communicate with outside parties. ATMs are conveniently located nearby cafes and restaurants, with duty free shops for international passengers not far off.

Mariscal Sucre International Airport is an important connection that serves as a bridge to the northern and southern hemispheres of our planet. Reopening early 2013 in a more efficient location, the airport also known as UIO serves as the largest hub for Ecuador's flag carrier, TAME.

About Quito Airport
UIO offers flights throughout most of the Western Hemisphere, with limited trips to Europe as well. Construction on the new airport began in 2006 on the Oyambaro plain near the town of Tababela. With this new location, officials were able to expand the airport's capacity to improve upon the local community. The surrounding infrastructure has developed exponentially to allow more traffic, thus boosting the economy.

The airport itself offers facilities catering to the disabled and business communities. The facility is fully equipped to accommodate the needs of wheelchair users, and handicapped parking spots are designated for such use in the parking lot. There are also VIP lounges available for rental in the domestic and international departure areas as well.

Hotels near UIO
If you are looking for a place to relax and unwind after a long flight you will be unable to find one on airport property as UIO does not currently house any hotels. Depending on your needs, there are small, independent guest houses available in nearby Pifo that have a range of prices. These townhouses have a diverse range of leisurely activities.

The airport not close enough to where you need to go to? Do not panic, for there are a number of high quality international hotels in the city center. These full service hotels have every luxury and features that you would expect so that as many needs possible are accommodated.

UIO Contact Information
Mariscal Sucre International Airport
Nuevo Aeropuerto Internacional de Quito, Tababela S/N
Via Yaruqui, Quito 17107032, Ecuador
Airport Code: UIO