Sir Seewoosagur Ramgoolam International MRU Airport Shuttle

Located on the island-nation of Mauritius, Sir Seewoosagur Ramgoolam International is the only airport in the country, located on the opposite shore of the capital city of Port Louis and offering close access to a range of quiet beaches and bays through its location to the nearby city of Mahebourg. Look forward to lush beaches and dreamy waterfalls by booking the right lift ahead of time, choosing between various private vehicles and meet-and-greets for the perfect balance of convenience and comfort.

MRU Airport Transfers

Find other destinations that offer GO Airport Shuttle or search for other transportation providers at Plaine Magnien (MRU) airport.

AirportShuttles.com Airport Locations

Looking for airport shuttle rides? Learn how you can get connected to the best shared ride van providers, sedans and private vans and view our airport transfer locations.
Plaine Magnien Airport Shuttle Service
Among the many transportation providers one in particular shuttle provider is Pot Louis who provides private and shared rides to and from the airport. They provide secure clean and well maintained vehicles and provide reliable and dependable service. Book your shuttle before arriving at the airport. Ground transportation at MRU Airport is limited to a few car rental services and taxi kiosks, the closest bus line being in Trois Boutiques, which is just 3 miles away. Save time and money by reserving a shuttle instead, going with either area providers or local companies for the luxury of custom drop-offs as well as the flexibility to splurge after you get dropped off.
Private sedan
Black River Gorges National Park is one of the most amazing destination in Plaine magnien. Let our private sedan  drop you off at this beautiful national park to enjoy yourself and have a great time. Want a moment to yourself? Reserve a private sedan from local sedans for all the intimacy in the world, finding quiet nooks in the city as well as rural getaways on the outskirts, all at the ease of being your own driver.
Private SUV
Casela Nature Park is known for its beautiful gardens and different animal species. For those who love privacy, our private SUV will defiantly take you there within the shortest time possible. Families in search of comfort and privacy should get a private SUV to carry up to six passengers across great escapes, from the safari rides, zip-lines, and African-themed restaurants at Casela World of Adventures to the large outdoor-indoor playground and trampoline park at Time Twisters.
Stretched limousine
Domaine De L'Etoile is among the many nature parks in Plaine magniene. Come see how nature is preserved at this place and learn a lot for yourself. Our stretched limousine will always be readily available for our customers. Get to know the area's opulent side with a stretched limousine from local limo providers, finding French-island flavors at Escale Creole while looking forward to an evening of entertainment through the stately Port Louis Theatre, renowned for its colonial architecture and walking-distance to museums and art galleries.
Taxi cub
La Vallee Des Couleurs Nature Park is located along chamouny road and it's known for preservation of nature. Take an affordable taxi cub, which will head you to this amazing place of nature. Business travelers arriving to either the Swami Vivekananda International Convention Centre (SVICC) or Trianon Convention Centre should bypass traffic with a taxi, the perfect ride for 24-hour lifts to wherever, from early-morning rides to the airport to late-night celebrations on the beach.
Local personal drivers
Eureka Mansion has been the most attractive tourist traction site over the years. Our local personal drivers will be so happy to take you to this beautiful place to enjoy yourself. A great way to do as the locals is by reserving a local personal driver for an exclusive tour – book today to thank yourself tomorrow, finding worthy natural lookouts at the core of the island as well as hidden beach restaurants & cafés perfect for catching a sunset on the west side.
Shared van
Shandari beach is the most perfect place for surfing and snorkeling. Take a shred van to this beach and have a good time with friend and family. A nation of resorts, there's no shortage in finding the right all-in-one hangout, especially if you're looking in Port Louis. Get there commitment-free with a simple shared ride van, booking with shuttle companies to make it to the city's most promising getaways, from the French-inspired Le Suffren Hotel & Marina to the 5-star opulence of Labourdonnais Waterfront Hotel.
Private van
Cambuse beach is also known for its calm waves and best swimming sites. Take a private van to Cambuse beach and enjoy yourself as you see the amazing view of the ocean. Take care of up to a dozen passengers with a private van from private providers, finding expansive getaways ranging from the historic citadel walls of Fort Adelaide to the boisterous ambiance of Central Market, both of which offer hours of fun walking-distance from most Port Louis hotels.
Chartered Bus
Domaine des 7 Vallees is another park with beautiful features you have never seen. Let us bus drop you off. Get a chartered bus for the benefit of carrying over a dozen passengers at the whim of your own hand, waltzing through centuries-old beauty at the St. Louis Cathedral or planning a field trip toward the ancient ambiance of Chamarel Waterfall.
MRU Airport Terminals
Home to a modern terminal designed in the shape of Ravenala, a famous palm tree often referred to in the area as the "Traveler's Palm", MRU Airport offers two levels of space heralded for its eco-friendly power supply and materials. There is also a separate VIP Terminal
- Level 1: arrivals, currency exchange, shops, restaurants, information desk, pharmacy, medical services, post office, baby care facilities, ATMs, ground transportation, and escalator/elevator access to upper level.
- Level 2: departures, check-in, drop-off zone, luggage carts, shops, restaurants, prayer room, game room, piano, express spa, VIP lounges, showers, baby care facilities and escalator/elevator access to lower levels.
MRU airport terminals
If you are planning a trip to the island nation of Mauritius, you'll want to get familiar with Sir Seewoosagur Ramgoolam International Airport. Use our terminal map to make this an easy task.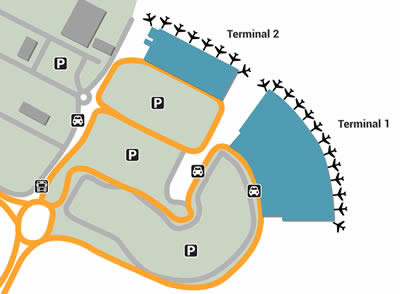 Plaine Magnien Airport Shuttle
Mauritius is home of the Sir Seewoosagur Ramgoolam International Airport located on the eastern coast of Africa and the airport code is MRU.

Located over 30 miles from the capital city of Port Louis, the trek between Sir Seewoosagur Ramgoolam International and the idyllic resort destination takes about an hour to get through. Leave the driving to someone else, reserving a shuttle through either local companies or area providers to enjoy the scenic in-between, which consists of lush terrain and dozens of small towns and villages.

Whether it's coastal or within the region's central jungles and waterfalls, finding the right neighborhood for your shuttle to drop you off is easy. For something close to the airport, stay within the Grand Port District, home to a wide variety of French coastal towns and beach resorts, while the southern Savanne District offers coveted access to Bel Ombre shores as well as expansive trails inside the Black River Gorges National Park. But by far, the most popular area is the Port Louis District, home to the capital city as well as stoic lookouts, from Le Pouce National Park to the idyllic stretch of peaks across Long Mountain.

Take what the day throws at you by organizing every part of your trip, down to the minute – start by printing out your shuttle reservation confirmation email, doing the same for any other special bookings, from the coastal sightseeing of Port Louis via My Moris Tours to scenic boat rides across Baie de Grand Port with Croisieres Turquoise. Back up any important personal documentation as well, scanning identification, passport, and prescriptions for added security, then making sure those scanned files are backed up on a cloud drive.

About Sir Seewoosagur Ramgoolam International Airport
With the airport located on the south shore and Port Louis on the north end, finding your way to the capital city can be daunting. Save hours of drive time by booking a hotel closer to the airport instead, the nearest stays being Holiday Inn Mauritius Mon Tresor, a 4-star resort home to modern business perks, as well as the Shandrani Beachcomber Resort & Spa, located on La Cambuse Public Beach and offering 5-star luxury minutes away from the airport. Cheaper stays just as convenient and just as secluded include Le Peninsula Bay Beach Resort & Spa as well as Astroea Beach Hotel.

Enjoy what's within the airport as much as what's around it, looking forward to a wide variety of shops, restaurants, and spa services ready to impress. For food, choose between the fresh ingredients at Tropical Break or classic sandwiches at Subway, or for something especially delightful, grab a cup of coffee with gourmet donuts, cupcakes, and cheesecake at Café LUX. Stores include duty-free shopping at the enormous Mauritius Duty-Free, which provides beach gear and name-brand clothing, while smaller shops provide locally-made goods, books, and souvenirs. For added relaxation, the airport also offers occasional live performances, game tables, a piano, express spa, and a lush atrium garden and vine wall near the stairwell.

With resorts and beaches practically walking-distance from the airport, finding something to do around the corner isn't difficult, especially with the nearby city of Mahebourg to help. For a quick stroll, take a walk through Blue Bay Marine Park, a scenic beach with waters as blue as the sky and idyllic cabanas perfect for reading, while the Mahebourg Museum offers guests a tour through an old home filled with Naval artifacts, Dodo bird fossils, and other regional goodies. Just north of the city is the famous La Vallée de Ferney, a nature preserve away from the water and toward the island's central jungles, filled with lush mountains and surreal waterfalls.

Port Louis Destinations
Known for its French-colonial architecture and international cuisine, Port Louis is the shining capital of Mauritius, offering stunning beaches through modern resorts as well as priceless glimpses into the past via historic forts and citadels. Experience the typical tourist's treasures, starting at the Pamplemousses Botanical Garden, home to dozens of acres of jungle-like terrain and the prize for the southern hemisphere's oldest botanical garden. See great things by exploring the region's many peaks as well, choosing between the 2nd-highest lookout on Mauritius island at Pieter Both or climbing up the famous trails that scale the thumb-like appearance of Le Pouce.

Another great way to get a view of the whole city is through Fort Adélaide, a 19th-century citadel fortress home to a walled-in courtyard as well as 360-views of the area. Keep the historic vibes going by visiting the Natural History Museum downtown, home to a rare collection of dodo bird skeletons as well as evening laser shows. Walk over to the nearby Les Jardins de La Compagnie afterward for palm-lined plazas, French-inspired architecture, and an on-site café perfect for people watching, finally ending the afternoon with some casual shopping at Port Louis Waterfront, a huge mall looking out at Trou Fanfaron Harbour and down the street from the famous Indian cuisine of Rozi Darbar Restaurant.

Lounges at Port Louis Airport
- Amédée Maingard Lounge: Located on upper level. Perks include free Wi-Fi, TVs, telephones, showers, reading material, fax machines, children's play area, and drinks, plus disability access and flight information monitors.
- Salon Nénuphar: Located on upper level. Perks include free Wi-Fi, TVs, telephones, showers, reading material, and drinks, plus disability access and flight information monitors.
- ATOL Lounge: Located on upper level. Perks are unknown.
- YU Lounge: Located in VIP building. Perks include free Wi-Fi, TVs, telephones, showers, reading material, fax machines, printers, copiers, conference facilities, smoking area, premium food, snacks, and drinks, plus disability access and flight information monitors.

About Plaine Magnien Airport

For passengers who have a connecting flight please check at the departures desk to make sure there are no problems. If you have a layover you can try one of the five dining areas in the terminal the menus offer a great selection of local and international cuisine.

There is a post office for those who need their services. We offer Internet and WIFI throughout the terminal. You can find the work station located throughout both terminals. Take a walk through the terminal and enjoy the sleek and modern amenities for your pleasure. There are two terminals with departures on the second floor and arrivals on the first floor.

MRU Terminal Services
There is a currency exchange booth located in the terminal for your convenience all major currencies are accepted. For your convenience there are ATMs located in the terminal. There are also banks located in the terminal. There is a doctor on duty at all times. Handicap and help for disabled passengers are available.

Those passengers who are visiting us for your vacation will be pleased to know that the area offers plenty of lagoons and beaches for you to enjoy. Traveling to the top of the gorge is a beautiful tropical adventure. Water skiing surfing and plenty of sunshine and outdoor activities. The local night live provides dancing dining and fun filled activities

Passengers who would like to relax and unwind can enjoy one of the two lounges the ATOL Lounge or The Amedee Maingard Lounge that are located in the ticketed secure section of the terminal. For those passengers who like to shop please visit one of the shops located throughout the terminal, there is also a duty free shop in both the arrival and departure areas of the terminal.

Hotels near MRU
There are no hotels located at the airport. The nearest hotels are 4 miles away. The Shandrani is a five star hotel offering a nine hole putt golf course and several water activities. There are dining facilities and room service. There is a spa for your relaxation experience. The Blue Lagoon hotel is located ten minutes away from the airport. It is a four star hotel set among a lush tropical garden offering restaurants and lounges with nightly entertainment.

MRU Contact Information
Sir Seewoosagur Ramgoolam International Airport
Plaine Magnien, Mauritius
Airport Code: MRU