Philadelphia pick up and drop off at PHL airport
Ground transportation to Philadelphia International Airport
Tourists can find their way through the
Philadelphia International Airport
and get to their flight quickly or find places to eat or shops along the way. Known for being the largest airport in the state, the massive Philadelphia International is the world's primary portal into one of the most historic cities in North America. With only four runways, the facility can get busy very fast, so be sure to read up on what there is to do in the event you find yourself stuck.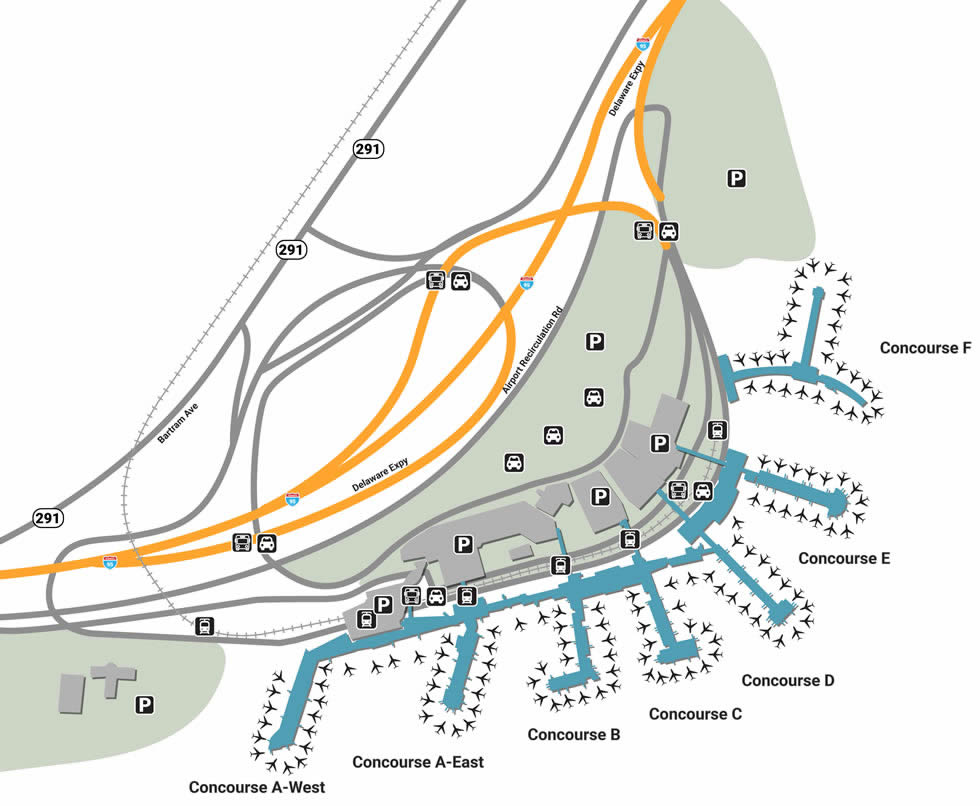 Parking
If you're arriving to Philly early, make the most of your situation by parking as close to your terminal as possible. Short-term parking is located on the ground level of the garage, offering quick access to Terminals A through F. The upper levels are great for those leaving their cars for a little bit longer, offering a slightly lower rate than short-term. Those in need of long-term spots should head to Economy Parking, which offers complimentary services like police patrolling, battery jump starts, auto lockout services.
Services
A lot of airports go above and beyond to please their customers, but few go as far as opening an art exhibit, and Philadelphia International has a whopping 18. Take your relaxation further by giving some to your dog or cat, visiting one of the many pet relief areas, whether it be the one by Terminal A's Gate 16 or beside Terminal C and D's walkway. There is also free Wi-Fi throughout the facility, not to mention a nursing station nick-named 'Minute Suites' located between Terminals B and A along the East Side walkway. Nursing Rooms are free the first 30 minutes.
Retail
Spend the afternoon shopping for some sweet gear, whether it's in-flight accessories or the perfect matching belt to go with your outfit. Head to the one-stop-shop, Brookstone by Terminal A West for quality necessities that range from basic neck pillows to specialty souvenirs. Catch up on yesterday's news by picking up a variety of papers or magazines from the CNBC News Store, located at Terminal A East as well as the connector for Terminal B and C. If you need something nice to wear that's sure to fit, follow the familiar fashions at the All-American store, Gap, located right outside Terminal B.
Restaurants
With influences from all over the world, Philadelphia International's many eateries are a good sampling of the diversity you'll find outside its doors. A great place to start is Currito Burrito, a small chain located in the Terminal D food court, offering build-your-own burritos and fresh salads. If you're more in the mood for some iconic Boston catches, visit Legal Sea Foods (Terminal C) for traditional New England dishes, or head to Tony Luke's for the best Philly cheesecake in town. For those looking to feel lifted, visit Her Rock Bar & Grill for 42 local and craft beers as well as an amazing menu.