Paris Charles de Gaulle CDG Airport Shuttle
About five miles northeast of downtown Paris, the Charles de Gaulle Airport is a uniquely shaped facility intertwined home to an on-site museum as well as a slew of airport hotels along Rue de New York. the region's vast network of trains and shuttles also make it one of the world's easiest to get out of. Enjoy the beauty of what waits in the city of love by taking advantage of all the vehicle options swimming through historic roads, from simple airport lifts courteous of the nearby NOMAD Hotel to private vehicles perfect for real exploring.
Search for CDG airport rides

Trusted service since 2003

Flight Delayed? We wait.

24/7 Customer Service

Paris Airport Transportation

Whether you're planning a hike across the northern forests of Parc Naturel Regional Oise or taking a trip into the heart of downtown, having a reliable ride will make or break your trip. Whether it's a private sedan perfect for exploring Grand Palais or a stretched limousine that makes arriving to a world-class eatery as memorable as views of the Seine, the options are endless. Get lost in the vast network of museum and arts district by finding one that suits your fancy, whether it's through the advice of a local personal driver or at the ease of a swift taxi drop-off. For families looking to make their way through Paris, from the noise of Acclimatation Garden Amusement Park to the quietude at Luxembourg Gardens, go with a private SUV instead, getting safety and comfort everywhere you go.

CDG Shuttle Transfers

Flights coming into Charles de Gaulle Airport can catch rides in shared ride vans and luxury private cars through AirportShuttles.com airport services.

Airport Pick Up

Passengers can book black car transportation with GO Airport Shuttle for trips to The Louvre or other local hotels such as the Hotel de Lutece.
Paris Airport Shuttle Service
Like with many other airports Charles de Gaulle has AirportShuttles.com Paris. Blue and Yellow vans that are shared ride shuttles, able to bring you door to door. Should you like a more private shuttle ride, Paris Shuttle offers Shuttle vans or limousines to or from the airport.
Shared Ride Van
When planning a long weekend at Paris and traveling on a budget, you can consider to book our shared ride van. It is an excellent ground transportation, which offers airport transportation upon arrival and departure and offers sightseeing at the Eiffel Tower, the Arc de Triomphe and Palais-Royal.
Private Van
You can choose our private van service and get discounts when traveling with your family and/or friends. It is an excellent door-to-door service and a reliable pickup and drop off at Eastern Paris, where you get to enjoy Canal St. Martin and the famous cemetery of Pere Lachaise.
Private Sedan
You can get to experience Paris enjoying an elegant ride by hiring our private sedan service to take you to Champs-Elysees, the most famous avenue of the city.
Local Personal Drivers
You can dial-a-driver to experience Paris with high skilled professional drivers and ask them to take you at the western side of Paris to appreciate its modern buildings.
Private SUV
We definitely provide direct access from anywhere in Paris to our Private SUVs service and our drivers are ready to pick you up at Ancien Cloître Quartier when you finish to visit Notre Dame.
Taxi Cab
 If you need to get to the Louvre Museum, our taxicab service knows the peak hours for visits and you just have to rely on the experience and knowledge of the best drivers in the city.
Stretched Limousine
Make it to Moulin Rouge at MontMartre in a stylish way by arriving in our elegant limousine transport.
Chartered Bus
You are traveling with your family and friends; you must certainly hire our bus services to take you to Marne-la Vallee, where Disneyland Paris can be enjoyed.
CDG airport terminals
Paris is the City of Lights. Let us light your way through CDG airport with our handy airport terminal map, it'll make your trip to Paris an easy one to navigate so that you can relax and enjoy your time in this iconic European city.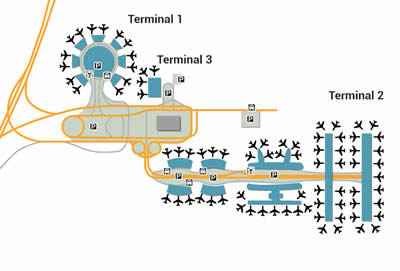 Paris Airport Shuttles

Book your airport shuttle reservations worldwide. Paris-Charles de Gaulle Airport is the largest airport in France. It is also ranked as one of the busiest airports in the world and second busiest in Europe.

Blacklane Limousine is a wonderful service for those wanting to step up their vacation. They offer a variety of private cars as well as shuttles to Paris hotels nearby and sedan rides to other destinations throughout the city. Charles de Gaulle has Les Cars Air France buses. These buses depart from terminal 1 and 2.

Their destinations are Place Charles de Gaulle and Porte Maillot as well as Gare de Lyon and Gare Montparnasse. Check for updated timetables and fares, but at the time of posting the earliest bus started at 5:45 am and latest bus ran till 11:00pm, cost were less than that of a shuttle ride.

If you are staying at a hotel in the Opera district, do think about taking the Roissybus. This bus would make a wonderful choice and save you a little money to spend elsewhere during your vacation.

Once you have decide how to leave the airport the question of where you might want to stay comes to mind. Where you choose to stay can mean how much you get to see and do on your vacation. If you stay too far away from all the attractions you will be getting a great deal, but you will be spending too much time traveling to come see everything. Here are a few great hotels that might give you an idea. Even one should you just be staying at Charles de Gaulle overnight and leaving the next day. Some nearby airports that can help you get to your destination quickly is Paris Orly Airport and Paris Beauvais Tillé Airport.

About Charles De Gaulle Airport
Charles de Gaulle (CDG) airport is your entry into Paris, France. This airport is the gateway to many European adventures. Standing as the second largest airport in Europe and the eighth busiest in the world, this airport easily handles more than 60 million people a year. Flights arrive and leave virtual minutes from each other on a daily basis. Surprisingly, this airport only has three terminals to navigate through airport shuttles and then your hotel.

Hotels near CDG
The Sheraton Paris Airport Hotel and Conference Centre is a wonderful hotel for those passengers that are staying in Paris just for a layover. They have 24-hour room service and each room provides Wi-Fi.

However, should the adventure to explore Paris be in your blood, then maybe Hotel Napoleon might be more your style. This 1920 hotel is walking distance from the Arc de Triomphe and many sidewalk cafes. The rooms have canopied beds, Wi-Fi and 24-room service.

The Hotel Vernet provides Wi-Fi as well, but this hotel has exclusively design eco-friendly toiletries made just for them. The rooms are a mixture of classical and modern. As for where this hotel is located, world class shopping is only a block away, Cartier, Louis Vuitton, Kenzo, and more.

Things to do in Paris
Want to be minutes away from the Arc de Triomphe and Champs-Élysées? Then the Radisson Blu Hotel Champ Elysees Paris would be the perfect choice for your stay. A five-minute walk to the metro station and you're off into the rest of Paris, Eiffel Tower anyone? Whatever way you venture into Paris, plans your adventure. See as much as you can and enjoy yourself.

While visiting Paris you must visit the Eiffel Tower and relax with a picnic below it. Every hour it during the evening hours it displays a light show of 20,000 lights for about 5 minutes. You should also visit the Jules Verne restaurant, which is best known for its scallops, which will help make your travels of Paris a memorable one. While you are in Paris you should make a stop at the famous Louvre where you can see over 35,000 works of art on display or even the Cathédrale Notre-Dame of Paris, which has a Gothic setting, which will amaze you and your family.

CDG Contact Information
Charles de Gaulle Airport
95700 Roissy-en-France, France
Airport Code: CDG