Charles de Gaulle pick up and drop off at CDG airport
Ground transportation to Charles de Gaulle Airport
Located on the northeast side of Paris, Charles de Gaulle Airport is the largest facility in France as well as one of the biggest in the world. There are three terminals that make up the airport; Terminal 1, Terminal 2 and Terminal 3. Terminal 1 contains a central concourse as well as seven satellite terminals connected through underground walkways. Similarly, Terminal 2 offers seven satellite extensions labeled 2A - 2G as well as the iconic set from U2's 'Beautiful Day' music video. Terminal 3 provides a simple single-building layout. A free inter-terminal shuttle offers easy access to all departures areas, while additional ground transportation includes two train stations that provide 4 inter-city routes per hour as well as Terminal 2's high-speed line via the TGV Station.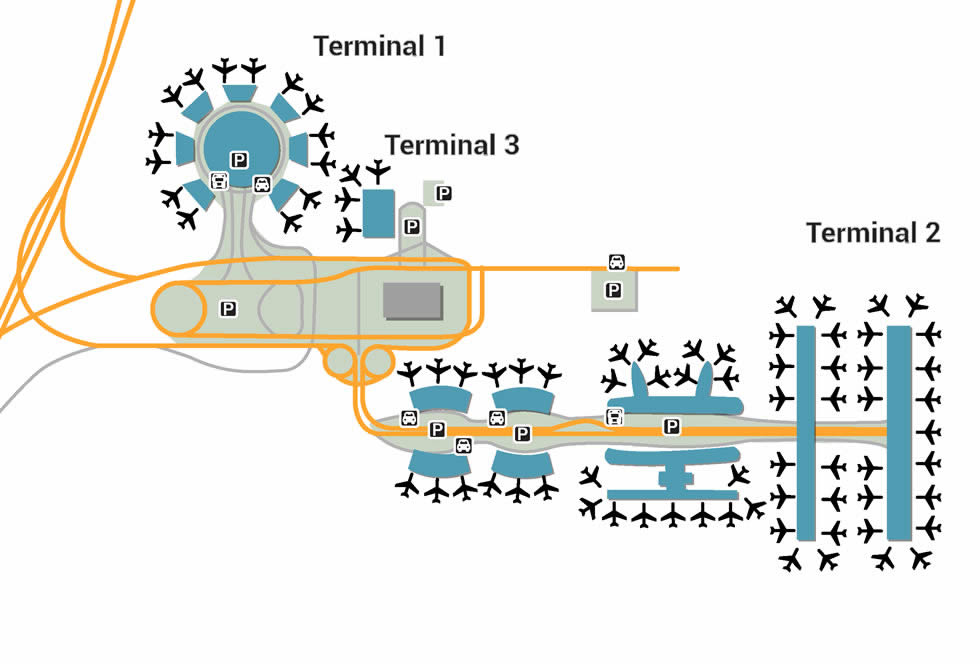 Parking
There are various garages and lots that provide all types of parking, from short-term to long-term. Those looking to walk their loved ones to the terminal should do so with the help of CDG Drop-Off Parking, which provides spaces for up to 1 hour, with the first 10 minutes free of charge. Short-term parking includes covered spots at Terminal 1's Car Park P1 as well as uncovered spots at Terminal 2's Car Park P3. Terminal 2 provides three covered car parks (PAB, CD and PEF) as well as uncovered spots at Car Park PG. For long-term parking, choose between either Car Park PR or Car Park PX, both of which provide complimentary rides to the terminal via the CDGVAL light rail system. Additional parking services include mobile app help through My Airport's online check-in as well as rate comparisons from ParkVia's website.
Services
Services at Charles de Gaulle Airport offer a range of expected perks and select VIP resources across medical, family and business facilities. Pass the time with free Wi-Fi as well as vintage arcade games across Halls L, K and 2G, not to mention Playstation gaming tables in all terminals. Other ways to relax include The Space Musique Lounge, which is filled with free listening stations and ergonomic furniture, as well as movies & tv stations at The Sony HD Viewing Room & Soundcorner. Business travelers will also be pleased to find seven VIP lounges, six on-site hotels and various workstations. Families can keep things simple through colorful themes and toys at a few children's play areas as well as a few baby care lounges that offer changing tables and strollers. Other unique services include on-site showers at select lounges, a few interfaith chapels and complementary cots in the event of stormy weather.
Retail
A great way to kick back during long delays is through some retail therapy, something easy to take care of with how much diverse merchandise there is. Make sure you feel your best by grabbing fragrances and cosmetics at Buy Paris Duty Free as well as soothing skin-care products at L'Occitane. For specialty souvenirs, pick up something unique from either Air de Paris or Partir (Relay), while those interested in wines and tobacco should resort back to Buy Paris Duty Free. But above all, the biggest staple in the airport is also the biggest staple of Paris: fashion - find fine looks from Dior, Gucci and Prada as well as relaxed golf gear from Lacoste and colorful handbags at Michael Kors. Additional shops include electronics and gadgets from Fnac as well as savory confections from La Maison du Chocolat.
Restaurants
Ensure you've got a meal to look forward to at the end of your shopping spree, whether it's an early-morning bite that includes baked goods from Paul and French-style coffee at Cafe Eiffel, or speedy lunch options that include sandwiches & salads from Brioche Doree as well as take-away French from Frenchy's. Other quick-serve options include various fast food restaurants like McDonald's and Starbucks, plus the healthy alternatives at Naked. For something more upscale, choose between a handful of full-service restaurants that include seafood at both Caviar House and Petrossian, as well as relaxed tea rooms and dinner at Laduree. There are also basic snacks available at a few snack bars like Marks & Spencer Food, not to mention classic desserts from Bert's and Exki.