Gold Coast pick up and drop off at OOL airport
Ground transportation to Gold Coast Airport
Serving the Queensland capital of Brisbane, Australia's Gold Coast Airport provides both domestic and international flights across a single-level terminal. Though drastically smaller and less popular than Brisbane Airport, the busy facility is known to get decent foot traffic and provides a variety of shopping and eating opportunities. Ground transportation includes buses provided by Surfside Buslines (Routes 777 and 760) as well as private shuttles, not to mention handy car rental kiosks and a taxiway available just outside the arrivals entrance.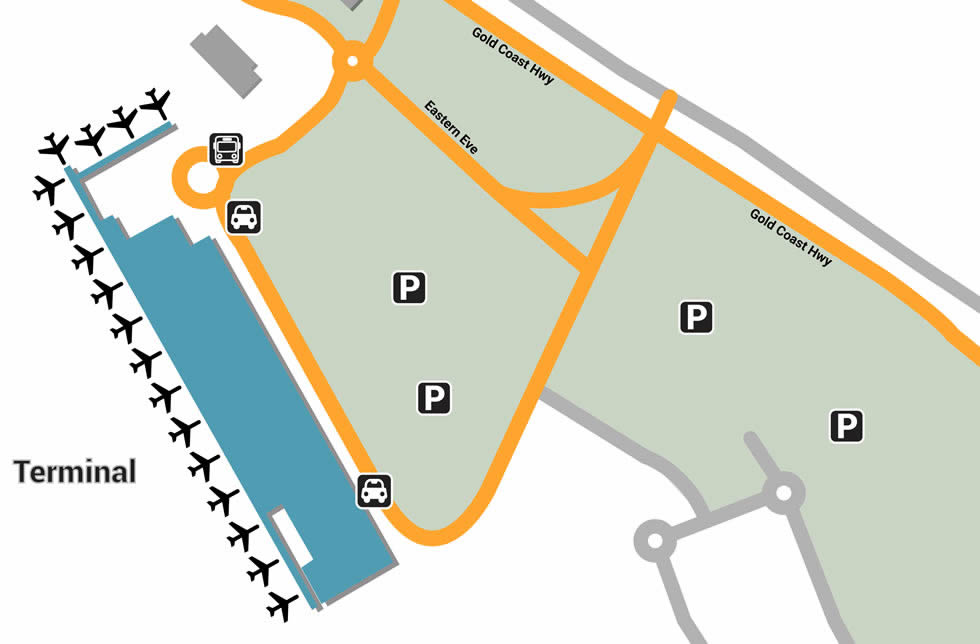 Parking
There are various places to park at Gold Coast Airport, with options including short-term and long-term parking as well as premium services. Those wanting to stay close to the terminal should stay at the Terminal Car Park, which is located across Terminal Drive from the airport entrance – this car park provides both short-term and long-term parking. Save even more money by staying at the Budget Car Park instead, choosing between covered or uncovered spots a bit further east of the terminal. And for those interested the most convenient option, enjoy the Premium Car Park's covered walkway to the terminal and attached access to the car rental services area. Additional services include valet, reserved spots for the disabled and shuttles for the Budget Car Park.
Services
With helpful staff & services at Gold Coast Airport, getting what you need is as easy as asking. Financial services include various ATMs and currency exchanges both in kiosk and machine form. And for families looking to relax, you can do so with Parenting Rooms that come fully stocked with free strollers and baby-changing tables – there are also plenty of shops & restaurants great for getting the kids to relax. Business perks are also available through free Wifi in both domestic and international areas as well as two VIP lounges that provide showers & conference facilities. Other unique services include massage chairs as well as walking-distance to both La Costa Motel and Coolangatta YHA.
Retail
Home to over a dozen shops, the retail experience at Gold Coast Airport is a great way to unwind. Those in the international area have a variety of last-minute conveniences available at both Aelia Duty Free and Relay News & Books, not to mention specialty souvenirs from Out of Australia. Even more is available in the Domestic area, which includes health goods from Airport Pharmacy and in-flight goods from Hub Convenience. A few fashion spots are also available, ranging from cosmetics at MAC to vacation threads at Suf Dive 'N Ski. Other unique stores include The Gold Coast Store by Newslink, which provides diverse goods in an expansive floor plan, as well as specialty gadgets at Tech2Go.
Restaurants
Whether you're departing in the morning or arriving at night, finding a solid bite to eat is the best way to feel like you're home. Sit down for coffee at either Velluto Espresso Bar or the rustic-chic vibe of Fix Café. For something more casual, grab fast food at Hungry Jack's, or consider something health & hearty at SumoSalad. For something more sit-down friendly, enjoy the comfort food of Red Rooster as well as the expansive ambiance and contemporary menu at The Coast Café and Bar. Other unique include pre-made takeaway at Zoom as well as runway views and cocktails courtesy of Blackstone Bar & Lounge.