Ontario International ONT Airport Shuttle
Located twenty miles east of Los Angeles, Ontario International Airport is surrounded by a slew of small riverside communities as well as vast California forests. Whether you're heading to San Bernardino for a day at Silverwood Lake the afternoon or planning a hike across the foothills in the north, making your transportation count is the first step to enjoying tomorrow. Do so by booking a nearby room at Azure Hotel, DoubleTree by Hilton, or countless others along East Holt Boulevard for shuttles to the airport.
Search for ONT airport rides

Trusted service since 2003

Flight Delayed? We wait.

24/7 Customer Service

Ontario Airport Transportation

Enjoy the nearby charm while you're in the area by booking a private ride to get around, whether it's an SUV perfect for Scandia Ontario's 25 roller coasters or a quaint sedan that makes exploring Chino Hills State Park as quiet as it is still. With so much to see, recommendations can go a long way, especially if it goes from a concierge question to an in-car guide via local personal driver, a service that not only makes the most out of world-class attractions, but takes them far and wide. With the Citizens Business Bank Arena so close to the airport, traveling for work can also be easy, splurging for a limousine even easier when you keep in mind how many upscale eateries wait along the San Bernardino Freeway.

ONT Shuttle Transfers

Find your nearest AirportShuttles.com van in Ontario and get there quicker with knowledgeable staff and drivers who know the roads and most importantly its passengers.

Airport Pick Up

Drive with some of the best vans at ONT airport with GO Prime Time Shuttle and be transported to your stay or place of business when you arrive.
Ontario Airport Shuttle Service
If you are departing ONT airport private cars and shuttle buses are simple ways to get around the downtown and adjacent cities surrounding it.
Shared Ride Van
Rent shared private vans and makes the most of your trip to Ontario, California with low prices and high quality service.
Private Van
Customer Satisfaction is our main aim. Travelers can hire private vans with excellent drivers to help you with your every want and need and get anywhere in Ontario on time.
Private Sedan
Turn up at the CCAA Museum of Art in an elegant high quality sedan for hire; cheap prices and excellent quality of service when you book our sedan.
Local Personal Drivers
Hire our nearby local personal drivers to take you where you want to go; whether you want to shop for antiques or find bargains at the Ontario Mills Shopping center.
Private SUV
Tour the Graber Olive House and reach there in one of our exclusive private SUVs; rented SUVs available as well as drivers available.
           
Taxi Cab
Taxi cabs for hire to take you to the airport or pick you up from the airport; book for fast airport transfers and transportation to all tourist spots Ontario has to offer.
Stretched Limousine
Living the high life has never been this easy! Book our limousines for amazing prices; for airport transfers or when enjoying the nightlife of Ontario.
Chartered Bus
Take a bus with your kids and their friends to the nearby theme parks of Disneyland, Palm Springs and other mountain resorts like Lake Arrowhead and Big Bear. Make a picnic out of it by reserving our buses for hire.
ONT airport terminals
Take the stress out of your flight into or out of California's Ontario International Airport by checking the terminal map to see where you need to go.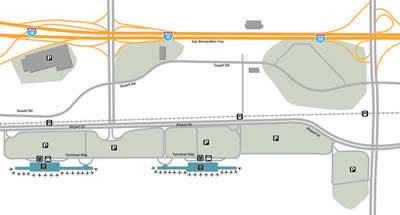 ONT airport has reliable AirportShuttles.com Ontario transfers so you can choose from one of the most reputable shared shuttle companies including private town cars or stretch limos. Prime Time Shuttle is also a recognizable shuttle provider who offers shared ride vans as well.

With the Ontario International Airport being heavily traffic for new arrivals to the city booking ahead for your shuttle ride can be important if you want to get to your destination right away.

Ontario International Airport has thousands of parking spaces available. Included in those spaces are three thousand spaces for automotive rentals from the rental agency located on site. The rental agency offers more than seven reputable companies to choose from. The airport offers one shuttle service at each terminal to and from the parking areas. The shuttle runs twenty-four hours a day. Terminal Information stands can offer you a list of reputable taxi and livery services as well as limousine services.

Most livery and limo services run twenty-four hours. There are two public transportation options. Both run twenty-four hours, however, one runs within just a few miles of the airport while the other runs further outside the limits of the airport. Terminal 1 offers Yellow Cab available at any time and is always on staff. Most taxi companies offer a discount to the elderly and military.

If you are looking for private transportation you can book private vans or sedans with GroundLink. For a more luxurious ride you can book a private sedan with Blacklane, Zumu or Midnight Express Transportation. Parking is located outside the old terminal and at the west end of the airport. Ground transportation provides various connections to the terminals for rental cars, airport parking and public transit stops.

Ontario Hotel Shuttles can be a very cost effective way of airport transfers between Ontario and many local hotels. You can also find shared ride or private vans with Ontario AirportShuttles.com, which can help you get to and from the airport.

Ontario Hotel Shuttles
Offering nearly fifty hotels within a short distance from the airport you are sure to find cheaper rides for airport transfers and appropriate accommodations to suit your travel needs. From Red Roof Inn to the Marriott, which is only around the corner, there are hotels to suit your budget and your needs. Most run shuttles to and from the airport so please check with your hotel. Most of the area hotels have on site or nearby taxi and livery services for additional cost.

About Ontario Airport
Ontario International Airport is the center of one of the fastest progressing transportation areas in the United States. The airport is a full servicing airport for many major United States cities and many international locations year round. Millions of passengers travel through ONT annually. Located around thirty miles from Los Angeles and less than forty-five miles from Long Beach Harbor makes this airport both convenient and busy.

Ontario International is the main airport in the region. Here in Ontario there are plenty things to do like visiting Ontario Mills Mall, which is one of North America's Largest indoor malls. Victoria Gardens is another destination worth checking out. It is also located near California State University Fullerton, which has transportation available throughout the day.

ONT Airport Terminals
There are more than ten dining venues, though unlike many airports, none serve alcohol at Ontario International Airport. There are also more than fifteen shops several being duty free for international travelers. Indoor motorized transportation is available for the disabled and elderly. Pet comforts are available outside each of the terminals. Baggage carts and baggage storage are available at each terminal. There are ATMs located throughout the airport and there are two banks on site.

If you feel like taking a ride on the historic route 66 that passes through many Inland Empire cities. There is also the San Bernardino National Forest that includes skiing, hiking, boating and fun for the family.

ONT Contact Information:
Ontario International Airport
Ontario, CA 91761
Airport Code: ONT