Medina pick up and drop off at MED airport
Ground transportation to Prince Mohammad bin Abdulaziz International Airport
As the chief airport for the Saudi Arabian city of Medina, Prince Mohammad bin Abdulaziz International is known for its striking terminal design as well as modern services & amenities that make traveling especially easy. The terminal is composed of seven smaller terminals. Terminal 1 handles domestic flights, Terminal 2 handles international flights and Terminal 3 handles both domestic & international flights. Terminals 4-7 are referred to as the 'Hajj & Umrah Terminals' - especially busy during Hajj season, the spacious facility provides ornamental pillars and ceilings that compliment the many guests that arrive to Medina for pilgrimage. Ground transportation includes buses that connect to downtown as well as The Prophet's Mosque, with available car rental facilities and taxiways along the arrivals level.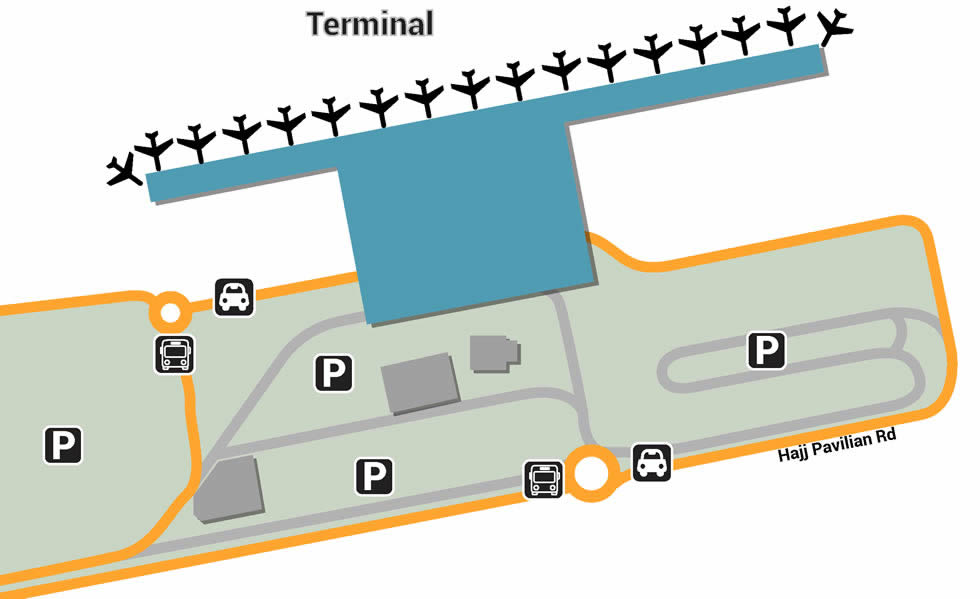 Parking
There are four parking areas that provide over 2,000 covered surface lot spaces just outside the terminal. P1 is the main parking area with over 500 spaces, while P2 is a smaller lot used by the staff. P3 is the car park for the Hajj & Umrah terminals, providing over 200 spaces, while P4 is the smallest lot used by car rental companies for rental returns. A flat fee is offered for all stays, whether it be for short-term or long-term. Those planning long-term stays are advised to get a parking subscription for a reduced monthly rate. Additional parking perks include spaces for the disabled as well as valet.
Services
Amenities at Medina Airport include little things that go a long way, from basic in-flight necessities to specialty perks for VIP fliers. Financial services include several ATMs and banks throughout each terminal, while medical services include four on-site clinics sponsored by Saudi Arabia's Ministry of Health. Business services are plentiful and include two VIP lounges as well as free Wifi for up to 30 minutes. Families can also get through the day with baby-changing stations in women's restrooms and free baggage trolleys near arrivals & departures areas. For additional help, a multilingual staff is available 24/7 at the Information Desk near the main entrance of the terminal - you can contact them at +966 (14) 813 9999.
Retail
Shopping at Medina Airport is limited, with most of the retailers consisting of several souvenir chains that include ATU Travel Value Shop, Made in Madinah and Zamzam Sale Point. These shops are located in every terminal, with the exception of Terminal 7.
Restaurants
Stay energized by grabbing a solid bite to eat when you land, looking forward to a handful of restaurants & cafes located throughout each terminal. Breakfast joints include busy coffee spots like LaVena Cafe and Diwaniyat Cafe, as well as the fresh-baked goods of Saadeddin Pastry and Cakes & Bakes. Fast food is also available through chains like Burger King, McDonald's and Sbarro, while healthy takeaway alternatives are available at Brioche Doree. For dinner, sit down with classic local cuisine at Lazeez Restaurant or Simit Sarayi, finally topping it off with desserts at either Cinnabon or Haagen-Dazs. Those hanging out in the Hajj Terminals have much fewer options that include two convenience shops and a restaurant.