Long Beach LGB Airport Shuttle Transfers
If you are flying into, or out of, the Long Beach Airport you will love the short lines and smaller feel of the airport. Just make sure that you remember to book reservations for airport shuttle near Long Beach as well as taxi, black car rides such as sedans and limousine service which can take you to and from LGB airport before your leave for your trip. Long Beach is close to Los Angeles and can help you avoid the stress of some of the busier nearby airports.
Search for LGB airport rides
AirportShuttles.com response to COVID-19 concerns and important updates for customers with upcoming bookings.

Trusted service since 2003

Flight Delayed? We wait.

24/7 Customer Service


Long Beach Airport Transportation

There are a wide variety of options for shuttle bus van such as AirportShuttles.com Long Beach and other limo services which making reservations early can save time when you arrive at the airport.

LGB Shuttle Transfers

Schedule your curbside airport pick up or drop off with Long Beach Airport AirportShuttles.com. You can choose from a non-stop or shared ride in the blue van. Your vacation will be much smoother when you book before you go.

Airport Pick Up

If you are flying into LGB airport for a cruise from the Long Beach Cruise Terminal or a convention at the Long Beach Convention and Entertainment Center GO Prime Time Shuttle can get you there in a hurry.
Long Beach Airport Shuttle Service
Pick up from the LGB airport can be done from the ground transportation block of the airport. All vehicles from shared ride vans and private sedans can be booked online and then give the representative your confirmation number so they can easily access your travel itinerary to get you to your destination.
LGB Pickup and Drop Off
Long Beach airport is a very busy airport and getting there and local ground transportation providers make back easy. Book your reservation today.

Authorized shuttle providers who can transport passengers at LGB airport can be found at the end of the terminal.

Shared Ride Van
If you need to get from LGB to East Village or Los Altos an affordable way to get there is a shared ride van service. This is where you share an airport shuttle with other passengers in order to lower the cost.

Private Van
Private van rides are often booked ahead of time so that you can accommodate your larger group. Some of the companies you can book with are Prime Time and Karmel Shuttle.

Private Sedan
A private sedan service is a great way for you to get to some of Long Beach's attractions such as the Long Beach Pier.

Local Personal Drivers
If you are looking for an airport ride to get you to your destination in Alamitos Beach or West Long Beach without any stops a local personal driver is a great choice.

Private SUV
Blacklane and FlitWays are great ways to get you there. With affordable rates on private SUVs passengers can get to places like Long Beach Convention and Entertainment Center.

Taxi Cab
Aquarium of the Pacific and Rancho Los Alamitos are popular attractions that you can take a taxi ride from the LGB airport.

Chartered Bus
Roadrunner Shuttle & Limousine Service provides chartered bus service for group travel to and from your Long Beach Cruise terminal.
LGB airport terminals
When you travel out of Long Beach Airport make sure that you know how to find your way to your terminal without the hassle.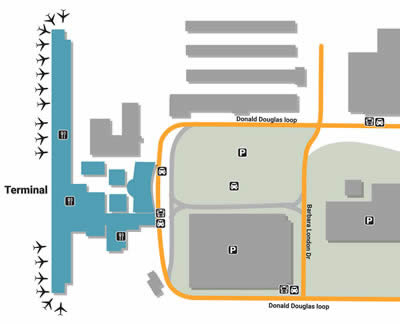 Long Beach Airport Shuttles
LGB airport has dozens of shuttle providers for airport rides including AirportShuttles.com and GO Prime Time Shuttle. These providers offer professional and licensed drivers for shared ride and private shuttle vans for passenger pickup and drop off.

Getting airport transfers to nearby cruise ports such as Catalina Island Cruise Port boarding the Royal Caribbean Cruise Line or the Port of Long Beach we can help passengers arriving at the airport get the shuttle rides they need quickly and conveniently.

Residents of the area needing to be picked up can find low rates especially if you are a college student. As many of them are trying to save on a shared ride van can be economical. If you are a student located near California State University Fullerton including nearby campuses such as California State University Long Beach you can search and book shuttle transfers for your next travel date and save as you travel.

Long Beach Airport offers car rentals, which are available through Enterprise, Hertz and Alamo National and are located across from the terminal building. Long Beach Yellow cab service is accessible through the taxi stand outside of the terminal readily on hand to take you to your destination whether it is to Disneyland or nearby theme parks.

Long Beach Hotel Shuttles
Several area hotels and motels are situated within a few mile radius of the airport, which offers shuttle service and parking. Your options include Courtyard by Marriott Long Beach or the Holiday Inn Long Beach Hotel that have easy access to shuttle bus pickups. Other brands you can choose from that will make your shuttle ride travel time easier with less effort for your departure include Econo Lodge or Super 8 Long Beach.

About Long Beach Airport
Formerly known as the Daugherty Field, Long Beach Airport is a city-owned public airport conveniently located three miles northeast of the City of Long Beach. The airport will always be small due to strict ordinances, but is the hub of the West Coast. Though commercial flights are restricted charter flights are available for private planes, flight schools and planes advertising banners.

Long Beach Airport serviced over a million individuals and there are vast amounts of businesses situated on the hundreds of acres, which many Business Park and hotel uses. Recently Long Beach airport remodeled the old terminal which the airport has now improved the customers experience with outdoor dining areas including fire pits, wine bars, a palm garden and over a dozen gates while keeping with the original architecture.

The terminal is divided into North and South concourse. JetBlue is the lone inhabitant of the north section, while the south section shares space with Alaska Airlines, Delta, US Airways and US Airways Express.

Long Beach Destinations
On your next trip to the Long Beach area make sure to consult with the local tourism board so you can make sure not to miss the must see sights and attractions.
Visit Long Beach

Things to do in Long Beach
Long Beach Airport is located in Long Beach, LA County. Long beach is a large port city that has an amazing coastline. Long Beach offers attractions such as the Queen Mary, a historic Cunard White Star ocean liner that brings paranormal aboard ship. Another great attraction is the Foxtrot Submarine also known as the "SCORPION" it's a self-guided tour in the Russian submarine with a retired Submarine officer who's there five times a week.

You may also want to visit sea creatures at the Aquarium of the Pacific, which is one of the largest aquariums in the US with over a thousand species to exhibit. In the art section there is the Long Beach Museum of art collecting 20th century art and decorative pieces of California artists. And if you want to take a stroll next to million dollar houses visit Naples Island. There are many things to do in Long Beach. Attend a Grand Prix or attend the Belmont car show plus many more events. Check for tours and Long Beach hotels to enjoy the full experience.

This airport was formerly known as the Long Beach Municipal Airport. LGB airport will primarily stay a small airport since it is near residential Long Beach neighborhoods. Some of the primary airlines that serve the LGB airport are Delta Airlines, US Airways and JetBlue.

LGB Contact Information
Long Beach Airport
4100 East Donald Douglas Drive
Long Beach, CA 90808
Airport Code: LGB