Kuala Lumpur pick up and drop off at KUL airport
Ground transportation to Kuala Lumpur International Airport
Known for being the main airport of Malaysia, Kuala Lumpur International Airport provides just about everything visitors may need through two separate terminals; the original Main Terminal and the newer Terminal 2 (KLIA2). The Main Terminal provides five levels, with departures along the top level, a large food court along Level 4 and arrivals along Level 3. Level 2 is home to information desks and access to parking, while Level 1 is mainly used for ground transportation. KLIA2 is a massive terminal located across the runway from the Main Terminal, offering three levels that include arrivals on Level 2 and departures along Level 3. Both terminals are inter-connected via The Skybridge, which offers glass views above the runway and walkalators. Each terminal also has a separate multi-level satellite building for additional departures - inter-terminal transportation includes a driverless people mover, with additional ground transportation including rail access via the KLIA Station and KLIA2 Station. Train routes are provided by KLIA Ekspres and KLIA Transit.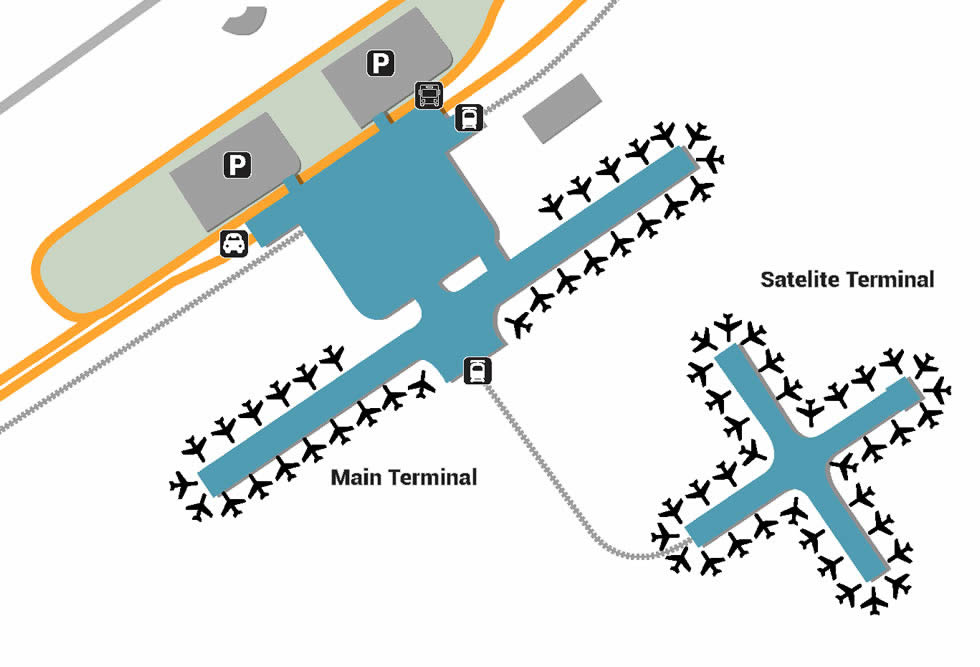 Parking
There are three main areas to park in Kuala Lumpur Airport. The Main Terminal parking includes short-term spots across a seven-story garage, while Terminal 2 provides an eight-story garage directly connected to the Gateway@KLIA2 shopping center. Short-term parking is available at both garages. Long-term parking is available at the designated Long-Term Car Park near the Malaysia Airports Training Centre, with shuttles departing every 10 minutes. Additional parking services include Touch & Go kiosks at all entries & exits as well as large-vehicle spots along Level 2 of Blocks B/C, not to mention valet services along level 3 of Terminal 2's garage.
Services
Passengers services are limited to a few simple accommodations as well as a handful of specialty perks. Financial services include ATMs on practically every level as well as eight currency exchanges in the Main Building. Family conveniences include a few baby care rooms in the Main Terminal equipped with beds, changing tables and nursing chairs, while children's play areas dubbed 'Kids Zones' are located along Level 5 of the Main Terminal and Level 2 of the Main Terminal's Satellite. Business travelers looking for relaxation should unwind with deep-tissue massages at Wellness Spa, also considering the added luxury of five VIP lounges, three hotels and three nap rooms. Other unique facilities include a scenic observation deck in the Main Terminal as well as free movies in KLIA 2 Movie Lounge.
Retail
Enjoy Kuala Lumpur Airport expensive shopping experience, starting with its various integrated malls and shopping emporiums that include Gateway@klia2 and the Eraman Duty-Free Lifestyle Mall along the Main Terminal Contact Pier. The airport is also home to expansive all-in-one shops like be Duty Free and Flying Emporium. Pick up exclusive looks from various fashion boutiques as well, whether it's the upscale trends at Coach and Versace or simple comfort courtesy of Victoria's Secret and Sunglass Hut. Find a special gift from various gift shops as well, choosing between fresh bouquets at Heng Heng Local Delights or Malaysian-made pieces from Khazanah. Other specialty shops include unique Malaysian handicrafts at Karyaneka and old-fashioned toys from the historic Hamleys.
Restaurants
Another great way to pass the time is through the airport's eateries that range from local delicacies to world-renowned dining. Choose from three separate food courts that include the Main Terminal Food Paradise and Food Garden, as well as Terminal 2's Urban Food Court. Morning pick-me-ups can be found at quaint bakeries like Baker's Cottage and Krispy Kreme, while popular coffee joints include Uncle Lim's Café and Café Barbera. Fast food options are also plentiful, ranging from western favorites like KFC and McDonald's to the Malaysian-based Marrybrown, while more traditional options include a wide variety of sit-down spots like The Chicken Rice Shop, The Olive Tree and Bumbu Desa. Takeaway bites are also plentiful, including a diverse array of sweets from Famous Amos Cookies as well as corn in a cup from Nelson's.