O. R. Tambo Johannesburg International JNB Airport Shuttle

A few miles northeast of downtown Johannesburg, the capital of South Africa, O.R. Tambo International is a large facility that offers instant access to the many resorts and shopping districts of Kempton Park. Get to know the area by getting the right lift for sightseeing, whether that means taking all the time in the world with a private rental, or enjoying convenient pick-ups through either taxis, stretched limousines, or local personal drivers.

JNB Airport Transfers

Find other destinations that offer GO Airport Shuttle or search for other transportation providers at Johannesburg (JNB) airport.

Airport Ride Service

Looking for airport shuttle rides? Learn how you can get connected to the best shared ride van providers, sedans and private vans and view our airport transfer locations.
Johannesburg Airport Shuttle Service
Traveling through this airport gives you plenty of different grounded shuttle services. The ground transportation options at JNB Airport are extensive, including five bus lines that each run through the airport twice a day, several on-site car rental and taxi stands, as well as a rail link connected to the OR Tambo Train Station. Avoid long lines and big crowds by trading public transportation with a personal shuttle instead, booking through either area shuttle or taxi providers for custom drop-offs and friendly service.
Shared Ride Van
Are you up for a great adventure in Johannesburg? Consider riding our shared ride van services, so that you can arrive to the visiting sites you want to mark as seen on your tourist agenda. For easy lifts to distant hotels and resorts, reserve a shared ride van with area shuttle providers, enjoying commitment-rides to all-in-one destinations, whether it's toward the luxurious Palazzo Montecasino on the northwest side or the modern downtown ambiance of InterContinental Johannesburg Sandton Towers.
Private Van
Be it Maboneng Precinct or Honeydew Mazes, you can arrive there in a private van, should you opt for employing these services. Carry up to a dozen passengers with ease by reserving a private van ahead of time, making arrangements with area shuttle companies for easy lifts to widespread landmarks, whether it's to the outdoor fun at Johannesburg Botanical Gardens or the super-sized Mall of the South, which offers a massive emporium of shops, restaurants, and department stores.
Private Sedan
If you're in Johannesburg, then you can't miss visiting Wondercave, the Botanical Gardens and Emmarentia Dam or the Jan van Riebeeck Park! Rent a private Sedan so that you can make sure that you get to all of these points of interest. Enjoy intimacy everywhere you go by reserving a private sedan from local companies, taking long drives through the southern regio n's wildlife and heritage houses at Suikerbosrand Nature Reserve, afterward taking a road trip to the neighboring city of Pretoria, located north of Johannesburg.
Local Personal Drivers
Reliable, ethical and knowledgeable about the areas, our local personal drivers are just one phone call away from picking you up wherever you would be and dropping you off wherever you wished. See Johannesburg through the eyes of someone who truly cares about the region, booking a local personal driver to find the best African eats as well as which artsy streets and weekend markets are worth your time, all by asking the right questions at the right time.
Private SUV
Do you have an undeniable passion for the wild? Choose from the many safari tours Johannesburg takes pride in – Ingrid's Safaris, Impi Safaris, Ama –Zing Kruger Park Safaris and many more – and ensure your transportation there by booking a private SUV. For total safety as well as enough room to carry six passengers, reserve a private SUV from area providers. As your own guide, you can take your time exploring every corner of the capital, walking through the historic exhibits of Constitution Hill one moment, and the lush ponds and trails of Delta Park the next.
Taxi Cab
If you're in need for airport or site to site transportation, our upright taxicab drivers are ready to take you anywhere you desire. Want to get from point A to point B as quick as possible? Arrive to busy locales like the Sandton Convention Centre by getting a taxi, also utilizing the ride's 24-hour convenience for access to late-night restaurants & bars as well as red-eye flights back home.
Stretched Limousine
Are you in search of an extravagant tour? You've found the right service to fulfill this wish: the stretched limousine is at your disposal. Reserve a stretched limousine to make where you're going matter, booking through local limo companies for the pinnacle of luxury, whether you're headed to the upscale delights of Marble Restaurant or vast performance space at the 4-stage Joburg Theatre downtown.
Chartered Bus
There are so many interesting landmarks in Johannesburg! Get to visit the Origins Centre, the Peacemakers Museum or the Johannesburg Planetarium by booking our mini bus services. Reserve a chartered bus to take over a dozen passengers to Johannesburg's most diverse landscapes, whether it's the thrilling rides, eats, and exhibits on the history of local gold mining at Gold Reef City or the famous white lion exhibits at the Johannesburg Zoo South Africa.
JNB Airport Terminals
Seen by many as a confusing facility with several exits, entrances, and 6 distinguishable terminals, O.R. Tambo Airport can be broken down into three main areas: International Terminals, a connecting Central Terminal, and Domestic Terminals. Each terminal contains both international and domestic flights. Below is a simplified layout of the facility.
- Level 1 (Ground): international & domestic arrivals, baggage claim, luggage carts, customs, immigration, VIP lounge, taxi & shuttle access, parking lot, and escalator/elevator access to upper levels.
- Level 2: international departures, international check-in, security, Gautrain access, shopping mall, restaurants, VIP lounges, drop-off zone, and escalator/elevator access to upper & lower levels.
- Level 3: domestic departures, domestic check-in, security, shops, restaurants, Gautrain access, drop-off zone, and escalator/elevator access to upper/lower levels.
- Level 4: mezzanine for International and Domestic terminals, mostly consisting of VIP lounges.
JNB airport terminals
Passengers can meet up with their drivers fast by using our terminal maps so they can arrive to their hotel or nearby destination on time.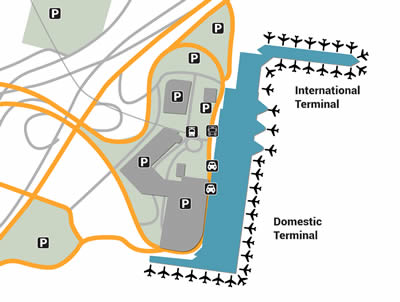 Johannesburg Airport Shuttles

You can reserve a hotel in Johannesburg or you can make discount airport transportation reservations.

If you have a choice to catch a taxi, call in a limousine or rent a car. There are local shuttle services or you can schedule ahead one of the three top-rated services. One option is using AirportShuttles.com it services around 50 different cities and over 30 airports. Also, known as the BlueVan they provide you with shared ride vans to get you to and from the airport or your hotel.

Another popular choice is GO Airport Shuttle for its cost-efficient vans and excellent customer service. They strive to deliver the best transportation service to over 50 airports and thousands of passengers daily. With GO Airport Shuttle you have a choice at shared ride vans or private vans, it all depends on what you prefer the most.

Carmel Car and Limo is also a great choice for ground transportation. Offering the best selection of discounted rates to over 250 cities around the world it is one of the highest rated shuttle services available. They have rental cars for you to choose from or limousines if you decide it would be easier. If your traveling in a larger group you may prefer to rent a limousine due to its space and capacity size.

O.R. Tambo International Airport Shuttles
A whopping half-hour drive to downtown Johannesburg, O.R. Tambo International makes getting to the heart of the capital difficult, something that can easily be fixed with a shuttle. Book through either area shuttle or sedan companies for the easiest route, whether you're headed toward a lux resort with everything under one roof or a quaint stay in the outskirts of Johannesburg South.

Make sure you know the layout of the city before arranging a drop-off, choosing between a variety of neighborhoods and small towns, whether it's eastern delights ranging from Boksburg theme parks to Germiston views of Victoria Lake, or the south-central district of Johannesburg South, which offers close access to upscale hotels, Glen Shopping Mall, and the Klipriviersberg Municipal Nature Reserve. The west side of town is the quietest area, filled with cozy B&Bs and suburbs in cities like Roodepoort, Soweto, and Krugersdorp, while the north end's Parktown and Rosebank region's offer instant access to upmarket shopping as well as the Johannesburg Zoo.

Stay organized by keeping your shuttle reservations close, printing out your confirmation email for all the details, also doing the same with any other bookings you may have, from the urban tours provided by City Sightseeing Johannesburg to the amazing wildlife showcased by Catz Tours & Safaris. Another easy way to keep everything in one place is by keeping a travel journal on your person, placing passports, ID, and tickets in one place, also taking extra precautions by backing up each document on a flash or cloud drive.

About O.R. Tambo International Airport
About 13 miles (21 km) from Johannesburg, the trip between O.R. Tambo International and downtown can be a trying one, though with nearby airport hotels, cutting the drive time down by a fraction can be easy. On-site stays include Protea Hotel, Intercontinental Johannesburg, and City Lodge Hotel, each offering polished rooms and free business perks. The next best option is Southern Sun, located just west of the terminal, while across-the-highway options include low-price stays like Dove's Nest Guest House, Emerald Guest House, and Airport Inn Bed and Breakfast.

Enjoy the many on-site goodies at the airport as well, exploring dozens of shops, restaurants, bars, and lounges to make delays go by easy. One of the most popular hangout spots is Jackson's, a local café/bar chain known for its upbeat ambiance and all-day breakfast, while Nando's in the domestic terminal provides classic Afro-Portuguese cuisine. Shops include name-brand stores like Nike, Lacoste, Timberland, and Hackett London, as well as several duty-free shops, plus exclusive gifts from Out of Africa and Indaba Origins.

Enjoy nearby airport destinations if you're planning to stay close, going on quaint strolls through Pomula Park Nature Reserve, located behind the airport and home to a large pond as well as the Blaauwpan Dam, or check out the nearby shops and restaurants of Kempton Park, from Festival Mall massive indoor ice skating rink to the waterside cafés near Norkem Park. Business travelers interested in taking a few swings on the green should head to Benoni Country Club instead, afterward enjoying posh eats from the on-site Green Craft Bar.  

Johannesburg Destinations
Known for being one of the largest cities in the world as well as the capital of South Africa, Johannesburg is by far the country's most populous metropolis. In addition to diverse neighborhoods, the capital offers a unique history ranging from economic gold to world-famous civil rights moments. Get a quick overview of the area's history by visiting the Apartheid Museum, which explores South Africa's dissolution of segregation laws, afterward getting a mix of learning and thrills at Gold Reef City, a gold rush-themed amusement park home to dozens of coasters as well as exhibits on the local history of gold mining. Plan your next pit-stop by heading to the 50th floor of the Carlton Centre afterward, home to a panoramic observation deck looking out at the famed skyline.

Once you've gotten your fill on city life, fall in love with Johannesburg's natural backdrop, walking through tens of thousands of acres at the Cradle Humankind, also home to eco-friendly exhibits on the region's wildlife. You can also look forward to the vivid scenery of Lion Park, home to safari tours of ferocious wildlife, plus a restaurant and gift shop, then winding down with quiet strolls across Delta Park, home to grassy trails, ponds, and hundreds of acres of open lawns perfect for watching the sunset. When the day finally winds down, grab a bite to eat at Johannesburg's finest, choosing between the live music and cigar lounge at The Grillhouse Rosebank or Africa-inspired Italian at Jamie's.

Lounges at O.R. Tambo Airport
- Shongololo Premium Lounge: Located in international departures, Terminal A. Perks include free Wi-Fi, TVs, showers, reading material, and drinks, plus disability access and flight information monitors.

- Mashonzha Premium Lounge: Located in international departures, Terminal A. Perks include free Wi-Fi, TVs, showers, reading material, and drinks, plus disability access and flight information monitors.

- Bidvest Premier Premium Lounge: 2 locations – one in international departures, Terminal A, and another in domestic departures, Terminal B. Perks include free Wi-Fi, TVs, showers, reading material, and drinks, plus disability access and flight information monitors.

- SesFikile Premium Lounge: Located in international arrivals, Terminal A. Perks include free Wi-Fi, TVs, showers, reading material, and drinks, plus disability access and flight information monitors.

- Bidvest Sky Premium Lounge: Located in domestic departures, Terminal B. Perks include free Wi-Fi, TVs, showers, reading material, and drinks, plus disability access and flight information monitors.

About the O. R. Tambo Johannesburg International Airport
The primary international and domestic travel airport going back and forth from South Africa is O. R. Tambo International. It was known by the name of Johannesburg International, however, on October 27, 2006 the airport was renamed after a former president of the National African Congress, Oliver Tambo.

This airport is the busiest airport in Africa with more than 28 million travelers passing through each year. It one of the five international airports that have non-stop flights to all six continents.

Hotels near JNB
The Michelangelo Hotel is a luxurious suite styled hotel that gives the vibe of a vacation in only a single night's stay. There is an indoor pool and fitness center free of charge for all guests. If you need to relax and unwind there is a sauna and steam room available as well.

Hilton Sandton is a hotel located only a few miles from the airport. It is in the heart of the business center of the city with the convention center, shopping malls and city life highlights surrounding the hotel. Everything is within walking distance and close proximity to the hotel.

Raddison Blu Hotel in Sandton, Johannesburg is a brand new facility next to the fast and busy city square. Everything and anything worth seeing and exploring inhabits the surrounding area. It's location is very desirable for those who love to venture to new places and exotic stores. There are also plenty of fine dining restaurants all over the city. When traveling to Johannesburg, South Africa keep in mind all the exciting highlights of the hotels and city that surrounds them.