Johannesburg pick up and drop off at JNB airport
Ground transportation to O.R. Tambo International Airport
A major airport that serves the Johannesburg area, O.R. Tambo International Airport is the chief facility for those flying in and out of South Africa. The airport is broken into several buildings across two terminals; Terminal A and Terminal B - international flights are handled in Terminals A1 and A2, while the central A3 Terminal is used for both international and domestic flights. Terminal B is located beside Terminal A3 and is solely dedicated to domestic flights. Ground transportation at O.R. Tambo includes commuter trains via the Gautrain Station, which is located between the two terminals, as well as five bus lines that pass through the pick-up/drop-off zone twice a day.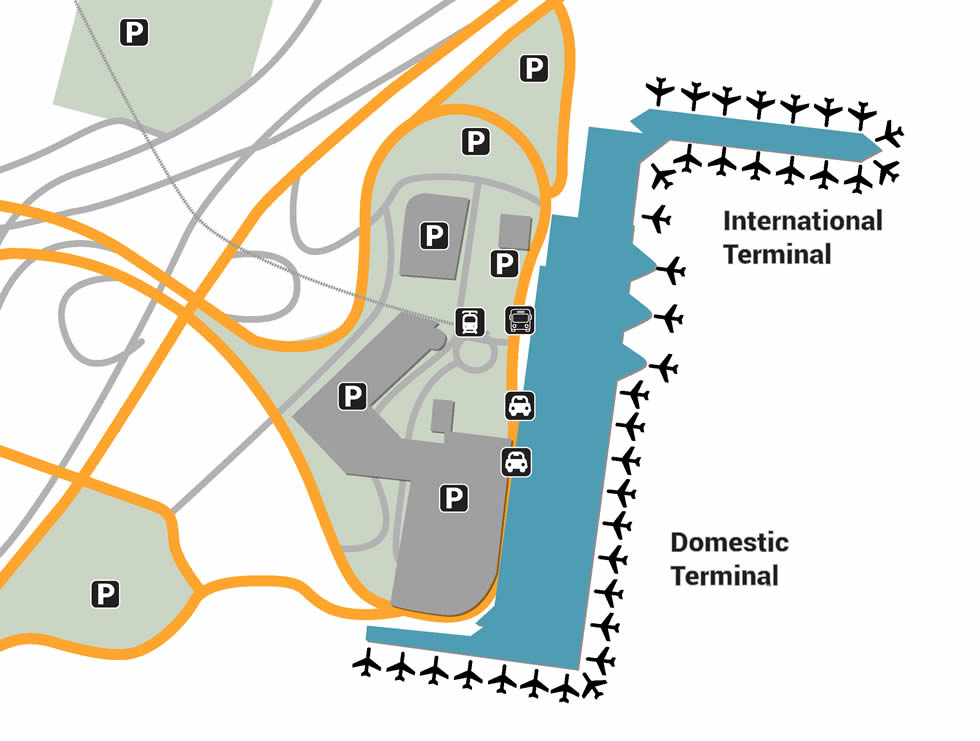 Parking
There are nine car parks located throughout the airport that offer short-term and long-term rates, plus a few special services. Short-term spots can be found at Car Parks 1-3 as well as 7-8, while long-term spaces are available in Car Parks 4-6 and 9. The closest access to Terminal A is provided by Car Parks 1, 7 and 8, while Car Park 2 offers easiest access to Terminal B as well as the central connector. All of the long-term car parks provided shaded spots with the exception of Car Park 9, making it the lowest-priced option. Additional services include 24-hour shuttles that pick up at long-term car parks every 15 minutes as well as Valet Parking Services - reservations for valet an be made at +27 (0)11 390 2062.
Services
Services at O.R. Tambo Airport are varied, including a wide variety of simple perks that include free Wi-Fi and work desks as well as elevated perks in the form of executive perks and relaxation. Disability services include on-site pharmacies and medical assistance at the Arwyp Airport Clinic, while family-friendly perks range from views of the tarmac at two separate observation decks to baby-changing facilities in women's restrooms. Business travelers looking to enjoy the day also have a wide selection of professional privileges that include six luxury VIP lounges, four on-site hotels and expert massages at Letsema. Other unique services include a Christian Chapel and Muslim Prayer Room as well as showers available in select VIP lounges.
Retail
Another great way to unwind is through the help of the airport's many shops, many of which are located in the Central Terminal's on-site Duty Free Mall. Grab a gift or souvenir from handicraft experts at Out of Africa, African Origins or Indaba Lifestyle, also considering select oddities from either Tuang Trading Post or Made in SA. Clothing brands are also varied and include upscale brands like Burberry, Hugo Boss and Guess as well as specialty gear from Ferrari, Hip Hop Avenue and Timberland. Customize with special bracelets and necklaces at either Accessorize or The Diamond Works as well, also considering beauty products from The Body Shop. In addition to duty-free luxury, the airport offers expansive department stores that include several Big 5 Duty Free locations and a Woolworths. Other unique retail includes toys from Kidz Paradiz and bouquets at Flower Centre Florist Kiosk.
Restaurants
A handful of restaurants are located inside each terminal, with equal sprawl in arrivals and departures areas. Morning-friendly joints include the classic coffee and baked goods from Illy Cafe as well as the South African-Based treats from Mugg & Bean. Look forward to quick-serve from various fast food locations that include KFC and Old Fashioned Fish & Chips as well, not to mention Portuguese-style chicken at Nando's. The airport is also home to various worldly options that include American-Italian at Peace a Pizza Diner as well as spicy curry from Raj Indian Cuisine. Eateries that come with a bar include Jackson's Republic, Byte Restaurant and Vetho Barley, while more refined seating found inside the intercontinental bistro vibes at Europa as well as Ocean Basket's dimly lit seafood.