Jacksonville International JAX Airport Shuttle
Jacksonville International Airport has excellent customer service and clean facilities. When you fly into JAX for a trip to the beach or even to see the Jaguars play make sure to book cheap rates for reservations in Jacksonville when you reserve airport shuttle, taxi cab rides, sedans with your own driver and limousine pick up with a service to and from the airport. Once you land you can quickly make your way to the way to the baggage claim area and collect your luggage. Then, once you have all of your belongings together head outside to the curb to meet your ride.
Search for JAX airport rides

Trusted service since 2003

Flight Delayed? We wait.

24/7 Customer Service

Jacksonville Airport Transportation

Some of the bigger named, more frequently used shuttle services are AirportShuttles.com Jacksonville and Jacksonville Shuttle Service. Both are very affordable, safe and they are located at your convenience for hotels and discount rates for large groups headed towards Prime F. Osborn III Convention Center.

JAX Shuttle Transfers

Northeast Florida is home to the Jacksonville International Airport, which is a busy airport in northern Florida. AirportShuttles.com operates here and offers reservations for airport shuttles and private car service.

Airport Pick Up

Go Airport Express and Sedan Jacksonville is a local favorite and services Jacksonville, the beaches, and north Florida. You can hire a private car or a shared ride shuttle from this reliable and affordable company.
Jacksonville Airport Shuttle Service
At JAX airport there are private car, shuttle bus or taxicab services for those needing a quick ride to the airport.
Shared Ride Van
Whether you are in Jacksonville for business or for pleasure, book our shared vans for the best quality airport transfers to your hotel.

Private Van
All types of pickup and drop off available at various places in Jacksonville. Book our private vans if you are going to the Jacksonville Zoo or the Museum of Science and History.

Private Sedan
Turn up at your destination in style with our stylish private sedans. Book one if you want to show up and show off at locations like the Museum of Contemporary Art.

Local Personal Drivers
We have personal drivers with extensive local knowledge available at just a call, whether you want to go to the Fort Clinch State Park or the Metropolitan Park.

Private SUV
We provide direct access to private SUVs wherever you are – at your hotel or at tourist spots in Jacksonville such as Fort Caroline, we will pick you up.

Taxi Cab
If you need to get to the EverBank Field, we provide private taxi service to transport you to and from the home of the Jacksonville Jaguars.

Chartered Bus
Visiting with your group of friends or family? Welcome to our mini bus service designed to satisfy your group travel needs, including upon arrival at the airport and up to departure.
JAX airport terminals
At the Jacksonville Airport you have everything you need at your fingertips. Tired from your flight? Unwind at the spa or visit one of the airport's art galleries. There is also live entertainment inside the central courtyard for your enjoyment. If you are traveling without your furry companion but aren't sure where to leave them while you're gone have no fear, there's even a pet resort onsite.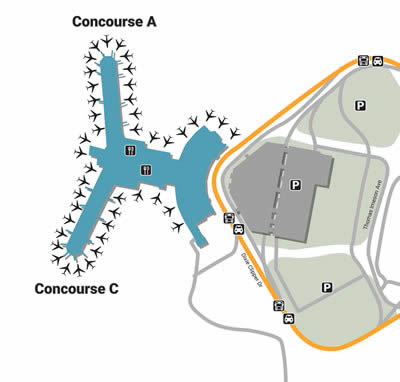 Jacksonville Airport Shuttles
For JAX airport or Jacksonville International Airport it provides AirportShuttles.com Jacksonville shared ride vans and is situated less than ten miles north of Jacksonville's central business district. Jacksonville International airport has millions travelers arrive each year.

You may also call for a taxi, or even use a car to accommodate yourself and have your own privacy to Jacksonville neighborhoods. There are also buses that run around town that you can call for and find a stop to wait at. There are many ways to get around in Jacksonville, especially near the airport, always located at your convenience and always affordable.

Jacksonville Hotel Shuttles
When you're staying here in Jacksonville, Florida there are many hotels that you can stay in and choose from, according to your needs, wants and budget. We have simple and affordable shuttles to Jacksonville hotels such as Comfort Suites conveniently close to the airport. There are other places to stay if you choose not to stay with them like Holiday Inn Express and Best Western Jacksonville. These accommodations are all available and easy to call and schedule a room or you may even schedule online.

If you are looking for something more classy, sophisticated and luxurious, having a higher goal for your budget then you should choose four and five star hotels such as the number one, Hilton Garden Inn. There are a few others if you choose a different route such as Crowne Plaza and Aloft Jacksonville and Residence Inn.

About Jacksonville Airport
There are many airports in Florida. Jacksonville International Airport is not necessarily the most frequently used airport but Jacksonville Airport is known for its beautiful style and accommodations. This airport has since expanded and rebuilt some new concourses.

Jacksonville International Airport stands north of downtown Jacksonville, in a county called Duval and has two runways. Although it may be one of the smaller airports, the size and beauty of the place would fool you. Roofs shaped like domes, creating such a classy and breathtaking atmosphere, surrounding the airport. Jacksonville is also home to the Port of Jacksonville.

JAX Contact Information:
Jacksonville International Airport
2400 Yankee Clipper Drive
Jacksonville, FL 32218
Airport Code: JAX