Hong Kong pick up and drop off at HKG airport
Ground transportation to Hong Kong International Airport
Home to one of the largest terminals in the world and often rated as one of the best on earth, the city-like Hong Kong International Airport provides great first impressions through island views and close access to Hong Kong Disneyland. An intricate eight-level structure, the facility is home to three connected terminals; Terminal 1 taking up all eight levels, the protruding Terminal 2 on the south end of the building and the North Satellite Concourse offering added space to the east ends of levels 4 and 5. Available ground transportation includes over two-dozen bus routes and taxi stands on the arrivals level (Level 3), rapid-transit trains into the city via the Airport Express Train (Level 5) and direct access to ferry terminals via SkyPier on the far east end of the island.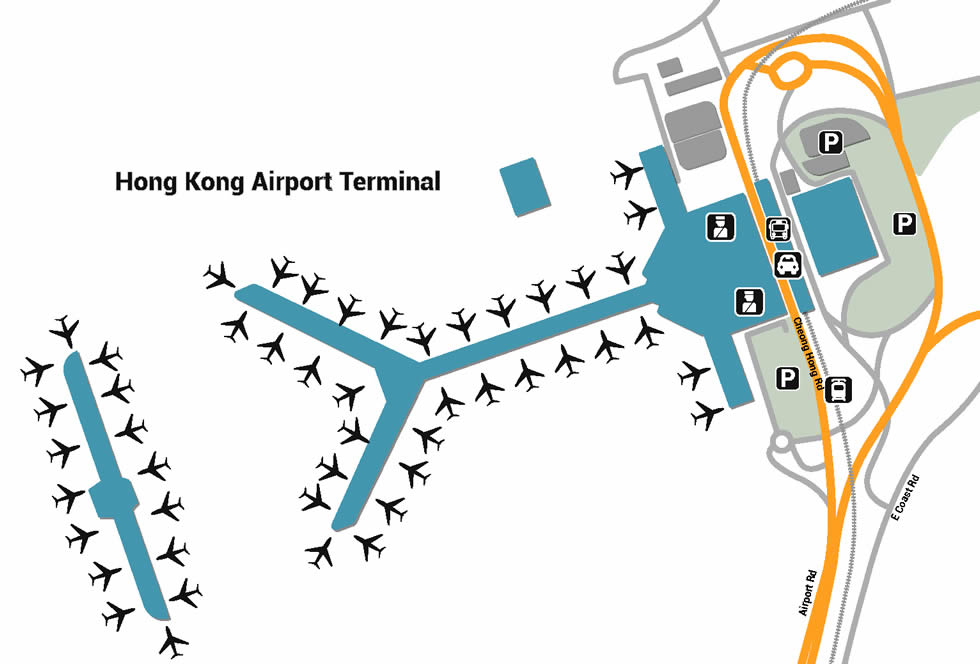 Parking
The airport is home to six car parks, which include Car Parks 1 - 5 and the SkyCity Car Park. Each is located in the arrivals area (Level 3), and offers hourly, daily and long-term rates. Car Park 1 is located south of Terminal 1, while Car Parks 2 and 3 are connected to the east end of Terminal 2. Car Park 4 is located on the north end of Terminal 1, a great choice for those wanting to stay close to the on-site luxury of Regal Airport Hong Kong. And located between Terminal 2 and SkyPier are Car Park 5 as well as the SkyCity Car Park, a shared space popular with business travelers due to its close access to the adjacent AsiaWorld Expo and waterside suites of Hong Kong SkyCity Marriott.
Services
Various services are located throughout the terminal, including 19 VIP lounges along the 6th and 7th floors, an Automated People Mover that connects each terminal via a driverless electric train system, and 8 uniquely themed playgrounds along levels 5 and 6. The Caring Corner is a reserved area for people with special needs, including pregnant women, the disabled and elderly. Circling the facility are 19 electric vehicles ready to pick up anyone in need of a lift across the airport – for a pick up, call the 24-hour hotline at +852 3918 5000. Other unique freebies include complimentary showers on level 5 of Terminal 1, dimly lit massage chairs at Relaxation Corner and various nearby hotels that include the attached Regal Airport Hotel, business-friendly Hong Kong SkyCity Marriott Hotel and the slightly further Novotel Citygate Hong Kong, which is connected to the Citygate Outlets Shopping Mall.
Retail
Home to over 150+ fashion shops, the expansive retail experience at Hong Kong International is a hard one to pass up. Take delays in stride by visiting SkyMart, a shopping mall located in Terminal 1 that offers sizeable upscale shops including MCM, Gucci and Christian Dior, not to mention duty-free necessities and cosmetics at the expansive Beauty & You. For more options, take the Automated People Mover to Sky Plaza, another shopping mall attached to Terminal 2 that includes even more threads from unique boutiques like Ginger Store and Riccini, plus specialty gifts ranging from the anime-themed 759 Kawaiiland to the iconic memorabilia inside The Magic of Hong Kong Disneyland. There area also a wide variety of duty-free goods available at Relay, Living Plaza and The Best New Zealand Shop.
Restaurants
In addition to shopping, the food scene at Hong Kong International Airport is just as diverse. Those in Terminal 1 should head to the large food court located on level 6 of the departures area across from Gates 40 – 60. Dive into eclectic local eats, choosing from various Asian menus that include Street Food MIC by Alvin Leung, Baikohken and Chee Kei, or for something simple and familiar, enjoy a few fast food restaurants like Burger King and Subway. Those in search of both quality and taste should head over to either O'Learys or One Minute Gourmet instead for fast friendly service. Terminal 2 is also home to a food court on level 6 of the departures area, including various noodle houses like Nippon Ramen and Happy Cup, in addition to awesome lunch spots like Barbeque Plus and Windows Café.