Helsinki pick up and drop off at HEL airport
Ground transportation to Helsinki Airport
A few miles north of the coastal city of Helsinki, Helsinki International Airport is the largest airport in Finland as well as one of the busiest in all of the Nordic countries. The airport is broken into two terminals (Terminal 1 and Terminal 2), both of which provide domestic and international flights. Terminal 1 offers various duty-free shops & restaurants as well as upscale VIP lounges, while Terminal 2 provides a full-sized grocery store as well as modern furniture throughout public lobbies and play rooms. Both airports offer convenient railway connections through the on-site Airport Railway Station's "I Line, which connects to Helsinki Central Station. Additional ground transportation includes taxi stands outside both terminals as well as the popular 615 bus line.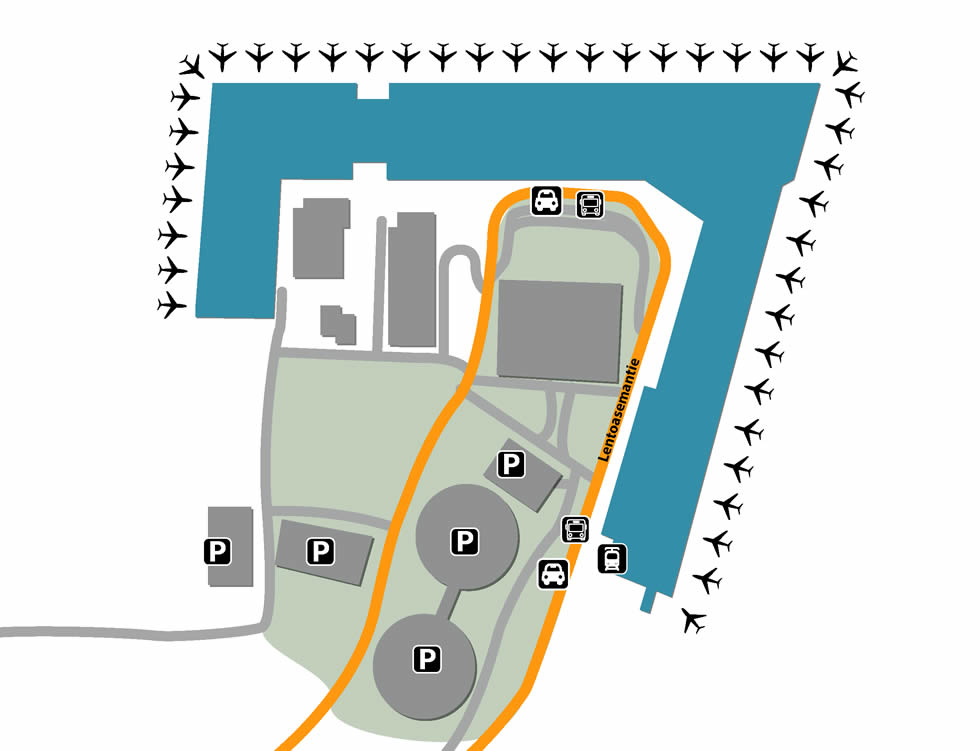 Parking
There are six lots located throughout the airport (P1 - P6). P1 and P2 are connected, offering the closest access to Terminal 2, while P3 is an expansive multi-level garage broken into three locations, each offering the most low-cost rates and convenient access to Terminal 2. Long-term rates for holiday can be found at either P4 or P5 - P4 is broken into two lots (4A & 4B), offering the furthest parking as well as the cheapest rates, while P5 is especially popular with business travelers due to its close access to the Hilton Helsinki Airport and World Trade Center. P6 is another executive parking lot reserved for online bookings, also offering instant access to the Helsinki Airport Train Station as well as P3's car rental services. shuttles run from the terminal to each parking lot every 15 minutes between 3:30 AM to 1:30 AM.
Services
Various services are located throughout Helsinki Airport, including special assistance for the disabled such as pharmacies and wheelchair rentals, as well as extra tweaks to traditional services like the multi-language speaking information desks and complimentary tours of the eco-friendly facility. Work perks include trendy furniture and complimentary Wi-fi at several Suvanto Work and Rest Areas, as well as a few VIP lounges and hotels that include Hotel GLO and Hilton. Unique amenities are also everywhere, from the relaxing rooftop terrace on the 6th floor of Terminal 1 to the 24-hour book swap and rustic furniture of Kainuu Lounge, not to mention inspiring art that moves from the Kaivopuisto Air Show Gallery in Terminal 2's arrivals to the Aviation Museum located outside the airport.
Retail
Unwind with ease by shopping while you wait, taking advantage of Helsinki Airport's modern pre-order service that allows flyers to shop for custom goods 8 hours before they arrive. Most of the airport's shops are located on Terminal 2's expansive Level 2 shopping mall, which includes a wide variety of fashion from Victoria's Secret, ARG Airport Fashion and Hugo Boss, as well as name-brand products from Longchamp. Unique gifts can be found at various stores including the iconic figurines & dolls from Moomin Shop, specialty sweets at Fine Food and Finland-inspired designs at Little Store. Terminal 1 offers simpler shops including a few duty-free stands, easy reads from Bookstore and another ARG Airport Fashion store.
Restaurants
Various restaurants can also be found throughout the airport, most of which are located alongside the expansive shopping mall on Level 2 of Terminal 2. Choose from local delights like Helsinki Sausage Co. or Nordic Kitchen, also considering basic delights courtesy of western fast food chains like Burger King and Starbucks. Sit down for some busy coffee instead, choosing between Café Tori's spacious ambiance modeled after old Finnish market squares, while The Oak Barrel Irish Pub provides the perfect night-time atmosphere for delayed departures. Other popular restaurants include authentic sushi and noodles at Two Tigers, as well as Pier Zero's deli & bar, with Terminal 1 specialties including Finnish classics at Helsinki Market and a range of craft beers from 60 degree Bar & Brewery.