Gimpo International Airport pick up and drop off at GMP airport
Ground transportation to Gimpo International Airport
A major transportation hub for the South Korean city of Seoul, Gimpo International Airport is one of the largest airports in the country as well as a vital stage during the Korean War. The facility is home to two separate terminals, the International Terminal and the Domestic Terminal. Each terminal is home to four floors, with arrivals on Level 1, departures on Level 2 and an assortment of shops & restaurants along Levels 3-4. Ground transportation includes express lines courtesy of Gimpo International Airport Station, with connections to Incheon International Airport and downtown Seoul Station via the AREX Express Line, as well as direct links to various downtown neighborhoods via Seoul Subway Lines 5 & 9.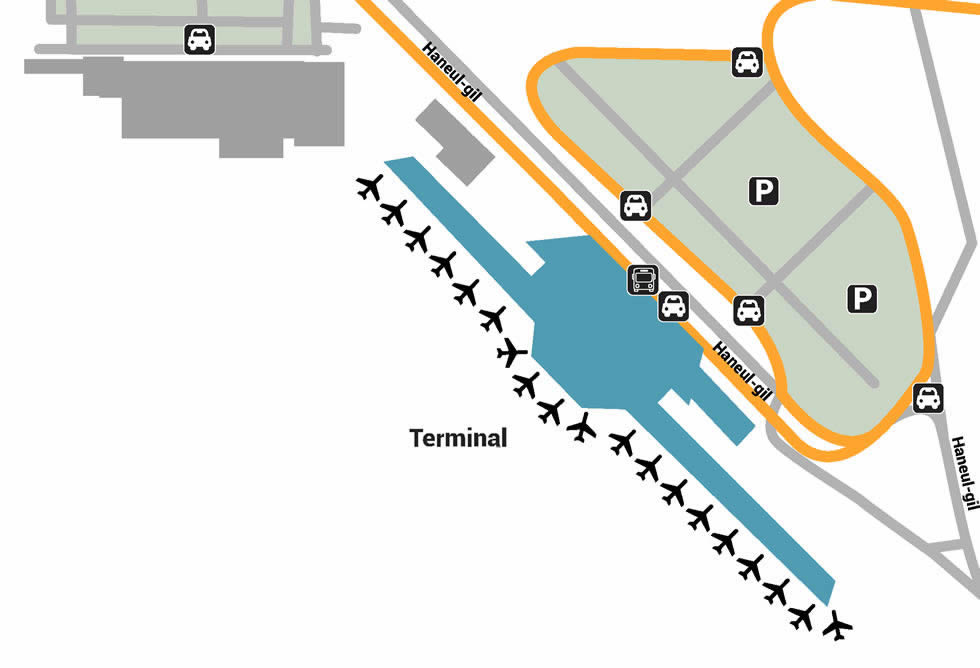 Parking
There are four parking lots at Gimpo Airport, all of which cater to short-term and long-term parking. Those wanting close access to the Domestic Terminal should choose between Parking Lots No. 1 and 2, the rate for each depending on day of week and size of vehicle. Parking Lot No. 3 is best for those looking to stay close to the International Terminal, while Parking Lot No. 4 offers easy access to the Cargo Terminal – both of these lots follow the same rate guidelines as the Domestic Lots. Other parking services include a 50% discount for the disabled, multi-child families and compact cars – valet is also available for drop offs along the 2nd floor of both terminals, while valet pick-up is located along the 1st floor.
Services
Services at Gimpo Airport are incredibly varied, offering a wide variety of facilities for the disabled as well as the extremely privileged. Those traveling with kids can find comfort through expansive nurseries and baby care rooms in each terminal as well as life-saving necessities available at a few convenience stores and an on-site pharmacy. Business-friendly services include expected conveniences like shoe-shining and free Wi-Fi as well as a full VIP experience that includes specialty parking, priority immigration procedures and instant access to all VIP rooms. The airport also has thoughtful services for the disabled that include rentable wheelchairs and shuttle buses to the parking lots, not to mention priority search stands at security. Other unique services include the Airport Observatory & Exhibition along the 6th floor of the adjacent Korea Airports Corporation building and a post office.
Retail
Get to know the beauty of what the airport has to offer, looking forward to quaint shopping opportunities at various stores that include name-brand fashion and in-flight necessities at Lotte Duty Free and Shinsegae Duty Free as well as specialty souvenirs from Books & Gift. You can also find expansive looks at Fashion & Accessories, which is a generic all-in-one store that offers a variety of handbags, sunglasses and jewelry perfect for finishing up a look – connected to Fashion & Accessories are various other cosmetics stands and fashion boutiques as well. Lastly, a pharmacy along the 3rd floor of each terminal as well as the CU Convenience Store on the 1st floor of the Domestic Terminal provide any last-minute goods alongside unique toys and snacks.
Restaurants
Keep energized at Gimpo by keeping close to good eats, the most popular choices located in the Festival Food Court, which rests along the top floor of the International Terminal – here you can enjoy diverse hangouts ranging from the fresh lunches at Café de Specialty's to local classics from Korean Restaurants, not to mention modern views courtesy of Air Lounge. Other renowned eateries include dimly lit Japanese at Osaka Kitchen as well as friendly service at Bistro Haneul Chan, while simpler eats come in the form of western food from Dunkin' Donuts and Steff Hotdogs. Enjoy takeaway eats at a few Flavour 6 Express' as well, also considering Mannam Snack and a wide variety of South Korean stands like Marizzang, Yukkal and Bonjuk.