Dusseldorf pick up and drop off at DUS airport
Ground transportation to Düsseldorf Airport
As one of Germany's largest airports, the massive Düsseldorf Airport is home to three inter-connected terminals; Terminal A, B and C. Terminal A and C are home to three levels, with arrivals on ground level, departures on the middle level and a shopping level on the upper level. Terminal B is located between Terminals A and C, providing four levels designed the same as the other terminals but with an added floor designated for observation deck lookouts. There is also a small Executive Terminal solely used by private jets. Ground transportation includes a suspended monorail called SkyTrain that connects terminals to parking areas as well as two railway stations; the Düsseldorf Airport Station's ICE trains and the Düsseldorf Airport Terminal Station's underground S-Bahn connections.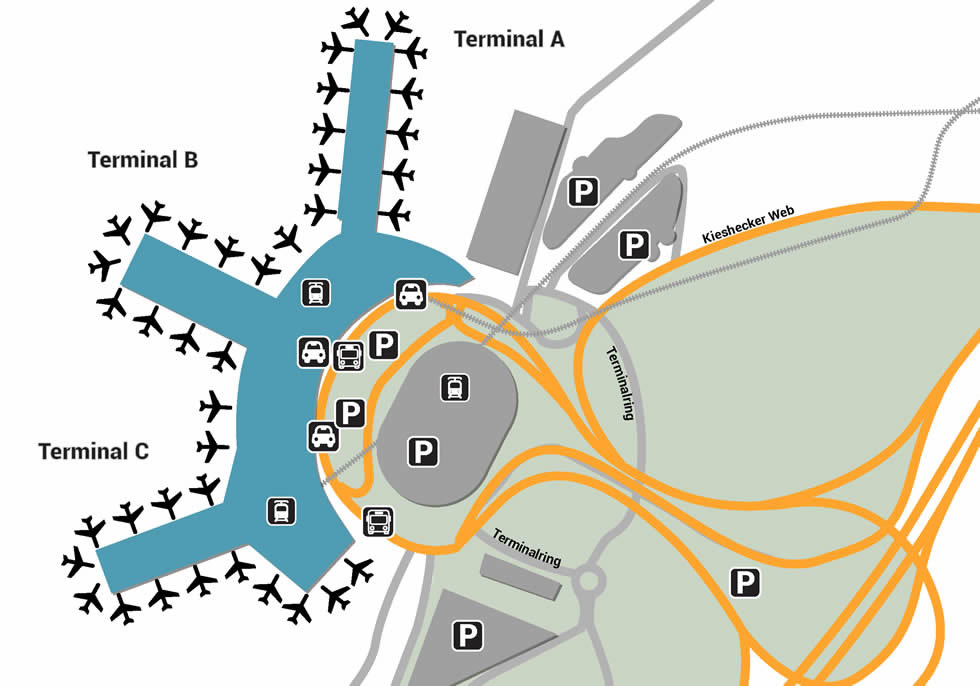 Parking
There are several lots and garages that offer short-term, long-term and executive parking options. Lots P11 and P12 are short-term areas that provide instant access to Terminals A and B. Budget parking is also available at various Fare Zones, which are broken into three categories; Long-Term, the slightly cheaper Long-Term Savings and Terminal. Long-Term spots are available in P4 - 5 as well as P25, while Long-Term Savings spots are available at P13, P23 - 24 and P26. Fare Zone Terminal spots include P2 - 3, P7 - 8 and P22. Additional services include valet, located along Level 1 in Terminal B, and The Park Service Center, located on ground level adjacent to Terminal B and providing a front desk for any questions.
Services
Services at Düsseldorf Airport include a variety of classic amenities as well as peculiar gems. Look forward to simple perks like free Wi-Fi and water fountains as well as exemplary disability care, which includes free wheelchair loaners and complimentary parking for those with a European Parking Card. Family assistance is also available in the form of an on-site supermarket, baby-changing rooms and a scenic observation deck at the top of Terminal B. Enjoy a wide variety of executive services as well at Düsseldorf Airport City, a surrounding aerotropolis that includes various hotels and convention centers as well as close access to the Düsseldorf Fairgrounds. You can also have fun with a few on-site tours, either by taking flight in a historic aircraft via the airport's sightseeing aerial tours or through an extensive 90-minute ground tour that comes with free tickets to the observation deck and SkyTrain.
Retail
Kick back with over 60 unique boutiques when you arrive, most of which are located along the top floor 'Travel Market' levels of each terminal. Start with what's fashionable, looking forward to upscale textures at FTC Cashmere and Armani, also considering the economic trends of H&M and Hallhuber. Find special gifts or souvenirs at a few choice options, choosing between Flores Mercedes Sanchez' collection of flowers and balloons or quality German merch from Your Present. Other in-flight necessities and miscellaneous merchandise can be found at a couple all-in-one shops like Lufthansa Worldshop and Düsseldorf Dutyfree. And some stores that deserve a category of their own include Elbenwald thousands of nerdy artifacts as well as fresh groceries and produce at REWE CITY Markt.
Restaurants
Re-energize with eclectic eats throughout the airport, choosing from quick-serve convenience or immersive worldly cuisine. Wake up to fresh coffee and baked goods at Caffe Motta or Mosaic Holiday Lounge, or go simple with kitschy pick-me-ups at Coffee Van by Jamie Oliver. More lunch-centric options include a few take away joints like Bread 'n' Break and Nordsee as well as western fast food grub from KFC and McDonald's. For a full-service experience that lets you enjoy your meal, sit down for dinner at select restaurants that include classic Italian from L'Osteria, centerpiece grills at Palavrion and Mediterranean at San Pino. And for something sweet at the end of it all, browse through colorful fresh-baked goods at either Épi or Terbuyken.