Chengdu pick up and drop off at CTU airport
Ground transportation to Chengdu Shuangliu International Airport
Servicing the capital of China's Sichuan Province, Chengdu Shuangliu International Airport is a massive facility offering both international and domestic flights in two terminals; Terminal 1 and Terminal 2. Terminal 1 is home to three floors, with arrivals on Level 1 and departures on Level 2. Terminal 2 is home to four above-ground floors and one underground floor - arrivals is on Level 1 and departures is on Level 3. Ground transportation includes access to the Chengdu Metro Line 10 subway as well as the high-speed CRH Train in Terminal 2's Shuangliu Railway Station - there are also four bus lines (Airport Bus No. 1 - 4) and car rental kiosks.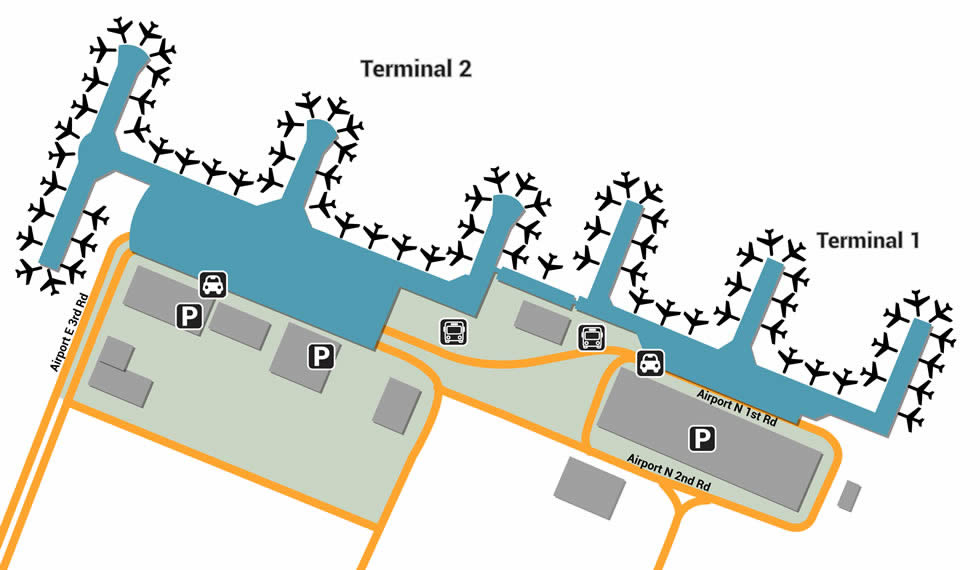 Parking
There are two main areas to park; The T1 Parking Lot and the T2 Parking Lot. Each parking lot is located adjacent to its respective terminal and provides a flat rate that depends on the size of the vehicle. Special parking perks include the first 30 minutes free of charge for all vehicles as well as free parking for military and police vehicles. Free emergency services are available to all passengers and include tire inflations, tire changes and jumpstarts. Those in need of additional services should contact either of the two parking lot hotlines, which are 028-85205684 (T1) and 028-85205684 (T2).
Services
Services at Chengdu Airport include a wide variety of accommodations like basic financial help through ATMs and currency exchanges as well as helpful business amenities that include seven VIP lounges and three nearby airport hotels, not to mention complimentary Wi-Fi throughout each terminal and a business center in Terminal 2. Families looking to relax can also do so at two separate children's play areas as well as through the dimly lit movies in Terminal 2's Video Room. Other services include an information desk in both terminals as well as a prayer room just outside Gate 104, not to mention smoking spaces available in Terminals 1 and 2.
Retail
Chengdu Airport offers a multitude of shops that offer as many convenience goodies as luxury delights. Look forward to various fashion outlets that include Coach, Ferrante and Out Eu in addition to a few casual brands like Nautica and Crocs. Pick up a memorable souvenir as well, sifting through old handicrafts and toys at Xinghangyi Market or enjoying the combination of in-flight necessities and special occasion gifts from American Tourister. Other unique stores include two separate Disney stores as well as select cashmere from Erdos, not to mention specialty foods and confectioneries at both Hao Wang Shop and The Cocoa Trees.
Restaurants
Grab a bite to eat when the going gets good, enjoying an eclectic mix of local Chinese favorites as well as international cuisine. Find pick-me-ups from cafés that include UBC Coffee as well as a few C. Straits Coffee shops, not to mention the specialty milk teas at Coffee Salon. For lunch, try a myriad of local eats ranging from the filling meals at Chengdu Tasty Food to a handful of fast food eateries like KFC, McDonald's and Pizza Hut. For dinner, look forward to hot pot recipes from Jiaquanju Restaurant, or enjoy the long buffet line at Duck Vermicelli. And don't forget to top it off with a classic dessert from Gigi Cake!