Chengdu CTU Airport Shuttle
Chengdu Airport Transportation
Located at the heart of China's central Province of Sichuan, Chengdu is an ancient city dating back to the 4th century, its airport breaking records as China's 4th-busiest facility. Get out of the hectic Chengdu Shuangliu International with ease knowing you've got a ride on the other side, choosing between private sedans, SUVs, and vans as well as custom drop-offs courtesy of taxis, stretched limousines, and the almighty shuttle. You can also get unique advice with the help of a local personal driver, or go to the bottom of the barrel with an affordable shared ride van.
CTU Transportation
Get out of dodge quickly by utilizing multiple forms of travel available at Ground Transportation, from the high-speed CRH trains that depart from the Shuangliu Airport Railway Station to the underground Metro Subway Station, which offers a ride into the city through lines 10, 3, and 7. You can also get a ride with zero wait time by booking a shuttle from us, looking forward to the added benefit of bag handling services and comfy seating.
Shared Ride Van
No matter what reason you're visiting the massive city of Chengdu, there's never enough time to see everything. Enjoy the capital of the Sichuan Province by going simple for the necessary parts, booking a shared ride van to not only save on your way to the city but spend more on the fun later.
Private Van
Fitting up to a dozen passengers, vans are a great way to make sure the whole family sticks together. Reserve with our providers to get started on the day, whether it's filled with the excitement of roller coasters and water slides at Chengdu Happy Valley or tranquil moments at several palaces and temples.
Private Sedan
If you're the type who needs privacy at any given moment, reserve a private sedan to escape the droves. Book with us to get the most out of the outskirts, one of the most popular areas to get lost in being Shiling Forest Park, not only for its views of Dongfeng Canal but less than a mile's distance from the subway.
Local Personal Drivers
From finding the coolest historic landmarks in the Wuhou District to sitting down at the most scenic riverwalk restaurant in the Jinjiang District, a native can show you the way. Make the most out of your time by having one show you around, booking a local personal driver to get awesome advice perfect for experiencing the best Chengdu has to offer.
Private SUV
Bring the whole family along by reserving a private SUV, fitting at least six passengers for adventures that span centuries of dynasties, kingdoms, and generations. From the simplicity of getting to your hotel with peace & quiet to having guaranteed safety at all times, you'll be more than prepared to take on Chengdu's ancient spirit.
Taxi Cab
Home to millions of people and a foreign driving culture, the traffic surrounding Chengdu can be difficult to maneuver around for someone who isn't a native. Get in and out of sticky situations with the help of a taxi, whether you're on your way out of an event or just arriving to town at the heart of rush hour.
Stretched Limousine
Though the streets may get crowded with several towering apartments and residential districts, one can still find tranquility in the fanciful, even more with a stretched limousine at your beck and call. Book for head-turning arrivals to Jinjiang Theatre, afterward showing up to dinner in equal elegance.
Chartered Bus
Get around the cramped city by fitting over a dozen passengers in a chartered bus, seeing as much as possible without having to break apart. Whether it's an urban stroll through People's Park or a surreal hike across Longchi National Park, taking your time on the beauty of each moment is the greatest gift of all.
CTU Airport Terminals
Handling millions of passengers a year, Chengdu International is home to two separate terminals; Terminal 1 and Terminal 2.
Terminal 1:
Level 1: international & select domestic arrivals, gates, currency exchange, locker rooms, and mother's nursing rooms.
Level 2: departures, restaurants, information desks, lost & found, gates, and security.
Level 3: restaurants and airport offices.
Terminal 2:
Level B2: elevators/escalators to Level 1 and access to train station/parking.
Level 1: domestic arrivals, baggage claim, and VIP lounges.
Level 2: transfers and gates.
Level 3: departures, security, and shops.
Level 4: main food court and VIP lounges.
CTU airport terminals
Find your way through baggage and the terminal shops to your driver who awaits to take you to your hotel downtown.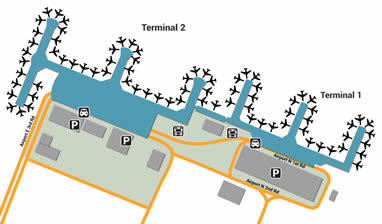 Chengdu Airport Shuttles
Chengdu International offers easy-going traffic due to its outer-web placement on the southwest corner of downtown, making shuttles a low-cost and efficient choice for transportation. Reserve with us to make your stay simple, letting worry take a backseat to all adventures that await you.
Know you're taken care of no matter what direction you're headed, experiencing the beauty of the region by learning about it first. Those heading to the south side have a variety of family-friendly landmarks at their disposal, including the popular aquatic shows at Haichang Polar Ocean World as well as the surreal rides at Nanhu Dream Land across the Fuhe River. If you've got a hotel closer to the north side, find just as many unique getaways ranging from the serene Jué Temple and iconic statues at the Chengdu Research Base of Giant Panda Breeding.
Don't let the simplest part of your day ends up being the most difficult by keeping track of your shuttle reservation. Write down the pick-up time, location, and vehicle type in a safe place, or print out the confirmation email the moment it comes in. If you can, also study the terminal map to be sure you know where Ground Transportation is ahead of time, also considering help from the information desk on Level 2 of Terminal 1 to avoid getting lost on the way.
About Chengdu Shuangliu International Airport
Less than 13 miles from downtown, Chengdu Shuangliu International Airport is an institution that created its own city, inside and out. Make your trip to hotel check-in as easy as a trip to your departure by reserving a room close enough to the air strip, the closest choice being the on-site Xiehe Airport Hotel as well as a handful of choices right outside the terminal. A popular alternative for business travelers is Baigang International Hotel, located down the street and home to sleek amenities, while low-cost hostels are just as plentiful for college backpackers and those who missed their flight.
If you're in the middle of a layover, at least consider yourself lucky to be in a place that can accommodate boredom. Home to a shopping mall's worth of stores and eateries, you'll have plenty to explore, from the bestselling reads & gifts at Atic Books, home to six different locations across the facility, to the classic American eats at Burger Star on the second floor. There's also two Disney stores, five Global Brand clothing stores, and traditional Chinese meals served at two different Honggang Restaurants.
With so much to do on the inside, one may forget there's even more fun waiting outside, especially if your hotel is right around the corner. Just west of the airport is the scenic Baitu Garden Landscape, home to a few serene acres known to transport instantly. Get a view of Mingyuan Lake to the east as well, walking across the double bridge at You Yilin Park, which hosts a variety of trails along the Jiang'an River, and an on-site library & café. On the south side is the professional Sichuan International Golf Club, popular for those wanting to network somewhere close and quiet.
Chengdu Destinations
See the finest the thriving metropolis has to offer by feeling the power of its roots at Luodai Ancient Town, a popular national park that showcases a historic town filled with authentic Hakka buildings, architecture, and old wells. Compliment the day by driving over to Xiao Fei Xia afterward, a nearby theme park that's become a thrilling yin to the calming town's yang. While you're on the outskirts of the east side of town, drive through the popular Hometown of Peach Blossom Scenic Area for an iconic route especially gorgeous in the springtime. On the south end of the park lies the hidden Shijingski Temple as well as boat rides across Longquan Lake.
Get lost in the west side afterward, exploring over 50 acres of lush jungle surrounding the Du Fu Thatched Cottage Museum, renowned for showcasing the acclaimed artist's work while transporting each guest to the beauty of China's ancient times. End the evening with a tour of downtown's most acclaimed landmarks as well, walking through the astounding Wenshu Yuan Temple while looking forward to the sunsets visible from the Anshun Lang Bridge. Don't forget to feed your soul at the world famous Chenma Po Tofu Old Shop as well, located uptown and arguably the most popular restaurant in Chengdu.
Lounges at Chengdu Shuangliu Airport
There are seven lounges at Chengdu Airport; two in Terminal 1 and five in Terminal 2, all of which are simply referred to as 'First Class Lounge'. All lounges offer the same perks, including beverages, Wi-Fi, showers, and reading material.
CTU Contact Information
Chengdu Shuangliu International Airport
Shuangliu, Chengdu
Sichuan, China
Airport Code: CTU