Budapest pick up and drop off at BUD airport
Ground transportation to Budapest Ferenc Liszt International Airport
Servicing Hungary's capital city of Budapest, Ferenc Liszt International Airport is not only the largest airport in the country but one of the busiest throughout Europe. The airport is home to two inter-connected terminals dubbed Terminal 2A and Terminal 2B. Terminal 2A handles Schengen-only flights, while Terminal 2B handles non-Schengen flights – each terminal provides three levels; arrivals along the lowest level, departures along Level 2 and an upper mezzanine level along the top. A large multi-level shopping mall called Sky Court is located between the two terminals and provides hours of fun through five levels of retailers, restaurants and entertainment. Ground transportation includes buses to downtown via Line 100E as well as both suburban & city trains that pick up at Nyugati Railway Station – there are also various car rental services as well as taxiways available along the arrivals level.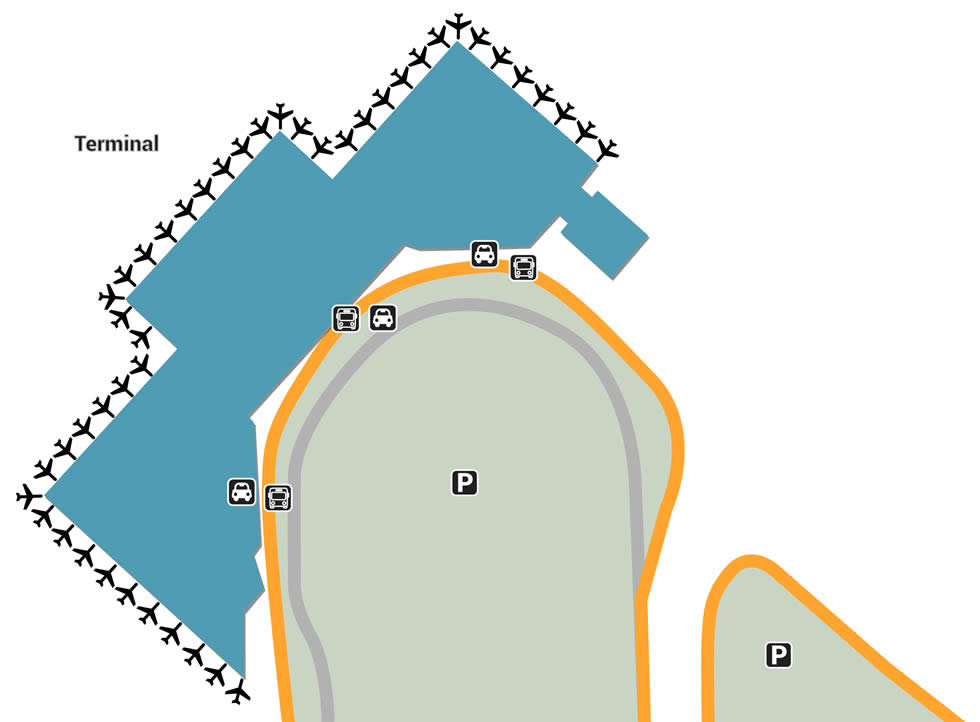 Parking
There are five main areas to park at Budapest Airport that include both short-term and long-term rates as well as executive options. Enjoy instant access to the terminal by choosing Premium Parking, located adjacent to Terminals 2A and 2B as well as the SkyCourt shopping plaza. More short-term parking can be found at Terminal Parking, located a bit south of Terminal 2A, while Business Parking provides the same distance from the terminal with easier access via shuttles. Long-term options are also available in two large car parks west of Terminal 2B; Holiday Parking and the cheaper Holiday Parking Lite – both of these lots are connected to the terminal via covered walkways. Additional parking services include a separate Bus Parking lot for those intending to pick up several passengers as well as a Park 'n Wash available all car parks.
Services
Services at Budapest Airport offer a range of conveniences that include basic amenities and grandiose wonders. Find what you need, whether it be financial services in the form of ATMs & currency exchanges or last-minute necessities from several shops & restaurants that make up the 5-level SkyCourt complex. For business travelers looking to unwind, take advantage of five VIP lounges sprawled across each terminal as well as SkyCourt, also considering convenient stays at the adjacent Ibis Styles Budapest Airport Hotel. For families looking to relax, look forward to various play areas in the SkyCourt area, also considering the conveniences of an on-site pharmacy and dental clinic. Other unique services include therapeutic treatments at Lian Day Spa as well as sky-high views of the tarmac along the mezzanine observation deck.
Retail
Unwind with over two-dozen shops at the airport's SkyCourt shopping plaza, looking forward to five levels of brands local and international. Start with upscale fashion lines that include a Guess-Calvin Klein combo and Hugo Boss as well as casual wardrobes at Victoria's Secret and Tommy Hilfiger. Other accessories can be found at Inglot and Gratiae, while last-minute goods are available from convenience shops like Relay and Heinemann Duty Free. Those in need of beautiful souvenirs should pick up gifts at Memories of Hungary, also considering confectionary bonbons and marzipan at Szamos. Other unique stores include a variety of classic games at Living Toys as well as mixed media from Budapest & Music.
Restaurants
Budapest Airport provides 18 cafés, restaurants and bars great for making the most out of delays. Most options are going to be found in the central SkyCourt plaza, whether it's early-morning bites at Caffé Ritazza or a blend of breakfast and lunch options at Flocafé. Takeaway options are also available through fast food restaurants like KFC, Burger King and Dr. Juice, while sit-down options come in the form of economic Mediterranean at Kouzina and classic Italian at Negroni. For dinner, enjoy the busy ambiance of O'Leary's Sports Bar as much as gourmet bar bites at TA.SH.BA. Other unique restaurants include open-air views at The Terrace as well as classic Asian dishes from Yum Cha.