Brussels pick up and drop off at BRU airport
Ground transportation to Brussels Airport
Located just north of Belgium's capital,Brussels Airport is home to a large terminal that handles both domestic & international flights. The terminal is separated into four floors, which include one underground level and three above-ground levels. Arrivals are located along Level 2, while departures are taken care of along Level 3 – two piers dubbed Piers A and B create extensions for both of these levels. Levels 0 and -1 are utilized for public transportation, which include taxis & car rentals services along ground level as well as four train lines that connect to the underground Airport Railway Station. Light rail trams also provide high-speed access to both suburban and downtown areas.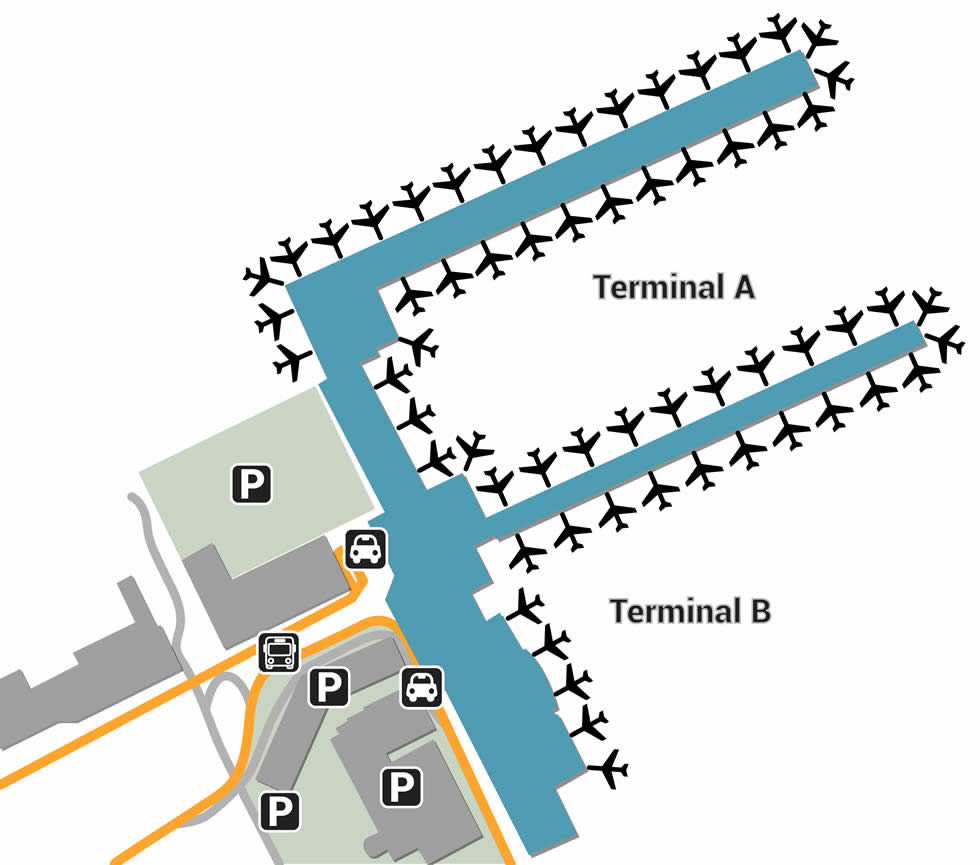 Parking
With over 10,000 spaces sprawled across seven different parking areas, Brussels Airport provides ample access to both short-term and long-term lots. The closest car parks to the terminal are P1 P2 and P3, while P4 provides a slightly further distance in exchange for a lower rate. Low-cost parking is available at both Discount Car Parks 1 and 2, each providing shuttles that transport passengers to the terminal 24/7. VIP services include valet, car washes and theft insurance at both P1's VIP drop-off and at the Lock Park adjacent to the Sheraton Hotel. And for those who fly Brussels Airport frequently, consider a Brussels Airport Pcard+ for the first 30 minutes free of charge at Parks P1-P3 as well as a 10% discount for stays past 24 hours.
Services
Expect nothing but the best when it comes to Brussels Airport services, whether it means enjoying basic financial services like ATMs and currency exchanges or other expected conveniences that include two smoking rooms and separate prayer rooms for almost every religion. For families looking to enjoy their time, find relaxation through baby care facilities at most restrooms as well as a couple play areas near Gates T68 and B40. Business travelers can also rest easy with four VIP lounges as well as walking-distance to the Sheraton Hotel Brussels Airport – there is also free unlimited Wi-Fi throughout the terminal alongside rentable computer stations via Telenet Centers and the 2connect store. Other unique services include an on-site hair salon and pharmacy.
Retail
Spend some time shopping while you wait, looking forward to dozens of name-brand retailers and relaxed duty-free shops across both piers. Those in Pier A have a wide variety to choose from, whether it's high-end fashion at The Luxury Hall or complimentary souvenirs at both Rapid Duty Free and Express Shop. Other fashion clothing lines include ladies wear from Sarah Pacini, men's business attire at Hugo Boss and Belgian-based looks at River Woods. Other unique shops in Pier A include champagnes from Epicure and specialty treats at The Belgian Chocolate House. Pier B's options are basically the same, with exclusive stores including the toys & souvenirs of The Gift Box as well as locally-made products at Welcome Shop.
Restaurants
Chow down during delays by enjoying on-site cafés, restaurants and bars as well as international eats ranging from on-the-go bites to fine fare delights. In Pier A, breakfast is available at a few spots that include fresh pastries at Panos as well as healthy smoothies from Helixir Smoothies Bar, while more Belgian-friendly options await at Blend in Brussels. Lunch options include takeaway sandwiches & salads at EXKi as well as the casual atmosphere of Sports Bar, while dinner includes family-friendly menus at Belgorama as well as star chef recipes at Black Pearls. Pier B is home to the same chains, while unique restaurants include sushi at Sushi and luxury caviar at Taittinger Champagne Bar.