Mumbai pick up and drop off at BOM airport
Ground transportation to Chhatrapati Shivaji International Airport
A bustling facility just outside the heart of Bollywood's film industry, Chhatrapati Shivaji International Airport is one of the busiest airports in the continent as well as India's largest city of Mumbai. The massive facility is divided into two terminals; Terminal 1 and Terminal 2. Terminal 1 services domestic flights across three separate buildings (1A, 1B and 1C), while Terminal 2 offers a sleek modern look for international travelers. The terminals are 5 km (3 miles) apart and are connected via paid inter-terminal shuttles. Additional ground transportation options include taxiways as well as car rental services, not to mention festive rickshaws that drop off in neighboring suburbs.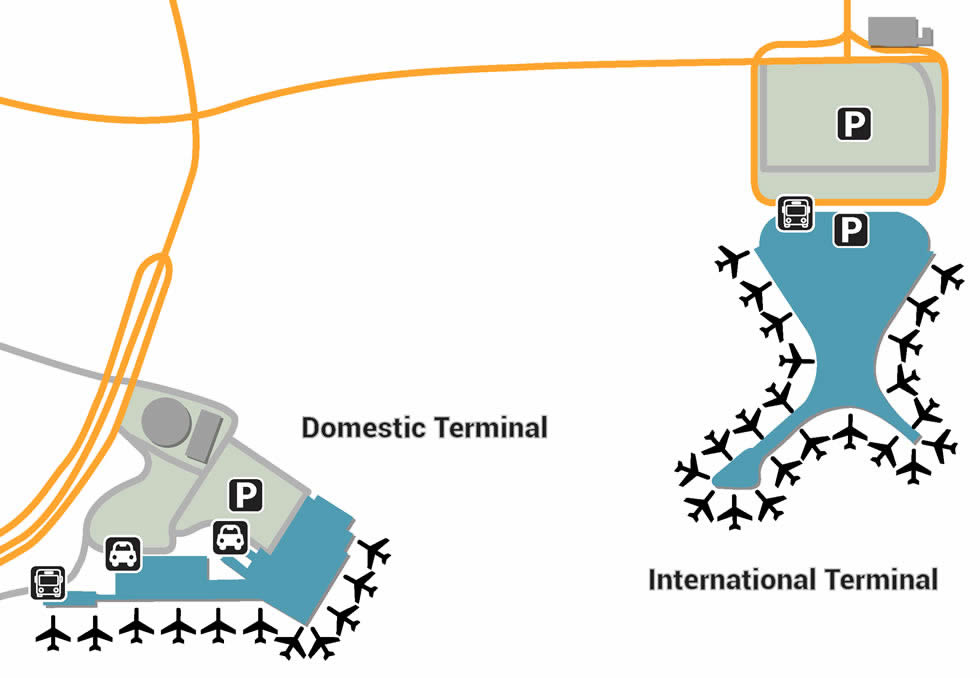 Parking
Mumbai Airport offers parking facilities at both of its terminals, each providing the same flat rate depending on the size of the vehicle. There are 750 available spots for the Domestic Terminal and 1,500 reserved for the International Terminal. Additional parking services include available spaces for the handicapped as well as cyclists, while Premium Parking is exclusively available at the International Terminal. Frequent fliers can also save over time with a monthly car parking pass.
Services
Services at Mumbai Airport are varied, with Terminal 1 home to older facilities that are very low in quality and the newer Terminal 2 offering glittery attractions for international passengers. Simpler services like ATMs and currency exchanges are located throughout each building, as are 24-hour concessions and information desks. Family-friendly facilities include Child Care Rooms; one in Terminal 1 and another in Terminal 2 – there is also a 24-hour children's play area on the top floor of Terminal 2. And for business travelers looking to keep focused, great things can be accomplished at six VIP lounges as well as two on-site hotels. Other unique services include spa treatments at Heaven on Earth and vibrant art pieces donated by the Jaya He GVK New Museum.
Retail
Dozens of shops fill the departures halls of each terminal, especially in Terminal 2's expansive floor plan that includes a range from upmarket fashion to simple souvenirs. Look your best by spending some time in the airport's many boutiques, looking forward to fun bracelets and textures at Accessorize as well as comfy sweats from Adidas – unique fashion choices include Urbana's fine stitching as well as seasonal wear from Pavers England. Find something special for any occasions, whether it's an artistic souvenir at the Jaya He Museum Store or eco-friendly materials at Anand Prakash. Other unique stores include the fun toys & games at Crossword as well as the immersive virtual reality experience at Flight Fantasy.
Restaurants
Wine & dine while you wait at Chhatrapati Shivaji Maharaj Airport, looking forward to a variety of early-morning spots at either terminal that include Costa Coffee and Starbucks, not to mention Café Istanbul's Lebanese ambiance. Fast food options include Burger King and Haagen Dazs, while dinner-friendly options include gourmet cutlery cuisine at Chef Café as well as frilly Italian at Olive Bistro. Other unique options include Eastern specialties from both The Indian Kebab Grill and Aaswad. And don't forget to top everything off with dessert, choosing between hand-prepared cakes and quiches at Baker Street or chocolates at Irani Café.