Athens International ATH Airport Shuttle

Book reservations for airport shuttle, taxis, sedans and limousine service to and from the airport. When arriving in this mythological city by the sea, ensure you've got the right chariot waiting. Choose between one of our reliable rides to get you there, whether it's a quick business trip or week-long family outing. From luxury limousine services that offer elegant transfers to Grecian-inspired resorts, to private lifts ideal for unrushed walks at ancient sites, we've got you covered.

ATH Airport Transfers

Find other destinations that offer GO Airport Shuttle or search for other transportation providers at Athens (ATH) airport.

Shuttle Locations

Looking for airport shuttle rides? Learn how you can get connected to the best shared ride van providers, sedans and private vans and view our airport transfer locations.
Athens Airport Shuttle Service
Adjacent to the airport you can access the Athens Metro line 3 it will take you to the city center for a nominal fee. A reliable way to see the ancient city is through the help of a shuttle driver. Have your bags handled the moment you step out of the pick-up zone, looking forward to easygoing lifts around town.
Shared ride van
The Acropolis of Athens is one of the great places one could ever visit in this region. If you would like to enjoy your time here, consider a shared ride van. An option that makes frequent stops, shared ride vans make up for lost time in their opportunity to see cool parts of town free-of-charge. Just look at it as a chance to see new things.
Private van
For a business group that has just landed or is headed for the Athens International Airport, the best way to travel is in one of our private vans. Tour through the city that invented democracy with up to a dozen people by going with a private van. If you have a group vote on how to transfer into town, this is likely to be your governing choice.
Private sedan
For an individual who would like to enjoy some alone time, a private sedan ride to the Ancient Agora of Athens is the best way forward. Solo drivers or small groups can make the most of their trip with some added privacy – ideal for seeing things from an intimate perspective, taking quiet drives through the old city is best in a sedan.
Local personal driver
One other great destination in this region is the National Garden, Athens. If you are looking for an awesome time, take a local personal driver and be sure that you are going to love the experience. A city teeming with new events and old relics, no one knows Greece better than a local. See for yourself by booking a local personal driver as your tour guide.
Private SUV
Our private SUVs are fast and comfortable and they guarantee you a remarkable travel to the Temple of Olympian Zeus, Athens. Families in search of the safest ride should consider a private SUV as their chief transportation. Great for carrying up to six people in comfort, it's a great way to take your time.
Taxi cab
If you are traveling to the Odeon of Herodes Atticus, what you need for your travel needs is a taxicab. In a rush? Reserve a taxi for haggle-free pick-ups from the airport and easygoing drop offs to your hotel, whether it's for business or pleasure.
Stretched limousine
Some wonderful time is in store for you at the Arch of Hadrian. To better the experience, consider hiring one of our stretched limousines. Look forward to a chauffeured pick-up the moment you grab your luggage from the belt. A city that's known luxury since the ancient Roman days, Greece can especially appreciate a good stretched limousine.
Bus
Benaki Museum is another great travel destination. You get to see and learn a lot. For a perfect travel, get into one of our buses. You will certainly love the ride that we offer. Enjoy a bus ride into town, the perfect option for those who need to keep dozens of passengers organized, whether it's for a convention or group field trip.
ATH airport terminals
Finding the best parking, restaurants, and coffee shops at a new airport can be tough, so let us help guide you through the airport terminals at ATH.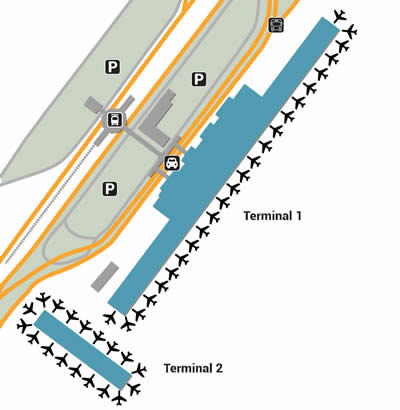 Athens International Airport also known as ATH or Eleftherios Venizelos as it's known in Greek is located in Athens, Greece. Athens is the capital of Greece and more the 3.7 million people live there. Athens is one of the oldest cities historians believe that the city is more than 3 thousand years old.

Athens public transportation system includes buses, trains, tram, and trolleys. You can use any means of transportation with unlimited transfers in Athens. Bicycles are not a good option in Athens because there are not any bike lane and drivers are can tend to be aggressive. As of late Athens has been working on pedestrianizing the city so walking has become a lot easier.

At a Glance
Athens International Airport is a three-floor, two-terminal building. The Main Terminal handles both domestic and international flights, while the unconnected Satellite Terminal handles excess passengers during peak seasons. The modern design utilizes a compact size in creative ways, offering trendy seating and an easy-to-navigate layout. Calming background music makes guests feel like they are always on holiday, and guests rave about the cleanliness. For international travelers, a multilingual staff speaks English, Greek and some Russian.

Meet-Up Locations & Ground Transportation
There are several great meet-up spots for those expecting a driver, but the best two are The Hellenic Travel Shop and Exchange Rate, each located between Baggage Trolleys 8 and 7. Ground transportation includes a 24-hour express bus that drops off in downtown's Syntagma Square, while a railway is located underground the Main Terminal, dropping off in Piraeus between 4:30am-11:00pm. A line of taxis is also available between Exits 2 and 3 of the arrival area, but be weary that the fare jumps after midnight. For the most stress-free arrivals at reliable rates, we recommend you book with us! Choose from our meet-and-greet options that include local personal drivers who can double as your tour guide, or a chauffeured limousine ideal for seeing the world in elegance.

ATH Hotels
The Sofitel Athens is the only hotel attached to the airport. This luxury 5-star choice comes with access to a pool and spa, plus floor-to-ceiling rooms. Villa Vravrona Tower & Suites is another 5-star option less than a mile away, offering rooftop vistas of the mountains alongside rustic room décor. Varaba Country House is also located less than a mile from Athens International, just south of the Apollo Airport Parking Lot. 3-star amenities are offered, while modern-country rooms share a walled-in garden accessible through sliding doors. The apartment-style Artemis Greenhill is a more suburban choice. Home to 3-star amenities that include free breakfast, this stay is run by a friendly couple and is located just 2 miles away. And finally, Athens Airport Lodge is nestled on the outskirts of Sparta, a small community five minutes northwest of the airport. It is known for its personal balconies, kitchenettes and apartment vibe.

What's Near the Airport?
The Temple of Artemis is an eighteen-minute drive from the airport, and well worth the trip. Considered to be one of the seven ancient wonders of the world, the site has many ties to Mary Magdalene. Attica Zoological Park is just a 14-minute drive from Athens International, and home to an educational dolphin show as well as an exotic lemur forest. Another great outing is Peania Cave, or 'Koutouki', which is located just 20 minutes away. This elevated site offers a beautiful mountain vista trail, and guided tours through the cave. Museum North (Mouseío Vorré) offers a wide array of modern and abstract art pieces just 15 minutes away from the airport. Courtyards and gardens make the grounds especially walkable.

Things to do in Athens
Athens is a city for sightseeing. You should start your journey at Agora the famed marketplace. Agora contains a museum, concert hall, colonnaded arcades and more. Stroll through Anafiotika; a neighborhood built during the 19th century on the slope of the Acropolis hill. King Otto bough the Anfi to build his palace and they built this neighborhood as well. The Temple of Athena Nike was the first temple on the hill and is right down from the Anafiotika neighborhood. At lunch time head of over to the Acropolis Museum for lunch and then see all the exhibits the museum has to offer. Athens is a popular tourist destination.

Athens Restaurants
The Acropolis Museum has a menu that is so tempting that you will want to eat there every day. Try the smoked trough or the bail and lefkada salami. Don't forget the custard pie. Like most cities that cater to tourists most of the food has been commercialized to fit the western diet. If you are looking for more traditional dishes try souvlaki. This is a dish of grilled meats, vegetables, and tzatziki; its served in pita bread and usually comes with French fries. Clubs and pubs are found in the center of Athens as well as in the coastal zone going east. You will get to listen to non-greek music.

Hotels near ATH
There are many great hotel choices in Athens such as the Regal Olympic Athens, InterContinental Athenaeum Athens, Hotel Grande Bretagne, Central Hotel, Electra Hotel Athens, and many more.

ATH Contact Information
Athens International Airport
Attiki Odos
Spata Artemida 190 04, Greece
Airport Code: ATH