Athens pick up and drop off at ATH airport
Ground transportation to Athens Airport
As the busiest airport in all of Greece,
Athens International Airport
provides each passenger with easy access to various shops, services and restaurants. The airport is home to two terminals, the Main Terminal and connected Satellite Terminal accessible via underground walkways. The Main Terminal has three floors – the arrivals floor is along the ground, departures along Level 2 and a food court on Level 3. The Main Terminal is also split into two areas; Hall A and Hall B – Hall A handles international flights, while Hall B takes care of European flights in the Schengen area. The Satellite Terminal is located south of The Main Terminal and functions during busy seasons – there are two floors in the Satellite Terminal, arrivals along the ground and departures on the upper level. Ground transportation includes railway service via Athens Airport Station's Metro Line 3 as well as four bus lines and a taxiway on the arrivals level.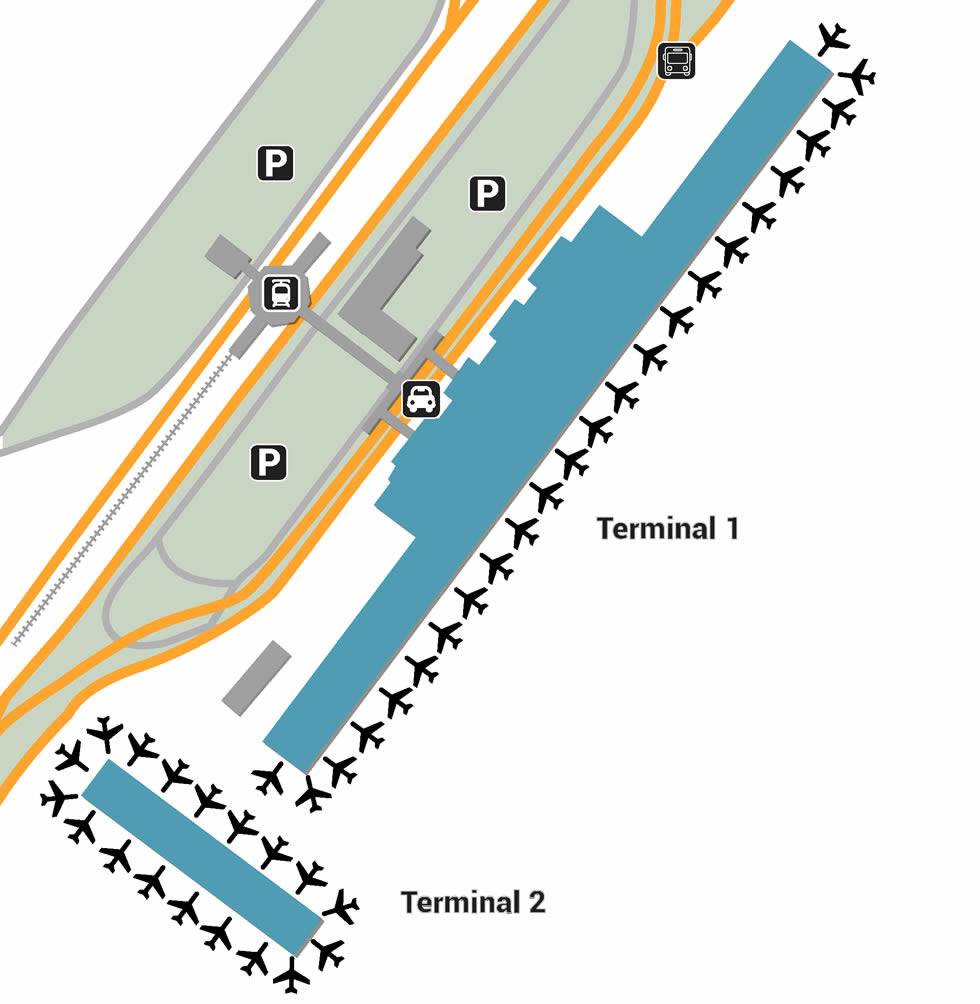 Parking
Athens International is home to modern parking services that include short-term, long-term and executive valet as well as e-services that include online bookings through their website and mobile app. Short-term parking is available in Lots P1 and P2, each providing adjacent access to the Main Terminal as well as the first 20 minutes free of charge. Long-term parking is available in Lot P3, which provides pedestrian bridge that take 5-minutes to reach the terminal, while 24-hour shuttle buses provide rides at about the same time. Within the P3 Lot is the even cheaper P3 Holiday, which offers the furthest spots from the terminal at the lowest rates. Additional perks include a valet booth along the departures level, which offers car wash services as well as complimentary electric charges. And for disabled travelers, long-term rates are exclusively available in Lots P1 & P2.
Services
Services at Athens International Airport are varied, including simple perks to make things simpler as well as elevated luxuries that totally relax. Families looking for help can find it through on-site nursery rooms labeled with the baby care symbol as well as various children's play areas for kids up to 7 years old. Other unique services sure to entertain the kids include rotating displays at the Art & Culture Exhibition Area along the arrivals level as well as three museums showcasing remnants of ancient Greece. For something more modern, enjoy business perks ranging from the convenience of free Wi-Fi & work desks to several executive lounges – further relaxation can be found through on-site massages, manicures and spa treatments at either Konstantinos Hatzis or Sofitel. And for the disabled, close parking spots are available in Lots P1 and P2, plus free wheelchair, first aid stations and a pharmacy.
Retail
Have fun with the Main Terminal's large shopping area, starting with its diverse beauty scene that includes upscale looks from Hugo Boss, Emporio Armani and Ralph Lauren as well as unique female fashion from PINKO's and INGLOT. Other accessories can be found at either Nak Shoes or Sunglasses Boutique, while specialty jewels rest inside luxury boutiques like Swarovski and Master of Time. If you're looking to pick up a special gift on your way out, look forward to kid-friendly takeaways from The Cartoon Store as well as beloved Greek brands & souvenirs at Anamnesis, not to mention handicrafts at ArtPoint. And if all you need is a basic convenience, stop by WHSmith, or other duty-free shops that include a few Hellenic Travel Shops and Oh! Last-Minute Shop. The airport is also connected to a large retail park that includes an IKEA and other merchants.
Restaurants
Another way to enjoy your time is through the many eateries that fill up the airport, most of which are located along the top floor of the Main Terminal. Enjoy specialty coffees from various morning spots that include Airth Coffee, Starbucks Nuts and V Coffee + Bites. Or for something more lunch-friendly, choose between the dual might of Aircanteen + Burgerair STR or the filling salads & sandwiches at Panopolis. Takeaway bites include Greek snacks at Everest and healthy alternatives from Camden Food Co., while sit-down dinners can be experienced with Negroni's pizza & pasta combos as well as PLATEiA Mediterranean dishes. And don't forget to top it all off with something sweet, whether it be a classic cookie at The Nescafé Bar or specialty chocolates from Kimbo-Twix.