Orange County John Wayne SNA Airport Shuttle
John Wayne Airport is located in Orange County, California and is one of the busiest and most frequently travelled airports in the world. California locals love this airport because it is often a cheaper alternative to LAX. One way to make your flight even more low-key and less stressful is to make reservations for your taxi or limousine service to and from the airport before your trip. Once you connect with your airport transfer you can have your driver take you from SNA to a nearby location such as Disneyland California or the Anaheim Convention Center.
Search for SNA airport rides
AirportShuttles.com response to COVID-19 concerns and important updates for customers with upcoming bookings.

Trusted service since 2003

Flight Delayed? We wait.

24/7 Customer Service


Orange County Airport Transportation

Ground transportation can be one of the easiest parts of your trip if you book before you begin your trip. There is no shortage of options to choose from so rest assured that your next trip to sunny California will go smoothly which is located on the lower arrival level so getting to your shuttle bus is easy and convenient to those new to the airport.

SNA Shuttle Transfers

One of the best things about the Santa Ana Airport is that AirportShuttles.com, or Zumu, operates there. This means that you can get a first-class and low cost airport transfer once you land. AirportShuttles.com service is second to none in Orange County.

Airport Pick Up

Looking for an airport ride? Look no further, GO Airport Shuttles' provider, GO Prime Time Shuttle, is one of the most popular ways to get around town. Both locals and visitors rave about Go Prime Time Shuttle's great service.
Orange County Airport Shuttle Service
The SNA airport is a well-designed airport for rides such as shuttle bus and cab services once you arrive at the airport. The ground transportation section near the terminals provides a convenient way for you to get from the airport to any location near downtown Orange County.
SNA Pickup and Drop Off
Anyone who's flown in or out of John Wayne Airport can tell you that this is a popular travel destination.


Once you arrive at Orange County airport you can meet up with your ride at the airport's Ground Transportation Center on the lower level.

Shared Ride Van
Shared ride van services at SNA help you reduce your cost by allowing you to share the cost with other passengers. Some of the providers in this area include Prime Time Shuttle or AirportShuttles.com Orange County.

Private Van
If you have a medium sized group going to the Orange County Convention Center or to

Disneyland

California a private van is a great option.

Private Sedan
If you are needing a nonstop ride to get you from SNA to the Port of Los Angeles cruise port a private sedan or town car can be a good choice if you are traveling alone or with one or two other people.

Local Personal Drivers
If you want the convenience of a private car service but don't want to pay the higher prices you can book a reservation with a local personal driver. This can be a good option if you are going to cities such as Irvine or Costa Mesa.

Private SUV
Private sedan services usually seat about 3 or 4 passengers and are great for those looking to see the sights such as Knott's Berry Farm or Crystal Cove State Park.

Taxi Cab
For a convenient fast ride to or from the airport a taxicab ride is perfect. Whether you need to get to Newport Beach or Garden Grove catching a cab at this airport is easy.

Chartered Bus
Chartered bus services are perfect for larger groups needing to get from the airport to nearby cities such as Anaheim or Los Angeles.
SNA airport terminals
You can make your way around the SNA airport to board your airline. While you wait you can visit the many shops and restaurants along the airport terminals as well as boarding your shuttle rides.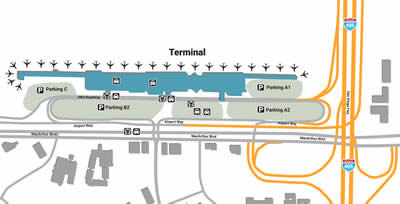 Orange County Airport Shuttles
SNA airport, also known as John Wayne Airport, has AirportShuttles.com Orange County and GO Airport Shuttle transfers that let you choose from shared ride vans and taxis services.

Located just south of Irvine's bustling business district and connected to the greater Santa Ana area, John Wayne Airport is a casual locale that offers the best of both worlds. Whether it's the seaside eats at Newport Beach or the just-as-scenic historic landmarks at the heart of downtown, finding your way out of the airport is easy so long as you know how you're getting out. Book a shuttle for exploring the region, whether you're planning a hike through the country or a sit-down at the Anaheim Convention Center.

Make your trip to the area as simple as possible by booking a hotel just outside the terminal's grounds, whether it's the elegant Hilton Orange County Airport or the upscale Costa Mesa Marriott, both of which offer shuttles. Enjoy an afternoon with the family by looking forward to a stroll through the Upper Newport Bay Nature Preserve instead, the perfect locale to enjoy the region with a private sedan or SUV. If you're heading to Anaheim for a day of Disney magic, get in and out of the area with a ride that makes the most out of each turn, something especially easy with a local personal driver who truly knows the lay of the land.

If you are looking to travel to your hotel or other destinations you can also be picked up by AirportShuttles.com, this blue and yellow van will take you from the airport to your destination and back. The AirportShuttles.com works to keep cost low versus taking a private car or taxi. There is also the GOFly shuttle, which offers town cars, limousines and luxury sedans.

In addition, there are many other providers who service SNA airport where you can catch the Disneyland Resort Express bus or you can catch a ride on the Orange County Transit Authority bus, which is a shuttle that travels in between terminals.

Orange County Hotel Shuttles
Orange County has over fifty thousand guest rooms with hotels that range from 5-star luxury to budget friendly hotels. Whether you are visiting for business or pleasure you can find shuttle rides that fit your needs which range anywhere from shared ride vans to town cars to taxicabs. If you want to stay in Anaheim stay at The Anabella hotel located opposite the convention center and Disneyland. If your destination is the beach stay at the Hyatt Regency Huntington Beach Resort and Spa where you can reserve a private cabana or learn to surf and enjoy the open fire pits. Most hotels in the Orange County area have shuttle services that range from private vans, stretch limos or SUVs to town cars.

| | |
| --- | --- |
| | |

About Orange County Airport
John Wayne Airport or also known as SNA airport is an unincorporated area in Orange County, California. Since its address is in Santa Ana it carries the International Air Transport Association airport code. The John Wayne Airport abbreviated SNA because of its Santa Ana, California address; is named after actor John Wayne that features a nine foot bronze statue of him at the front entrance. Just fewer than ten million passengers are provided service to and from Orange County each year.

SNA is the only airport of its kind in Orange County; it's the only commercial service airport that provides service for commercial passengers and air-cargo service. It is also the primary provider of aviation services and facilities in the county. If you need rides from the airport for Anaheim Convention Center you can find rates from local providers who can accommodate your group.

Orange County is in Southern California and is one of the highest tourist hot spots in the United States. Orange County is a great city featuring great attractions for families and visiting tourists. It is also located near some well-known colleges such as California State University Fullerton which college students can find great rates on shuttle buses from the campus.

Attractions near SNA Airport
One of the best attractions in Orange County is Disneyland. And if you want to go to the beach to visit the county's Beach Cities, which access you to the Pacific Ocean, like the Huntington Beach and Newport Beach. If you're looking for an outstanding view your destination is "Top of the World" just because it's the highest point in the area. Want to go shopping? The South Coast Plaza is available to you; this mall is one of the top-selling malls in America with stores like Sears and Gucci. For the young the Lab and The Camp are also available with stores and unique restaurants.

Cities near SNA airport are Costa Mesa, Newport Beach, and Irvine. The airport was originally named Orange County Airport but then later changed to honor the actor John Wayne who lived near Newport Beach. John Wayne Airport is the only commercial airport in Orange County. The other airports within the county are Fullerton Municipal Airport, the Long Beach Airport, Los Angeles International Airport and Ontario International Airport. Airport transfers for Orange County Hotel Shuttles are competitive and reservations can be made online.

Things to do in Orange County
Orange County is home to Disneyland so if it's a Disney adventure you seek Disneyland has about 60 attractions not including the ones in Disney California Adventure Park. At Aquatica SeaWorld's Waterpark enjoy animal experiences, and thrill rides plus the same amenities of a beachside resort. There are over half a million gallons of water to have fun in. Enjoy the many aquariums, visiting the Hollywood area, California Adventure Park and Knott's Berry Farm when you visit Orange County.

SNA Contact Information
Orange County John Wayne Airport
18601 Airport Way
Santa Ana, CA 92707
Airport Code: SNA