Burbank Hollywood Burbank BUR Airport Shuttle
Hollywood Burbank Airport, formerly known as Bob Hope International, is a relatively small airport but is favored by locals because it isn't as busy as some of the larger nearby airports. Burbank is just a short drive to Los Angeles but you'll find plenty to do right here too. Several of the big movie studios are located here as well as Universal Studios Hollywood. Make sure to have the best time possible by reserving your airport ride ahead of time and have your private car driver meet you at your gate or at the baggage claim. You can also book a shared ride shuttle or even a limousine, if you prefer. You can even have your driver take you straight to your convention at the Los Angeles Marriott Burbank Airport if you'd like.
Search for BUR airport rides
AirportShuttles.com response to COVID-19 concerns and important updates for customers with upcoming bookings.

Trusted service since 2003

Flight Delayed? We wait.

24/7 Customer Service


Burbank Airport Transportation

After your plane has landed you can head over to the ground transportation section at Burbank Airport which has a designated section that is filled with a large variety of shuttle buses, cabs and private limos.

BUR Shuttle Transfers

One thing that will be a welcome sight at the BUR Airport are the Zumu operated by AirportShuttles.com. You'll experience courteous drivers who will take you to your destination at affordable prices.

Airport Pick Up

GO Prime Time Shuttle is the GO Airport Shuttle provider at the Burbank Airport and they pride themselves on being Burbank's answer to a fast, inexpensive, and just downright pleasant airport ride to your destination in Southern California.
Burbank Airport Shuttle Service
At BUR airport for an even more convenient option a private sedan will be able to drop you off directly at your terminal. You can find rides for AirportShuttles.com Burbank rides throughout the area for shared ride vans for cheaper rates as you tag along with other travelers heading the same direction as you.
BUR Pickup and Drop Off
Burbank airport is a hassle-free environment, which travelers can find what they need quickly and effectively as they navigate throughout the airport.


When you arrive at Burbank Airport you can locate your shuttle ride near the pedestrian islands by the terminals.

Shared Ride Van
When traveling to and from the Bob Hope Airport you can find shared ride vans to areas similar to Glendale and Monterey Park.

Private Van
Prime Time Shuttle and AirportShuttles.com offer discount rates for tourists coming to town that need more room than others with private van transfers.

Private Sedan
Zumu is also offered at the airport with curbside pickup. Blacklane, another sedan providers at BUR airport, offers a Business Class and a First Class service for all-inclusive sedans.

Local Personal Drivers
Verdugo Mountains and San Fernando are areas available for personal drivers who can take you to your drop off quickly with a local resident familiar with the area.

Private SUV
Blacklane has a Business SUV service for corporate travelers who want a more private ride for Burbank destinations such as Burbank Town Center.

Taxi Cab
Tourists new to Burbank can find clean taxicabs with fast travel times to close attraction they need to be dropped off at such as Starlight Bowl and Columbia Ranch.

Chartered Bus
Beverly Hills and Los Angeles are local destinations that your group can be transferred to via chartered buses to especially if your group is over 40 passengers.
BUR airport terminals
Passengers can find your way through BUR airport and get to your terminal to board your flight quickly.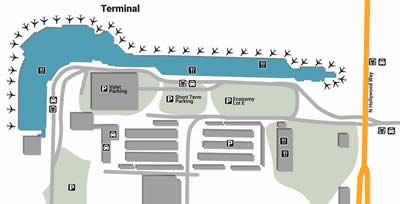 BUR airport known as Bob Hope Airport or also Hollywood Burbank Airport has AirportShuttles.com Burbank, which offers both private vans and shared ride shuttles. Travelers may find an airport shuttle is an easy alternative to driving to the airport.

Other ways to travel is with Zumu, which is a private, sedan service that has drivers who are trained to give you the professional care you would expect from a luxury black car service. In addition, pickup and drop off at Hollywood and Thornton regularly and are a very cost effective option when you get airport limo transfers at Bob Hope Airport.

BUR airport has several shuttle and taxi providers on site in addition to private car service so new arrivals can find transportation quickly. Prime Time Shuttle offers shared ride shuttles, which can be cheaper than most transfer service. If you have a large group Roadrunner Shuttle & Limousine Service offers private buses and coaches that can seat up to 56 passengers in each vehicle.

Burbank Hotel Shuttles
The airport provides regular Burbank Hotel Shuttles to several nearby hotels that can range in cost based off of the luxury of the vehicle or the drive time. Some popular hotels can include Coast Anabelle Hotel Inn and Hotel Amarano which both have low priced door-to-door airport shuttles.

Guests of the BUR airport fly into a user-friendly terminal layouts and is convenient to all of Los Angeles's greatest attractions. Burbank airport provides a superior flying destination in every way with convenient and discounted shuttle rides for arriving travelers.

Burbank City Destinations
Visitors coming to the Burbank area can get the latest attractions and activities for the downtown and surrounding areas.
Visit Burbank

About Burbank Airport
Bob Hope Airport is located in Burbank and is closer to Los Angeles than any other airport, which makes it a great alternative for those who need land near the L.A. neighborhoods. With huge attractions like Universal Studios Hollywood, Disney California Adventure Park and Warner Bros. Studio Tour Hollywood is only a short drive away so passengers arriving at the airport can board the Amtrak train or as another alternative ride the Metrolink there. Some of the closest attractions include Griffith Park, Dodger Stadium and the Autry National Center. The airport creates the ideal connection for both business travelers and those traveling with their families for just fun and entertainment.

Tourists can cut travel time by landing at Burbank Airport because of its close distance to downtown Los Angeles. So catching a discount limo bus or taxi to Pasadena for a day out at the Rose Bowl can be quite inexpensive. It is also near Glendale and the San Fernando Valley area with its own rail service to downtown Los Angeles.

BUR Contact Information
Hollywood Burbank Airport
2627 North Hollywood Way
Burbank, CA 91505
Airport Code: BUR
Traveling through Burbank in shuttles

On your next trip to Burbank don't get caught without a plan. Make sure to investigate these travel tips so that you know what the must see attractions are.