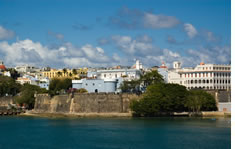 Luis Muñoz Marín International Airport or San Juan Airport (SJU) is a part of a civilian and military airport in Carolina, Puerto Rico, San Juan. This airport services about four million passengers who travel through the San Juan Airport each year.
San Juan, Flying The Friendly Skies
Luis Muñoz Marín International Airport is a commercial public airport with military services located just three miles from San Juan. More than four million passengers pass through the terminal each year making this the busiest airport in the Caribbean area. More than 20 airlines are serviced, including Air Canada Airlines, Air Europe Airlines, Delta Airlines and JetBlue Airways Airlines. It also serves as a stop for cargo carries, including Fed-Ex and UPS Airlines. There is a single terminal with four concourses (Concourse B is closed for restorations and will open in January 2015; Concourse C will close in January, 2015 and reopen in January 2016 for restorations). An interesting fact is that Luis Muñoz Marín International Airport is featured in the hit novel and hit movie "The Rum Diary".
SJU Airport Terminals
Like other airports, Luis Muñoz Marín International Airport offers free Wi-Fi internet to its passengers, however, there are no charging stations available at this time. There is a wonderful little barber shop located in the main terminal. ATMs are located throughout all concourses. There is a press conference room in the main terminal, and there is a local bank with minor currency exchanges (the United Stated Dollar is the primary currency used in Puerto Rico). There are souvenir kiosks located in each of the concourses and a duty free shop located past security in the main terminal. Fast food fare includes Wendy's, McDonalds, and Taco Maker. Baggage claim offers luggage carts for a small fee, however there are no lockers available at this time. Luis Muñoz Marín International Airport is located at Lindbergh Street 64 in San Juan, Puerto Rico and uses airport flight code SJU.
Hotels near SJD
Hotel Villa del Sol is one of the closest hotels to the airport. Rates are economical (roughly $90 a night) and the hotel offers complimentary breakfast and shuttle service to the airport. For those seeking more luxurious accommodations, the airport highly recommends Courtyard by Marriott San Juan Isla Verde, which offers an average nightly rate of $135, complimentary breakfast, a gym and spa, wake up service and complimentary shuttle services to the airport.
While in San Juan you can visit places such as Castillo de San Cristobal, Palacio de Santa Catalina in La Fortaleza, Old San Juan and El Morro or also konwn as Castillo de San Felipe del Morro. San Juan is Puerto Rico's most important seaport and is the hotspot for industries such as manufacturin, financial center and for travel and tourism. If you are visiting for the first time you should visit the Condado area which is known for its wealthier tourist areas. Here you can find a great place for surfing at Ocean Park with many popular hotels you can stay while visiting this area.
Tourist visiting this area can relax and enjoy the sun and beach. Below are some things you can do with your family while you are in San Juan:
Bacardí Rum Distillery
Plaza Las Américas
Mercado De Santurce
Haitian Gallery
Acampa
EcoQuest Tours